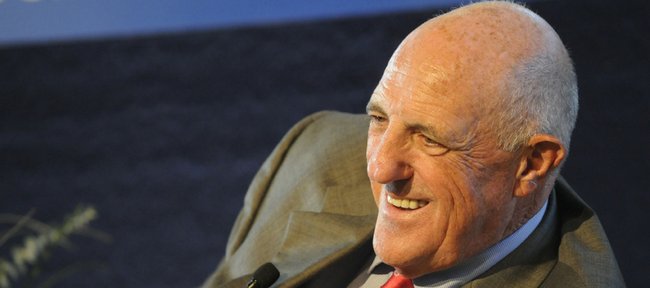 Feature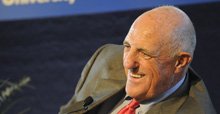 KU Athletic Director led the Kansas Athletic Department for seven years and retired on Sept. 7, 2010. Look back at his time at KU.
Kansas University athletic director Lew Perkins, who resigned Tuesday, nearly a year earlier than expected, arrived at KU in 2003 after a highly successful stint at the University of Connecticut.
Perkins replaced Al Bohl, who left KU under turmoil after taking over for Bob Frederick.
During his time at Kansas, Perkins influenced the growth of KU's athletic department budget in an unprecedented manner. At the time of his arrival, KU's athletic budget was $27 million annually. Today, KU's annual budget has reached more than $55 million.
In 2008, Perkins was voted by a poll in TIME magazine as the top sports executive in the world. He was the only college sports administrator to make the list of 35.
The last year was difficult for Perkins, who had to answer to fights between the KU men's basketball and football programs last September, then endured life with a lame-duck football coach while an investigation of Mark Mangino's conduct toward his players put a dark cloud over the end of the 2009 football season.
Following that, in May 2010, six members of the athletic department resigned under pressure or were fired because of a ticket-scalping scandal that cost the university mega dollars. Finally, in early June, Perkins found himself in the middle of a blackmail scandal involving exercise equipment provided to him for personal use.
Though the latter part of Perkins' tenure was fraught with negativity, many of his most important moves remain on the books.
His first hire came in March 2004, when he brought Bonnie Henrickson in as KU's women's basketball coach. His next two hires came in 2009, when he pegged Megan Smith, a former assistant at LSU, as to take over the KU softball program in June of that year and, five months later, brought Turner Gill in from Buffalo to take over for Mangino to run the KU football program.
A native of Chelsea, Mass., Perkins was inducted into his high school Hall of Fame in 1989. A highly recruited basketball player, he played at the University of Iowa (1965-67) for Hall of Fame coach and KU graduate Ralph Miller. Perkins earned his undergraduate degree there in 1967.
Perkins served as director of athletics (1969-80) and head basketball coach (1969-79) at the University of South Carolina-Aiken as that institution grew from a junior college to a four-year institution. He received his master's degree in education (1975) from the University of South Carolina.
Perkins delivered the commencement address and received an honorary Doctor of Education degree at USC Aiken in May 2005. Perkins also has served as athletic director at the University of Maryland and Wichita State University, and associate director of athletics at the University of Pennsylvania.
At Connecticut, where he worked from 1990-2003, Perkins was instrumental in guiding UConn athletics to growth athletically, academically and financially. His leadership influenced six NCAA Division I National Championships at UConn.