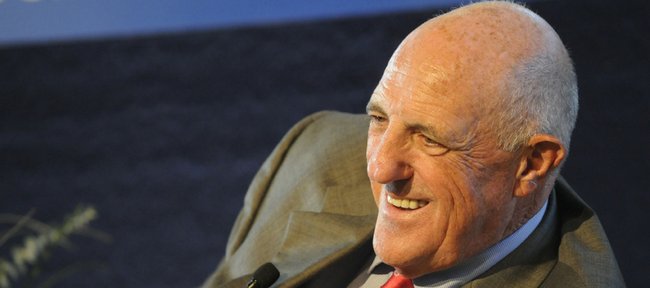 Lew Perkins retirement
Videos
Lew Perkins retires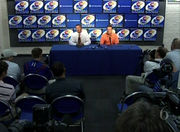 KU's athletic director retired abruptly Tuesday afternoon. Perkins was involved in many changes in the department, good and bad.
Feature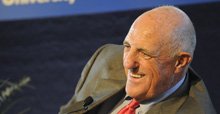 KU Athletic Director led the Kansas Athletic Department for seven years and retired on Sept. 7, 2010. Look back at his time at KU.
The buzzer has sounded on Lew Perkins' tenure as Kansas Athletics director.
Perkins on Tuesday abruptly retired his post — effective immediately — accelerating his previously announced retirement by a full year.
Left behind is the aftermath of a ticket scandal that has spurred a federal investigation, a state ethics probe over an alleged improper gift of exercise equipment, and now a $600,000 retention bonus that KU will pay Perkins even though he did not stay on until its 2011 triggering date. In total, Perkins will receive from KU about $2 million post retirement.
Sean Lester — associate athletics director who came to KU with Perkins from Connecticut — has been named interim athletics director. However, KU Chancellor Bernadette Gray-Little said Tuesday that Lester will not be a candidate for Perkins' job.
Gray-Little praised Perkins seven-year tenure.
"There is no question that Kansas Athletics has benefited from Lew Perkins' leadership," said Gray-Little in a release. "One need only look at the academic success of our student-athletes, at KU's trophy cases and at our state-of-the art athletic facilities to see those benefits. I appreciate his service and understand his decision."
KU leaders characterized the early retirement as a mutual decision, but at least one Kansas Board of Regents member said the move was needed.
"It is an end of an era whose time has come," said Ed McKechnie, vice chair of the board of regents.
McKechnie said he expects Perkins' $2 million payout — none of which will come from taxpayer or tuition dollars — will spark criticism, but he praised Gray-Little's work in dealing with a difficult issue.
"If she would have just fired him outright without cause — and she didn't think she had cause — it would have cost a lot more," McKechnie said. "I think a lot of credit has to go to the chancellor for being firm, for not being reactionary, and for driving this to a reasonable conclusion. But I understand reasonable is in the eye of the beholder."
When news of a ticket scandal broke this spring, Perkins was under contract through June 2015. But KU leaders said Tuesday the contract term had since been reduced to Sept. 4, 2011.
McKechnie said he believes KU will gain something valuable from the transition.
"The most important thing for everybody to remember is that the chancellor of the University of Kansas is in charge of athletics," McKechnie said. "That point had become lost and this chancellor has worked very hard to make that point clear."
Reaction across Lawrence was mixed Tuesday. Mick Allen — the grandson of legendary basketball coach Phog Allen — said many KU fans had been waiting for Perkins to step aside or be removed.
"I think this was inevitable," said Allen. "But he did exactly what he was hired to do. He raised a lot of money, but he alienated a lot of people in the process."
Early in his tenure, Perkins implemented a controversial points system for Allen Fieldhouse seating, which caused many longtime donors to lose their seats or be moved to less desirable seats. Allen was among longtime ticket holders impacted by the points system, but he said his concern with Perkins stems from more recent controversies.
The points system rankled longtime faculty members, many of whom also expressed dismay at the ongoing erosion of the relationship between academics and athletics.
Bill Tuttle, a retired KU history professor, was serving on the KU Athletics board at the time the points system was installed, and he recalled he was the lone vote of dissent.
"I've always been proud of that vote," he said. "It was all about greed. It's all about money for everybody."
Though Tuttle said Perkins, in a way, did what he was hired to do — improve KU's fundraising, facilities and bottom line — he said it was difficult to look past what Tuttle said was an atmosphere of greed that permeated the department.
"I don't think KU will miss him," Tuttle said.
A report commissioned by the athletics department found that at least $1 million in men's basketball and football tickets had been misappropriated by a consultant and athletic department employees who Perkins had either hired or supervised.
Perkins also has become the subject of an investigation by the Kansas Ethics Commission, which is determining whether Perkins violated a state ethics policy by accepting the free use of exercise equipment from a vendor who did business with KU athletics.
Several KU boosters, though, said Perkins had enhanced the prominence of KU athletics in Lawrence and beyond.
"He did some wonderful things and brought some awareness to the programs that we just didn't have before," said Rob Farha, owner of the college bar The Wheel, 507 W. 14th. "The question now is whether we can hold onto it with everything that has happened in the last few months."
Supporters pointed to improved athletic facilities, larger football crowds, and Perkins' behind-the-scenes work to help keep the Big 12 Conference largely intact. The KU football team won the 2008 Orange Bowl and the men's basketball team won the 2008 national title under Perkins' watch.
"He put the swagger back in," said Forrest Hoglund, a KU donor living in Dallas, referring to a phrase Perkins used upon arriving in Lawrence. "At least for awhile."
Regents chairman Gary Sherrer said that while the athletics department wasn't necessarily facing a major crisis, fresh ideas and new energy should help the university.
"When someone makes the decision they're going to move on, the sooner that happens, the better for them and the organization," he said. "That certainly fits here."
Dale Seuferling, president of the Kansas University Endowment Association, said Perkins' prowess as a fundraiser will be missed. He said the events of the last several months have created some distraction, but he does not believe KU's overall reputation has been tarnished.
But Farha and Allen both said they have heard from many KU fans who believe the reputation of the athletics department has been significantly damaged.
"Transparency is what I hear a lot about," Farha said when asked what fans wanted in a new athletics director. "If they are going to be donating top dollars, they want to know that they are treated fairly in the pecking order."
Allen said the issue is even broader.

"There is a considerable amount of trust-building to be done," Allen said. "Whoever the next person is, that has to be their first and foremost task. A lot of trust certainly has vanished."