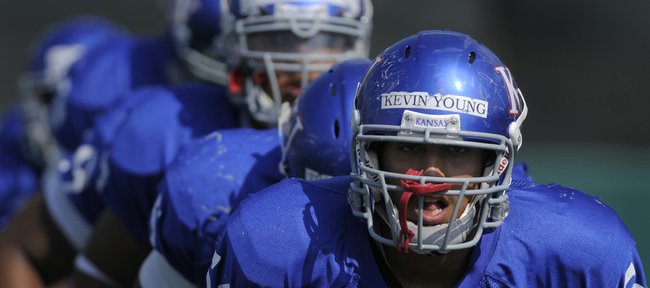 Kevin Young hasn't played so much as a down of major-college football.
Playing on the same defensive line anchored by standout Jake Laptad, Young considers that anonymity might be one of his biggest advantages.
"I was in a situation like that in high school," said Young, KU's 6-foot-2, 256-pound red-shirt freshman defensive end from Olathe. "I was the stronger D-end. We had another D-end making plays because all the expectations were on me. If that plays out this year, that would work in my favor."
As a senior at Olathe North High, Young often was the focus of opposing offenses. Despite opponents' running plays away from him, Young still finished with 80 tackles and 12 sacks and was a second-team All-Sunflower League selection.
"In Kansas football, you've got a select amount of people you scheme against," Young, who also played tight end, said of his prep days. "I was the one person people schemed against, and you have your other D-end off the edge, and they make plays because everybody schemes against you."
In KU's case, call it the Laptad Factor.
Laptad, a 6-4, 260-pound senior, isn't going to sneak under anybody's radar. An honorable mention All-Big 12 pick last season, Laptad had 49 total stops, 12 tackles for loss and 61⁄2 sacks.
"I'm pretty sure it works that way in the Big 12, too," Young rationalized. "If you've got stronger players out there, (opponents) have to worry about them, and other players can come in and make plays."
Not so fast, says KU defensive coordinator Carl Torbush. Though Torbush singled out Young as among the top candidates to complement Laptad on the line, he's not so sure Young's theory will hold up.
"I wish it was like that," Torbush said with a laugh. "But they're still going to try to block 'em all. They might worry about one of 'em, but they're still going to try to get 'em all blocked."
The emergence of Young could go a long way toward strengthening one of KU's biggest concern areas. Besides Laptad, Quintin Woods — who made four stops in limited duty last season — is the only other end with collegiate experience.
Hence, half of the two-deep depth chart at defensive end is made of red-shirt freshmen (Young and Tyrone Sellers), and depth could come from the ranks of the true freshmen.
But Torbush, for one, isn't too concerned that the interior line will be manned by less-than-household names.
"A guy like Laptad or (linebacker) Drew Dudley, those are guys, those are names you recognize," Torbush said. "But by the end of the season, there will be some names that haven't even been heard that are going to have to step up. People will know who they are by the end of the season."
If Young's is one of those, he's convinced it will be because of Laptad, for two reasons other than the Laptad Factor.
First, Laptad has served as a mentor to the young Young, passing along the benefits of his 38 games of major-college experience.
"He's one of the first persons who really taught me how to play on the D-line," Young said. "He really knows a lot about the game."
And Young says playing with Laptad makes Young work even harder so he isn't looked upon as the weak link.
"It's definitely motivating for me," Young said. "You want to be the best you can be. When you've got Jake Laptad on your line, you know you're playing with somebody good. That definitely motivates you, because you don't want to let your team down."
Laptad is convinced he won't.
"Kevin Young is a good athlete," Laptad said. "He has worked a lot. He has good speed off the ball. He is working on his hands now. He's gotten better at that. I feel he will be a good player for us this year. … He definitely could be one of the players of the future for Kansas."