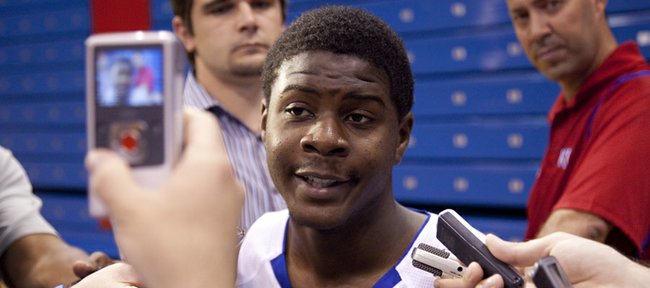 Kansas University point guard Josh Selby, who is still awaiting clearance from the NCAA to play in games his freshman season at KU, met with the media on Tuesday for the first time since his arrival on campus early last summer.
The occasion? 2010 basketball Media Day.
"I'm excited about Friday," he said of his playing at Late Night in the Phog, "but I'm not going to think about it too much until Friday. It's going to be fun playing in front of the fans."
The 6-foot-2 Baltimore prep sensation said he doesn't feel pressure in trying to make folks forget point guard Sherron Collins, who has graduated and moved on to the Charlotte Bobcats.
"I don't feel like I have to be the next Sherron because the fans just want to win and that's all I'm here for, to win with my team," Selby said.
Coach Bill Self, who said there's really no update on Selby's status — the NCAA needs to rule on both Selby's amateur and academic status — said Selby reminded him of a "bigger Sherron."
"Me and Sherron both bring toughness, physically and mentally, but I think that's what we have in common," Selby said.
"(I bring) toughness, somebody who can lead you, somebody who's going to motivate you to work hard and can score. I want to win. That's my concern ... winning."
He admitted he was a bit "lonely" at times the first three weeks of school when he hadn't been cleared to even compete in team activities.
"It was tough for a minute. But my teammates stayed behind me, supported me, motivated me by being there and relaxing my mind, taking it out of my mind. I'm just thankful I have the teammates I have. It's a big family here. Things always work out for the best," he added.
For more on Selby and KU Media Day, see Wednesday's Journal-World and Kusports.com.