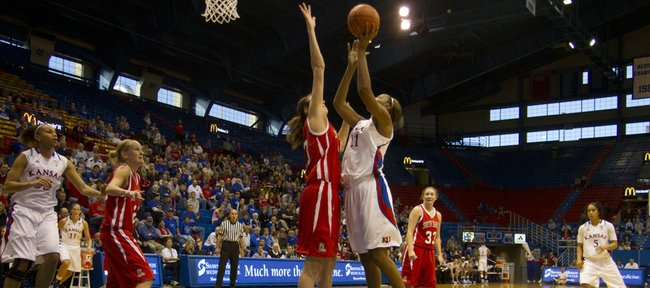 It's only one game into the season, so Kansas University women's basketball coach Bonnie Henrickson doesn't expect her young team to have perfected its offensive identity just yet.
But that's not to say she doesn't have a pretty good idea of what that identity is.
"We need to play inside-out," Henrickson said.
The young bunch of Jayhawks will continue to develop on the fly at 8 tonight against Texas A&M; Corpus Christi (0-2) at Allen Fieldhouse.
The Jayhawks scored 73 points in Sunday's season-opening rout of South Dakota, but at times, Henrickson said, the offense looked "really ugly."
One of those rough patches was a stretch during the first half in which KU had eight empty possessions with three turnovers.
It came as no surprise to Henrickson that a post player didn't receive a single touch on five of those plays.
As a result, forwards Carolyn Davis (12 points, 6-of-10 shooting) and Krysten Boogaard (8 points, 4-of-6 shooting) had only modest numbers, despite shooting the ball efficiently.
"My point to them was, we can't have a stretch like that," Henrickson said, "where we don't get it inside and attack the defense in the lane, or even on a drive to the paint."
Part of that, of course, comes from the youthful Jayhawks still developing a feel on the offensive end.
With four legitimate post players — Davis, Aishah Sutherland, Boogaard and Tania Jackson — at her disposal, it's no wonder Henrickson is so keen on getting high-percentage looks near the basket.
But KU is also a speedy, athletic bunch, and guards Angel Goodrich and Keena Mays have consistently pushed the pace during the preseason and against South Dakota in the season opener.
At times, the fast-break offense has worked quite well. Other times, when met with a good transition defense, it has resulted in a few frantic possessions in the half-court.
That style may have resulted in a few too many turnovers against USD, and while ball security is important, Henrickson isn't overly concerned.
"I'm still excited that they're taking what the defense is giving them," Henrickson said.
"We still want to run more on a make and still want to attack the defense coming off of a (made) field goal," she added. "But I think that's good that we can run an offense but play out of an (opposing) offense."
Especially because KU's bigs can run the floor and finish in transition, which adds another dimension to the 'inside-out' offensive mentality.
Davis and her fellow post players likely won't receive too much of a challenge in terms of size from the Islanders — their tallest player is 6-foot-1 — but athletically, the entire roster poses a threat to the Jayhawks.
"The big thing we've been talking about is who will take advantage of their advantage," Henrickson said, calling the Islanders a very speedy, athletic bunch.
"Our size inside or their ability to face and put it on the floor and make our big kids have to come out and play outside?"
Notes
• Henrickson stressed improvement on the defensive glass, where KU allowed 15 offensive rebounds despite outrebounding South Dakota, 53-33. The Jayhawks gave up 28 offensive boards in their two exhibition games.
• "We're not where we need to be (there) from a focus and concentration, from an effort standpoint," Henrickson said.
• Every Jayhawk played and scored in the victory over South Dakota. KU's bench also accounted for 38 of its 73 points.