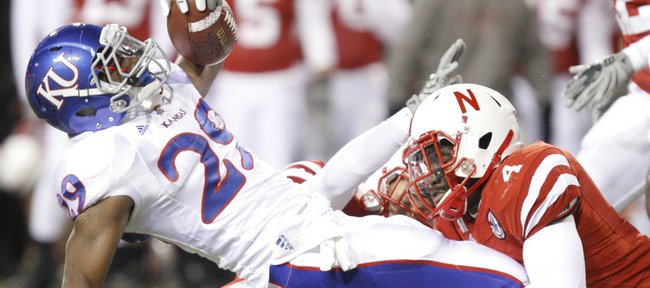 Kansas vs. Nebraska
Podcast episode
Kansas coach Turner Gill talks to reporters following the Jayhawks' 20-3 loss to Nebraska on Nov. 13, 2010.
Lincoln, Neb. — In the press box at Nebraska University's Memorial Stadium, there's a poster from 1983 that features Kansas University coach Turner Gill in his Nebraska gear and the headline "The Scoring Explosion."
Watching from the opposite sideline for the first time in his life Saturday, Gill's Jayhawks were anything but explosive during a 20-3 loss to their coach's alma mater.
Offensively, this game was historically bad. In 47 plays from scrimmage, Kansas managed just 87 yards, marking its lowest total since tallying 67 in a loss to Texas in 2001. What's more, the five first downs were the fewest in a game since KU moved the chains just four times against Cincinnati in 1997. In his third start at quarterback, junior Quinn Mecham was just 3-of-13 for 15 yards and one interception.
"It's not just a Quinn thing," Gill said. "I think it's our whole offense. Our offensive line, they gotta do better. Our running backs, our receivers, everybody's gotta play better. Some of it's the quarterback, and some of it was just Nebraska. They're a good football team, and they're very good on the defensive side of the ball."
So, too, was Kansas (3-7 overall, 1-5 in Big 12), which held the Cornhuskers' high-powered attack to its third-lowest point total this season.
If this would've been a scrimmage between the two defenses, KU might have come away with a victory. Instead, both offenses took the field, too, and that greatly benefited Nebraska.
"I feel like we let the defense down a little bit," KU sophomore receiver Bradley McDougald said.
Added red-shirt freshman Tyler Patmon, who recorded an interception for the second straight game: "I'm proud of my defense. But at the end of the day, we didn't get the win, so it means nothing. We played good, but not good enough."
The Kansas defense was up to the task early. After the offense stalled in Nebraska territory on the game's opening drive, KU forced the Huskers into a three-and-out.
Two possessions later, the defense did it again.
In fact, Nebraska (9-1, 5-1) didn't gain a first down until the 3:24 mark of the first quarter. Seven plays later, NU took the lead when running back Rex Burkhead raced in from four yards out with 33 seconds to play in the first.
While KU's offense continued to struggle — Mecham sacks halted KU's first four drives, and Kansas converted just two of 13 third downs — the Cornhuskers were content to pound away. With 3:05 to play in the first half, NU pushed its lead to 14-0 with a nine-play, 75-yard drive that was capped by a highlight-reel, 20-yard TD run from Roy Helu Jr. The drive featured a crucial third-down conversion pass from Taylor Martinez to Niles Paul, something the Jayhawks struggled with all night.
Asked why NU had so much success on third down (9 of 17), Patmon said it was just a matter of the guys in red making more plays.
"We have to get off the field and give our offense better field position," Patmon said.
The second half was an even better indication of how well KU's defense played. Despite being outgained 204-40 in total yards, KU gave up just six points. Remember, this is the same defense that surrendered 55 points to Baylor, 59 to Kansas State and 45 to Texas A&M; in consecutive games earlier this season.
A well timed blitz on a third-down play inside KU territory early in the fourth kept KU's hopes alive. The Jayhawks also forced three fumbles (Jake Laptad and Patrick Dorsey both were credited) and recovered one (Steven Johnson). In addition to Patmon's interception, KU nearly had two others.
"They did a great job tonight," McDougald said. When you're supposed to get blown out and you hold 'em to 20 points, I'd say the defense did a great job."
The Kansas offense, however, scored just three points and never truly threatened. Despite that fact, Gill was somewhat upbeat about his team's effort.
"I'm proud of our football team," he said. "Our guys played well, played tough and played hard throughout the football game."