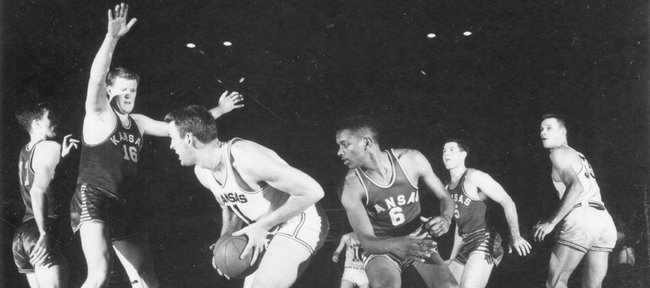 I had to go deep into our dusty 6Sports archives for today's Jayhawk Flashback — one that will take us back some 58 years.
Above is video from KU's 1952 basketball season and also highlights from the '52 NCAA championship game against St. John's, hosted by Max Falkenstien.
All of the video is courtesy of the Spencer Research Library at KU.
Because, obviously, there isn't as much online about the '52 championship game as some of the more recent games we've flashed back to, I sat down with 60-year Lawrence Journal-World veteran Bill Mayer to get some of his memories of the 1952 season (Check out the great picture of him and Phog Allen on the left).
At the time, Mayer was both the news editor and the sports editor for the Journal-World. He also was at the '52 championship game in Seattle.
Here are some notes about the season/game:
• According to Mayer, the turning point in the season came after KU had consecutive losses to Kansas State and Oklahoma State.
The Jayhawks had started 13-0 before dropping the two games.
Phog Allen, who was KU's coach at the time, was more known as the inspirational coach, while then-assistant Dick Harp was more the Xs and Os guy.
The morning after KU returned from its loss at Stillwater, Mayer recalled that Allen told Harp, "I don't know what you're going to do, Dick, but get something done. Do something."
Harp had been toying around with changing the defense, and so he decided to develop a man-to-man, pressing defense. That became the Jayhawks' base defense, and it was especially effective with quick guards Dean Kelley and Bill Hougland. KU also had Charlie Hoag off the bench, whom Mayer said "was as quick in those days as (Denis) Clemente was for K-State this year."
The premise of the defense was simple: Pressure the ball to make the ball-handler use up his dribble, then after he's used up his dribble, cover up the passing lanes.
The Jayhawks came up with interception after interception with their new defense and went on to win 15 in a row after that point — including the 1952 championship game.
The pressing, man-to-man defense was later used by UCLA coach John Wooden and — you guessed it — North Carolina coach Dean Smith, who was on KU's '52 championship team.
In fact, Mayer said Wooden one time made the statement that the new Kansas defense changed college basketball.
• According to Mayer, Clyde Lovellette was quite the rascal on the team.
Here's one of Mayer's stories about him.
On the way to Seattle, Mayer sat in the lower level of a large plane with Phog Allen, Oklahoma A&M; coach Hank Iba, Lovellette and Bob Busby from the Kansas City Star. All were dressed in suits for the trip.
Allen was always nervous on planes and didn't like flying. When the coach started to get jittery, Lovellette tried to calm him down.
"Relax, Doc," Lovellette said, reaching over to grab a bouquet of flowers from the wall on the plane before setting them in Allen's hands. "If we pile in, you're dressed for the funeral."
Journal-World sports editor Tom Keegan brought out some other good Lovellette stories from his former teammates in this story from a few months ago.
• Though some people called Lovellette "Jelly Belly," Mayer said from the video's starting lineups, you can see the forward was in good shape.
Mayer also said Lovellette was a smart basketball player and defended better than people gave him credit for.
At times, Mayer said he could sense that Lovellette's teammates might have resented him, as they were constantly told, "Get the ball to Clyde. Get the ball to Clyde."
Lovellette led the nation with 28.6 points per game that year and is the only player in NCAA history to lead the nation in points and win the national title in the same year. Mayer also said he's never seen anyone shoot the hook shot better than Lovellette.
• Another tidbit about Lovellette: He was already married to his childhood sweetheart during this season, which was his senior year of college.
• Here's something else about Lovellette: Later in life, he went back to his hometown of Terre Haute, Ind., ran as a Republican in a heavy Democrat area and was elected for a term as sheriff.
• As you can see from the video, the celebration for winning the NCAA title wasn't quite as grand as it is nowadays.
There was very little TV at the time (though the games were on radio), and Mayer said the Final Four wasn't as big of a deal as it is now. The tournament was only 16 teams, and only one team per conference could attend.
Mayer said there was no net-cutting, either.
The one place it was a big deal, though, was Lawrence. After returning from Seattle, Mayer said he remembered Massachusetts Street in Lawrence was still lined with about 15,000 people — "which, in those times, was an incredible turnout," Mayer said.
Lawrence had brought out fire trucks for the occasion, and on the Allen Fieldhouse mural, you can see pictures of Clyde Lovellette with a fireman's hat on from that day.
• Mayer said during that season, KU wore red uniforms on the road, white uniforms at home, and always word red, Chuck Taylor hightops.
• Speaking of Iba, Mayer claims he hated KU's home court, Hoch Auditorium.
Because Hoch was a music hall, it was set on hard concrete. KU wouldn't even practice there for fear of shin splints, instead working out at Robinson gym.
The hard concrete wasn't what Iba — the Oklahoma A&M; coach at the time — hated most, though. It was the fact that, because the walls curved in instead of remaining straight, his players would get vertigo running back and forth up the court because of the optical illusion.
According to Mayer, Allen loved that about Hoch, as his players were used to the surroundings and wouldn't get dizzy.
• According to Mayer, Lovellette was a part of KU's 1953 success without being a part of the team. That's because he helped make B.H. Born into a great player.
Born originally arrived on KU's campus as a frail, 6-foot-9, 190-pounder in the post.
According to Mayer, Allen told Lovellette to work Born over to get him ready.
Lovellette did that and more.
Lovellette was tough on Born, both on and off the court. Mayer said there were times when Lovellette would look at a window pole and jokingly say, "Well, B.H., you've put on a little weight!"
At the end of the year, KU's players were passed out ballots for their all-opponent team.
Born put Lovellette on his team.
The next two years, Born averaged 18.9 points per game to lead the Jayhawks. KU lost to Indiana in the 1953 championship game, 69-68.
Born also helped recruit Wilt Chamberlain to KU.
• Mayer said the team manager, Wayne Louderback, earned his position by telling Allen that he would take notes of what the coach said during the game then transcribe them afterwards. Louderback just wanted to be able to get in to see the games.
At the time, Hoch Auditorium only held about 4,000 people, so when students bought their tickets, they were divided in two groups: A groups and B groups.
Each student with A tickets was able to see the A games in Hoch, while each student with B tickets was able to watch the B games in Hoch.
At the time, Mayer said the team also had only one trainer and one whirlpool bath — quite a difference from the medical resources available today.
• Mayer still wonders how KU history would have been changed with a healthy Charlie Hoag.
A football and basketball player, the 6-foot-3 Hoag made a name for himself later in 1952 when he impressed playing basketball at the Olympics.
Hoag also was an All-America halfback for KU, though, and the next season at Kansas State, after getting pushed out of bounds, he stepped on a storm drain and tore his ACL.
In 1953, KU had only one player over 6-foot-2 and still came just one point away from winning the national championship. Mayer thinks Hoag would have made a difference.
Mayer also believes, without the injury, Hoag could have had a great NFL career as well.
• For many years, Dean Smith's name did not appear on the official box score for the championship game. Smith played 27 seconds in the game, and he later went back frame-by-frame to the video to prove he had made it into game.
Following a campaign and after some years had passed, the NCAA updated the box score to show Smith had played in the contest.
Mayer said the only player that took the trip that didn't play was Bill Heitholt.
• As you can see from the video, shooting has changed a bit since then.
Lovellette shoots underhanded free throws in our clips. Mayer also said Bob Kenney shot with a single-handed free-throw technique that year.
Long-range shots also are fired using a knee-up technique that isn't common in today's game.