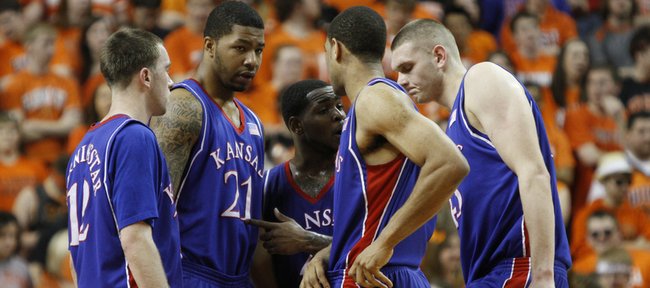 Three former Kansas University basketball players are holding a reunion of sorts in the Windy City this week.
Sherron Collins, who took part in KU graduation ceremonies on Sunday, and early-entries Cole Aldrich and Xavier Henry are attending the two-day NBA Draft Combine at Attack Athletics training center.
"My roommate is Cole. I like rooming with Cole. He's one of my good friends from Kansas," Henry told reporters Thursday during the first-day media-interview portion of the event.
"I saw Sherron this morning. I haven't seen too much of him (since season ended). It's fun to have all three of us up here. We get to relax and chill."
The 6-foot-11 Aldrich, who is considered a certain lottery pick, isn't taking part in any of the combine's individual drills. He's participating in interviews with teams' front office officials and also undergoing physical tests and measuring like the rest of the invitees.
Henry and Collins agreed to participate in drills.
"Xavier Henry had easily the best shot among the shooting guards. The ball rolls off his fingers on every shot in a textbook form," said Aran Smith of nbadraft.net.
"Collins' jump shot looked good," he added.
Henry reported that, in coming weeks, he plans to work out with the teams drafting in the No. 7 to 17 range. Those teams are: Detroit, Los Angeles Clippers, Utah, Indiana, New Orleans, Memphis, Toronto, Houston, Milwaukee, Minnesota and Chicago.
In fact, he already has worked out with the Bulls with fellow guards James Anderson of Oklahoma State, Paul George of Fresno State and Dominique Jones of South Florida.
"I don't have a dream city," the 6-foot-6 Putnam City (Okla.) High graduate said. "I like the Oklahoma City Thunder (21st pick), but that's probably because it's the only team we've really ever had."
He was asked whether he'd be ready to defend against the top perimeter players in the league.
"Maybe not the Wades (Dwyane Wade) and Kobes (Bryant), but I know I can come in and work hard and try my hardest," Henry said.
Asked whom he compares himself to, Henry said: "I think a decent comparison would be a Joe Johnson. A tall, athletic shooting guard that can shoot and take it to the rim, that's just active on all ends of the court, hustles, plays, rebounds, defends, does it all."
NBAdraft.net has Aldrich being selected No. 9 by Utah, Henry 10th by Indiana and Collins 52nd by Boston.
Draftexpress.com says Aldrich will be picked No. 7 by Detroit and Henry No. 15 by Milwaukee. That website has not yet made second-round picks. RealGM.com has Aldrich going to Detroit and Henry to Memphis at No. 12.
ESPN.com's Chad Ford says Aldrich will be tapped No. 6 by Golden State and Henry 19th by Boston.
"If Henry falls this far, it will be a pretty dramatic development since he was once considered a lottery pick," Ford said. "He already has an NBA body, and he can shoot the NBA three. He may be a little one-dimensional, but with Paul Pierce beginning to age and Ray Allen hitting free agency, he'd be a nice fit in Boston.
Of Aldrich, Ford wrote: "The Warriors need help in the middle. Aldrich, while not flashy, can provide rebounding, shot-blocking and a decent face-up game."
Collins reiterated to media he has been working out with trainer Joe Abunassar in Las Vegas. He will meet with Chicago and Minnesota officials, then return to Vegas and begin traveling for individual workouts before the June 24 draft.
"We've got an All-America team out there," Collins said of Vegas, where he's training with Anderson, Michigan's Manny Harris, Iowa State's Craig Brackins and UConn's Stanley Robinson. "There's a lot of competition. It's real good to be working with those guys."
Collins said he has dropped about 10 pounds in the past month.
X on Calipari: The Lexington Herald-Leader warns readers that Kentucky coach John Calipari still could wind up in the NBA even though he says he's staying at UK.
Henry, who had committed to play for Calipari at Memphis, recalled Calipari telling him he'd not be taking the Kentucky job.
"My dad was was big on coach Cal. I was big on coach Cal as well. The day before, he told me he wasn't going (to UK), and he really wasn't thinking of going to Kentucky," Henry said. "Then the next day I saw he went to Kentucky. I felt that if he was going to leave Memphis and go to Kentucky, maybe we (he and brother C.J.) should go somewhere else, too."
Henry wound up at KU. "He has his own agenda. He has dreams, too. He said his dream was to coach Kentucky. I can't not like him for that. He went for his dream. I'm going to try to fulfill mine. It's not a big deal," Henry said.
Camp talk: There are openings for both sessions of Bill Self's KU basketball camps (June 6-10 and June 13-17). To register, visit billselfbasketballcamp.com.
Awards: Gould Evans, an architectural and planning firm with offices in Lawrence and four other cities, has earned recognition from the International Interior Design Association (IIDA) for its work on the interior renovation of Allen Fieldhouse and the athletics complex at KU. The IIDA's Mid-America Design Awards (MADA) program last month honored Gould Evans with a silver award in the sports/recreation interiors category.