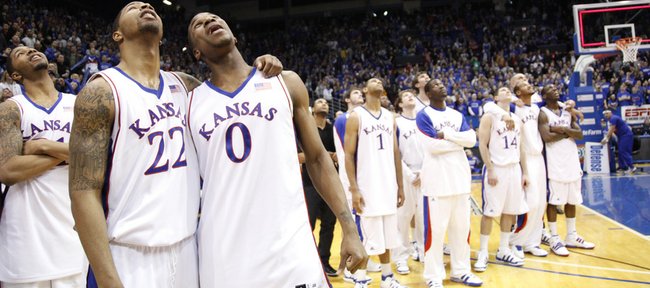 A thought made its way into the massive wind tunnel that is my brain and before it died of loneliness, I decided to write it down: Bill Self's next basketball team just might find a way to win more games than his last one.
Faster than you can say Ali Farokhmanesh, Self reloaded a roster that went 33-3 and lost three starters. And all he had to do was take the red shirts off two players, Mario Little and Travis Releford. Well, that and recruit the most highly ranked player he ever has enticed into signing.
Getting ranked No. 1 in a recruiting class by Rivals.com is no joke. Josh Selby, the do-it-all 6-foot-3 guard from Baltimore recruited by Self, earned the distinction. The names of five of the past seven players ranked first: John Wall, Michael Beasley, Greg Oden, Dwight Howard, LeBron James. Stud, stud, stud, uber stud, uber-duper stud.
That superstar list gives credence to some who say Selby today is better than Sherron Collins at his best. Start with that premise, that KU has upgraded slightly at the point guard position, especially defensively. That takes care of one of the departed starters.
Moving from point guard to small forward, Xavier Henry's early exit created another void. It's not preposterous to think Mario Little as a fifth-year senior can bring more to the table than Henry as a freshman. Little better knows the tricks of posting up, has a wider array of shots and has moves in both directions, whereas Henry was all left-handed all the time. Little won't get as many steals as Henry and isn't as long, but whatever he lacks defensively compared to Henry, he'll make up for offensively, where he is a matchup nightmare for opposing coaches. Releford and Brady Morningstar supply depth here.
Now for the player who doesn't have a comparable replacement. Center Cole Aldrich defended such a large area of the floor, he disrupted teams that liked to take it to the hoop. His long arms, strong focus and excellent timing in blocking shots made drivers gunshy.
Not that KU doesn't have a skilled shot-blocker. Jeff Withey, a long-armed 7-footer with good timing, blocked six shots and scored 19 points in just 45 minutes. His playing so sparingly suggests Self isn't sure he's the answer. If Withey plays well enough to make Self trust him, he's the best equipped to help soften the blow of Aldrich's departure.
Elsewhere in the post, added experience will bring improvement for Marcus and Markieff Morris and Thomas Robinson.
The three shooting guards — Tyshawn Taylor, Tyrel Reed and Morningstar — return and will be joined by freshman Royce Woolridge. Self will get more production out of the position because he no longer will reward minutes to Taylor based on potential. Taylor either beats out Reed, the team's best shooting guard at the season's conclusion, or he doesn't. Early reports on how committed Taylor has been this offseason are encouraging. If he doesn't improve, Reed alone can steady the position that was the team's most uneven a year ago.
Last season's team went 29-2 in the regular season, 3-0 in the conference tournament and 1-1 in the NCAA Tourney. No reason to think Self's next team can't go 27-4, 3-0 and 4-1, for a 34-5 finish, yet another remarkable season.