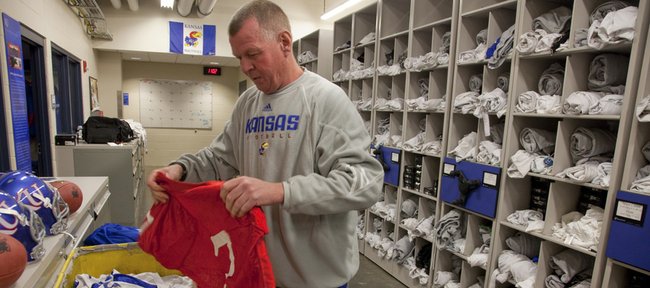 When Kansas University football coach Turner Gill takes the field with his team for the first time at 1 p.m. Saturday, he'll do so with a handful of Jayhawks in new positions.
Eight returning players from last year's squad will open spring practices at a different position than the one they played to finish 2009. The reason falls in line with what Gill has preached since arriving in Lawrence.
"I left it up to the guys and just asked them to tell me where they wanted to start out," Gill said. "So there have been some changes based on what they felt. If they believe there's a certain position they can play well, I want to start 'em there. I want to see them get excited, I want to see them go out and play hard and feel good about it."
KU officials said Wednesday the following players have taken Gill up on his offer: Isiah Barfield (wide receiver to cornerback), D.J. Beshears (cornerback to wide receiver), Steven Foster (linebacker to fullback), Chase Knighton (quarterback to wide receiver), Daymond Patterson (cornerback to wide receiver), Angus Quigley (linebacker to running back), Ian Wolfe (offensive line to tight end) and Duane Zlatnik (defensive line to offensive line).
That's not to say the final depth chart will be set by the players themselves. But at least the first draft will be penned by the guys who put on helmets and shoulder pads.
"Obviously, if a person doesn't do well or if we believe he can help us at a different position or get more playing time (somewhere else), then we'll discuss that later," Gill said.
Of the eight players making a switch, only Beshears and Patterson started games in 2009. Both figure to be in the middle of heated battles at their new positions. Of course, the same could be said for just about everyone on KU's team.
"There'll be competition at every position," Gill said. "Obviously, quarterback's going to get all of the attention. I understand that. But we're going to make it where there's competition at every position."
The quarterback race likely will have three main candidates — returning back-up Kale Pick, 6-foot-2, 200 pounds; junior-college transfer Quinn Mecham, 6-2, 195; and red-shirt freshman Jordan Webb, 6-1, 210. Although Gill has not said whether he will name a starter by the end of spring practices, all three will jockey for position throughout the next four weeks.
Similar competitions are being waged at running back, where Toben Opurum (577 yards and nine TDs on 133 carries in 2009) returns as the only player who tallied meaningful carries; wide receiver, where Johnathan Wilson (35 receptions in 2009) and Bradley McDougald (33) lead a crowded and potential-packed group of playmakers; linebacker, where Drew Dudley, Huldon Tharp and Justin Springer return with experience; defensive line, where only All-Big 12 performer Jake Laptad is a known commodity; and the secondary, where all of the starting positions appear to be up for grabs.
This year, perhaps more than any season that has come before it, the most important aspect of spring practices might not show up in the depth chart or on the field.
"Obviously, you have to do all of the things to take care of (the game), taking care of the football, creating turnovers, excellent special teams and all of that," Gill said. "But you also have to make sure you're having guys believe in each other. And that starts with players to players, and then you have to take it to the next level of players to coaches and coaches to coaches. That takes time. I don't have a magic ball here that's going to tell me if it'll take one month, seven months, two years, four years or whatever. But I do know that we will be successful here at some point in time on a consistent basis."
Spring practices begin Saturday and run through the April 24 Spring Game.