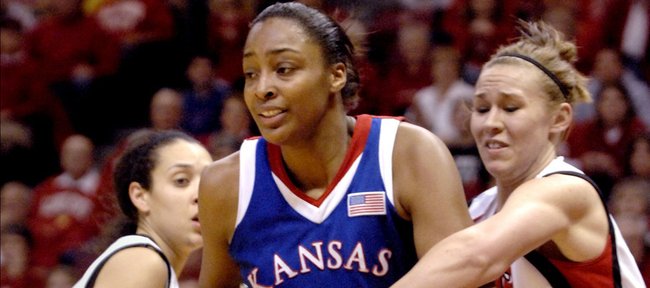 NORMAL, ILL. — Bonnie Henrickson spelled out Job One during the offseason.
"We've got to work on shooting better," Kansas University's women's basketball coach said after Thursday night's season-ending 71-51 loss to Illinois State.
And how.
Dreadful first-half accuracy dug an inextricable 33-18 hole, and the Redbirds cruised to an easy WNIT Sweet 16 victory. KU made six of 30 shots, a frigid 20 percent, in the first 20 minutes.
Illinois State concentrated on stopping KU post standout Carolyn Davis by double- and triple-teaming her, essentially daring the Jayhawks to hit outside shots. They couldn't do it.
"We needed to hit a couple of shots to bring them out," Henrickson said, "but we couldn't get anything to fall."
Davis attempted only three shots. She missed one and was fouled on the other two, converting 2-of-4 free throws to finish with two points. Henrickson sat her most of the second half.
Curiously, as bad as the Jayhawks shot in the first half, they made 12 of 23 attempts in the second half, but all that did was prevent a complete blowout.
Senior Sade Morris logged 38 minutes, was 0-for-9 from the field and was held scoreless for only the second time all season.
Photo Gallery
KU women vs. Illinois State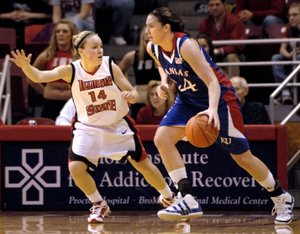 Photos from the Jayhawks' WNIT game against Illinois State on March 25, 2010.
"She wasn't aggressive," Henrickson said of the 5-11 wing. "I told her, 'Aren't you insulted they aren't guarding you?'"
Morris finished with the second-most games played in school history (131) and wound up with 1,276 career points.
As bad as KU's offense was, the defense wasn't much, either. While the Jayhawks were filling Redbird Arena with bricks, Illinois State shot 53.7 percent and nailed an eye-opening 10-of-12 three-point attempts.
"How many of those were uncontested?" Henrickson said of ISU's three-point shots. "We had poor focus and poor concentration on defense."
Freshman Monica Engelman led KU with 14 points, but missed 11 of 16 shots, including 10-of-12 in the first half. Junior Nicollette Smith contributed a season-high 10 points and Krysten Boogaard added 10 more, all in the second half.
The Redbirds (27-7) gained a measure of revenge after falling to Kansas, 75-72, in the WNIT last season in Lawrence. The Missouri Valley Conference regular season champs also snapped a 12-game losing streak to Big 12 Conference teams.
After advancing to the WNIT championship game last season, the Jayhawks finished with a 17-16 record. KU won only four of its last 13 games after losing preseason Big 12 player of the year Danielle McCray to a knee injury in early February.
Illinois State will play host to Illinois in the WNIT quarterfinals.