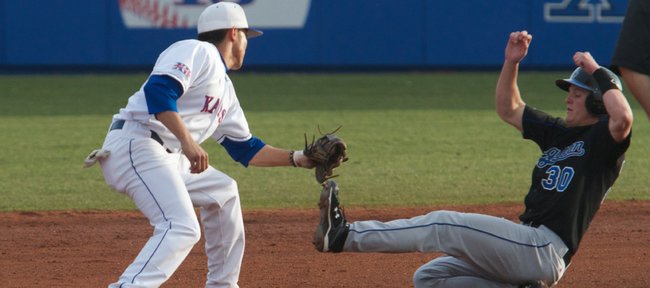 Photo Gallery
KU baseball vs. Creighton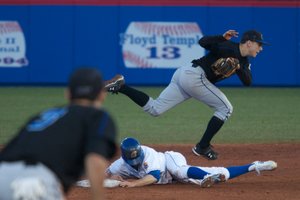 Photos from the Jayhawks' game against Creighton on Tuesday, March 23, 2010.
Brandon Macias was an unlikely candidate to produce a game-winning hit.
Struggling with a .213 batting average and hitting ninth in the Kansas University order, Macias defied the odds and singled in the decisive run in Tuesday night's 5-4 victory over Creighton at Hoglund Ballpark.
"It's everyone's dream to win a game in the ninth inning," Macias said with a smile. "It's fun."
Kansas had runners on first and second with two outs when Macias stepped to the plate in the dramatic situation. He didn't let it draw out, either, because the Jayhawks' shortstop lined the first pitch into left field.
Creighton outfielder Trever Adams picked the ball up on the run, but his throw was off-line allowing James Stanfield to scamper home with the run that ended the Jayhawks' four-game losing skid.
"That was really good for him to come through in the clutch," KU coach Ritch Price said, "because we really want to be good one through nine in our order."
Macias, a junior college transfer from Flagstaff, Ariz., also doubled and raised his batting average to .234.
Meanwhile, as happy as Price was about the resurgent hitting of Macias, he was even happier he was able to pencil Tony Thompson's name on the lineup card.
Thompson, a preseason All-American who led the Big 12 in hitting, home runs and RBIs last season, had been out since February after suffering a hairline fracture of his left kneecap when he fouled a ball off the knee during batting practice.
In his return, the 6-foot-4, 220-pound junior third baseman went 0-for-4, hitting just one ball hard.
"He's a little off," Price said, "but it's still spring training for him. That was Feb. 1 for him."
Price hopes Thompson will be able to see more live pitching today when the Jayhawks play host to Baker at 6 p.m., but with rain in the forecast, the Jayhawks' clean-up hitter may have to go into this weekend's league-opening series at Baylor with just those four at-bats.
"Obviously, I'm not up to par with the bat," Thompson said, "but it's been seven weeks so I don't expect to be real sharp right now. I'm sure I was a little anxious, too."
Brett Bochy, the fourth KU hurler, earned his first victory by pitching out of a bases-loaded jam in the ninth. Bochy surrendered a bloop single, an infield hit and a walk before fanning Robbie Knight to set the stage for Macias' heroics in the bottom of the frame.
Bochy has allowed only one earned run in 132⁄3 innings and owns a glossy 0.66 earned-run average. In addition to Macias, Casey Lytle, Brett Lisher and Stanfield collected two hits.
Lisher, a Free State High product who has won the first base job, doubled home a run in the fifth and his one-out single in the ninth started the winning rally.