Originally published March 21, 2010 at 3:18 p.m., updated March 21, 2010 at 5 p.m.
Document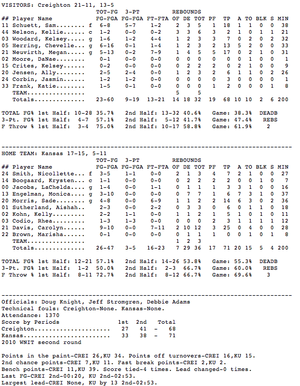 When Carolyn Davis awoke Sunday morning, her head was clear.
Good news for Kansas University's women's basketball team, bad news for Creighton.
Davis, who has battled concussion symptoms for two weeks, scored 25 points and grabbed 12 rebounds as KU clipped Creighton, 71-68, Sunday afternoon in Allen Fieldhouse.
"I thought I'd be able to play," Davis said after propelling KU into the WNIT Sweet 16, "but if I had had a headache today, it would have been no-go."
Davis sat out the last regular-season game against Texas A&M after taking a blow to the head during a practice session, then was cleared to play against Oklahoma State in the first round of the Big 12 tournament.
All the 6-foot-3 freshman did against the Cowgirls was score 31 points and post 11 boards. Then she was hit in the head again during practice and missed Wednesday's WNIT opener against Prairie View A&M.
No problem, though, because Krysten Boogaard filled in and scored a career-high 37 points in the 82-70 victory over Prairie View. Boogaard started Sunday, but logged only seven minutes.
"If Boogaard can score 37," Creighton coach Jim Flanery said, "and still not get the minutes a few days later, it tells you how good that kid is."
How good is Davis? Good enough to have made 21 of her last 23 shots and elevate her season field-goal percentage to a stratospheric .724.
"The kid's money in front of the rim," KU coach Bonnie Henrickson said.
Now the question is how to keep Davis from suffering another blow to the head between now and Thursday's Sweet 16 game at Illinois State.
"I have a little bike helmet I was going to bring in for her as a joke," Henrickson said with a smile. "I don't know what we'll do with her. I think we'll just have her bike and do shooting drills."
Meanwhile, Davis will continue to do what she needs to do, and that basically means hibernation. Saturday night, for example, all she did was turn off the light and lie in bed.
"No TV, no bright lights, no loud noises," Davis said. "It was soooo boring."
Senior Sade Morris, who added 14 points and six assists Sunday, can empathize with Davis because Morris suffered a concussion early last season and went through the same rehab.
"You just have to go to your room and lie there," Morris said. "It is boring, but that's what you have to do if you want to play."
Notably, seven other Jayhawks scored Sunday. Senior Kelly Kohn had a couple of important baskets late, including a three-pointer. And junior Nicollette Smith contributed seven points, the most she has scored in a month.
"Overall, I thought we were OK," Henrickson said. "I certainly didn't think we were great. There are days where you don't play well and you have to find a way to win."
In Illinois State, the Jayhawks will be facing the team they nipped, 75-72, last March to earn a berth in the WNIT championship game. But that game was here. Thursday's Sweet 16 game will be in Normal, Ill.
"If you're going to win a championship," Henrickson said, "you have to go on the road, and the kids are excited about that."