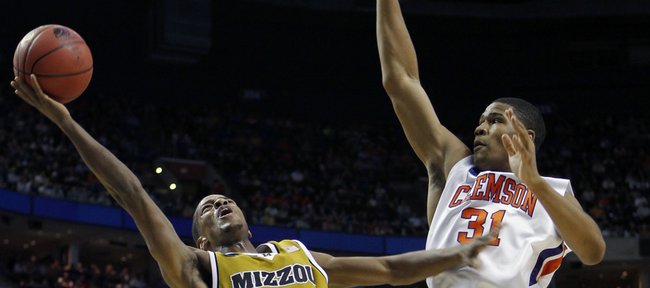 Missouri vs. Clemson
Feature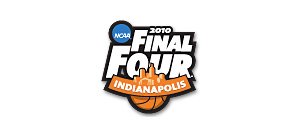 Buffalo, N.Y. — Trevor Booker's stellar career at Clemson ended on a sour note. You can thank "The Fastest 40 Minutes in Basketball" for that.
Kim English and Keith Ramsey each scored 20 points, and Missouri's swarming defense lived up to its reputation during an 86-78 victory over Clemson in the first round of the NCAA tournament Friday.
Missouri's defense, small, swift and smart, played at a high level. It forced 20 turnovers, nabbed 15 steals and stifled Booker for 35 minutes. Everybody that played for Clemson had at least one turnover.
"When you play at that pace — we scored 86 points but only had nine turnovers. That's efficient basketball," Missouri coach Mike Anderson said. "We had 15 steals, forced 20 turnovers and they outrebounded us by 15. I thought we imposed our will on a very good Clemson team.
"It ain't the Xs and Os. It's who wants it the most. I thought our guys displayed that today."
Ramsey, a junior-college transfer, picked the perfect moment for a memorable game. He finished with a career high in points, grabbed eight rebounds, had four assists with no turnovers, and made three steals in playing a team-high 34 minutes.
More importantly, he helped keep Booker at bay.
"He really put his stamp on the game, really every minute that he played," said J.T. Tiller, who had 10 points, five assists and five steals for Missouri. "Just being able to guard one of the best players in the ACC and hold him to 11 points, that says something about his effort. That says something about his pride, his integrity and his character."
Booker finished with 11 points, eight coming in a late 3-minute span, and pulled down 11 rebounds. Booker, the only player in ACC history with at least 1,500 points, 1,000 rebounds, 200 assists, 200 blocks and 100 steals, played his 134th straight game for Clemson to set a school record for total games started. He departs without a win in the NCAA tournament.
Missouri (23-10), the 10th seed in the East Regional, has won five straight opening-round games and will play Big East tournament champion West Virginia in the second round Sunday. The second-seeded Mountaineers beat Morgan State 77-50 earlier Friday.
No. 7 seed Clemson (21-11) goes home for the third straight year after a first-round loss to a lower-seeded team. Tigers coach Oliver Purnell is winless in six trips to the NCAA tournament with three schools.
"We were definitely expecting it," said Andre Young, who had a career-high 19 points for Clemson. "That's just the kind of team they are. We just weren't strong enough with the ball. They converted those turnovers into points, easy points that we couldn't defend."
Missouri, which entered averaging nearly 11 steals a game, tops in the country, outscored Clemson 22-2 on the fast break, 20-5 off turnovers and 42-28 in the paint.
Demontez Stitt had 21 points and Jerai Grant 12 for Clemson, which shot 12 of 24 on 3-pointers but managed just two steals.
English's 3-pointer from the right corner gave Missouri a 54-50 lead with 13:10 remaining in a game that featured 11 ties and 11 lead changes. That sent the Tigers on a 15-5 run that put them in command.
Nothing signified Clemson's troubles more than a single possession with just under 10 minutes to play. Booker, trying desperately to get something going despite constant double and triple teams, was stripped of the ball by Ramsey, who turned and quickly fed a closing Laurence Bowers for a resounding slam dunk and a 63-55 lead with 8:18 left.
English drained another 3 with 6:51 to go and Tiller's three-point play 27 seconds later boosted the Missouri lead to 71-60. And it was all hustle as Tiller rebounded a miss by English and was fouled as he drove the lane for a layup.
Both teams play a pressing style and entered hoping to right what had gone wrong recently. Missouri was stunned 75-60 by 12th-seeded Nebraska in the Big 12 tournament, while Clemson lost by a basket to 11th-seeded North Carolina State in the ACC tournament.
"We still had a bad taste in our mouth," English said. "So we just had to just come out with the same feeling we felt after the Nebraska game and know that we didn't want that same locker room after this game."
This wasn't the Missouri team that advanced to the round of eight a year ago. Missouri lost 1,000-point scorers Matt Lawrence, DeMarre Carroll and Leo Lyons from last year's team, which won a school-record 31 games.
It's still pretty good, though, good enough to withstand a long-range onslaught in the first half. Clemson shot 51.9 percent and hit 8 of 13 3-pointers in the first half to overcome 12 Missouri steals and leave the court tied at 39. But Clemson went 14 of 36 (38.9 percent) after the break and Missouri shot nearly 60 percent (16 of 27).