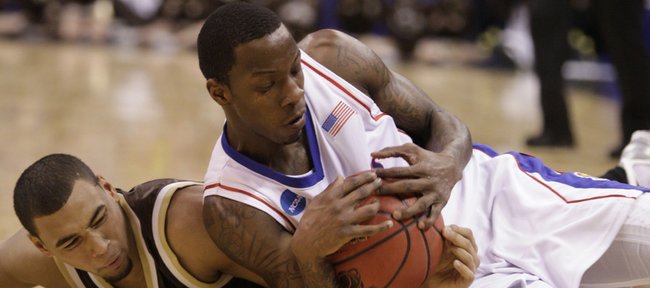 Oklahoma City — Building an early eight-point lead against Kansas University wasn't much of a consolation prize for Lehigh's players following Friday's 90-74 loss to the Jayhawks.
"We expected to get a lead at the beginning," Lehigh freshman guard C.J. McCollum said. "We were just trying to sustain throughout."
Following a Zahir Carrington jumper, Lehigh led, 12-4, with 14:03 left in the first half.
"With a team as strong and as deep as Kansas is — 12-4, that isn't really going to cut it for the whole 40 minutes," Carrington said. "I think that it more was shocking to other people in the building that realized we came to play. It kind of shocked them."
KU answered with a 15-0 run of its own, and the Mountain Hawks never led after that.
"Maybe it woke them up a little bit," Carrington said. "We didn't feel any particular joy or cheer. We knew it was a long game."
Added McCollum, who scored a team-high 26 points: "We knew if we got up, that really wouldn't really matter, because eventually, (Kansas) coach Bill Self is going to get into them, and they're going to pick up the intensity as well."
Carrington admitted that he'd seen a lot of growth from KU forward Marcus Morris — both in his strength and in his play — since the last time he'd played against him in high school. Both players are from Philadelphia.
"His game has expanded as far as being able to shoot the ball," Carrington said. "Before, he was a decent shooter. Capable. But now, I think, his game at his height, that allowed him to stretch the floor."
Carrington wasn't offering many more compliments to Morris, who posted a career-high with 26 points on 12-for-15 shooting.
"Today, I can't really say he did too, too much. A lot of his damage came on offensive rebounds and tip-ins and stuff like that. Pretty much anybody can do that kind of stuff," Carrington said. "He had a couple nice moves, made some quick moves to the basket. He had a good game. Congratulations to him."
Carrington, who finished with 17 points on 7-for-15 shooting, wished that his team could have performed better.
"I think they kind of caught us on an off night shooting-wise. We missed some shots that we normally make," Carrington said.