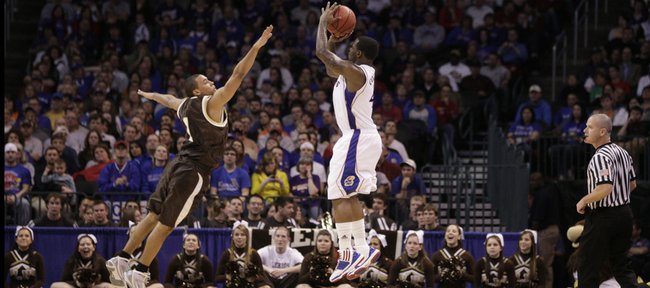 Oklahoma City — Bill Self must be the most disciplined man on the planet to be able to resist the temptation to call a timeout every time his team goes on a double-digit run so that he can air out his players, let them know they're terrible and tell them every person in the building agrees.
Somehow, he manages to keep himself from responding to every lopsided victory by making his team sprint suicides for an hour. How does he keep from telling every player who scores a basket that he not only can't play, he's ugly too?
The second Kansas University is reminded it's the best college basketball team in the nation, it instantly plays down to the level of its competition. The players say all the right things when facing underdogs, but their actions betray the words as hollow.
When they embrace a cause, convince themselves they've been slighted, they come out punching like Joe Frazier. When the opponent comes from a small conference (Lehigh, the Patriot League) or has a short lineup (Oklahoma State) or is missing a star player (Tennessee, Colorado), the Jayhawks lapse into counter-punch mode and tend to play as if they've just signed guaranteed long-term contracts.
They handle prosperity about as well as Mike Tyson did, the difference being that once they get smacked in the face, they generally embrace a new cause and find a way to return to form. Often, they are cats giving the mice of the basketball world a reason to believe they'll survive before they devour them.
Thursday's first-round NCAA Tournament victory against Lehigh, 90-74, defined how these Jayhawks often play as favorites. They were down 12-4, before a 21-2 run. The blowout was on, right? Wrong. With 40 seconds left in the half, Lehigh drew within two points.
These Jayhawks must enjoy getting blasted at halftime. Self didn't wait until then to light the fire of Marcus Morris. He did it with one acidic question delivered very early in the action after Morris failed to fight through a ball screen: "How soft are you?" One sentence. Four words. New player.
Naturally, with Sherron Collins energizing the team and Morris producing a double-double and a career-scoring-high of 26 points, Kansas made the Mountain Hawks — what a foolish decision to change the name from Engineers — look like a No. 16 seed from the Patriot League.
Next team up for the Jayhawks (33-2) to say they respect and potentially show they don't: Northern Iowa. In the layup line, the Panthers (29-4) look like a B-shift steel mill team playing in a midnight basketball league. Self knows there is ample reason to take them seriously.
"I'm not leaving out of here totally fired up right now because I know that if we defend like that, then it will be very difficult, very, very difficult to beat Northern Iowa," Self said.
Georgetown, one of the monsters of the supposedly loaded Midwest Region, lost to Ohio, no better than a No. 9 seed in the MAC tourney a week ago. Should Ohio continue to advance, that actually could make the road tougher for Kansas, given that the Jayhawks might not perform as well as it would against Georgetown. Seinfeld's George Constanza would love this Kansas team. Everything is opposite with these guys.