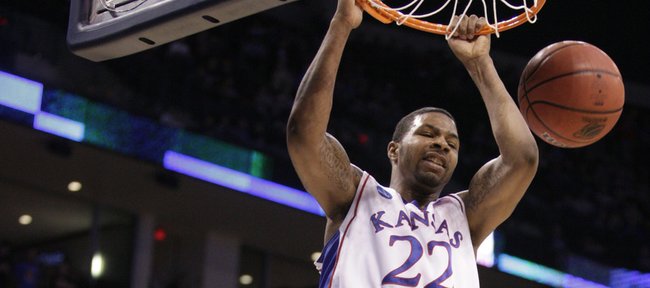 Oklahoma City — It's a well-known fact that no top seed ever has lost to a No. 16 seed in the first-round of the NCAA Tournament.
How many No. 1 seeds have trailed, 12-4, in a tourney lid-lifter is anybody's guess.
"We were down 12-4 to Lehigh. No offense, but if that's West Virginia or some No. 1 or 2 seed, it could get ugly for us," KU sophomore guard Tyshawn Taylor said after the No. 1-seeded Jayhawks survived a slow start — OK, a dreadful 20 minutes (KU led by six at the break) — to overcome No 16-seed Lehigh, 90-74, on Thursday night at Ford Center.
The Jayhawks did play well enough to improve the all-time record of No. 1 seeds to 102-0 — and did play well enough to advance into Saturday's second-round game against Northern Iowa (4:40 p.m., Ford Center).
But as KU coach Bill Self pointed out, "We definitely didn't ever put them away. We had numerous opportunities to make it difficult for them to get back in the game, but we never got that three, four stops in a row to really stretch it."
The problem, according to Self and his players, was first-game NCAA jitters.
Yes, top seeds apparently get a case of the jitters, too.
"I thought we played really tight early," said Self, who was forced to call a 30-second timeout with his team down eight early. "I don't know why … except first-round NCAA Tournament. There is some pressure early. The lid didn't come off until the second half."
The Jayhawk players, who struggled to a 35-29 halftime lead, agreed they were tight.
"We had the first-game jitters, similar to last year against North Dakota State," said KU sophomore forward Marcus Morris, who shrugged off an early benching to respond with a career-high 26 points off 12-of-15 shooting with 10 rebounds.
KU needed such an outing to match Lehigh freshman C.J. McCollum, who hit for an identical 26.
"Coach said it best: That three-pointer I made finally took the lid off the basket," Morris said.
He had a three kick high off the rim, then fall through the hoop, opening a 21-2 run that erased that 12-4 hole and gave the Jayhawks a 25-14 lead at 6:21.
"They were up 12-4, and we got tight a little bit. Marcus' shot bounced on the rim and went in, and we said, 'Time to go,''' Taylor said.
Yet KU still led just 50-44 with 13:10 left. Tyrel Reed hit three threes and Brady Morningstar one in a 25-11 surge that gave KU a 75-55 cushion at 6:34.
Reed hit four of six threes the second half after going scoreless the first half.
"Tyrel was probably the most efficient player we had in the game offensively because his shots came at big times, which really kind of kept the game, the distance great enough where we never really felt threatened," Self said.
The Jayhawks, who were led by Morris' strong production inside (Cole Aldrich contributed 11 points off 5-of-10 shooting), did outscore Lehigh 52-18 in the paint. That's on a night Zahir Carrington played bigger than 6-foot-7, scoring 17 points off 7-for-15 shooting with six boards.
"He was getting whatever he wanted down low," said Aldrich.
"I can't feel too great tonight, because my man scored 17 points," Morris noted. "We really didn't play well defensively tonight. We gave up 45 points the second half (to KU's 55). That's a lot."
The Jayhawks' team leader, Sherron Collins, who had 18 points and six assists, said the Jayhawks left the arena with a positive taste in their mouths.
"A win is a win, especially this time of year," Collins said. "I just think the shots weren't falling early. It was a typical first-round game. We'll get some rest, practice tomorrow and come back strong against Northern Iowa. We know they've got a good team, and we'll have to play well to win."