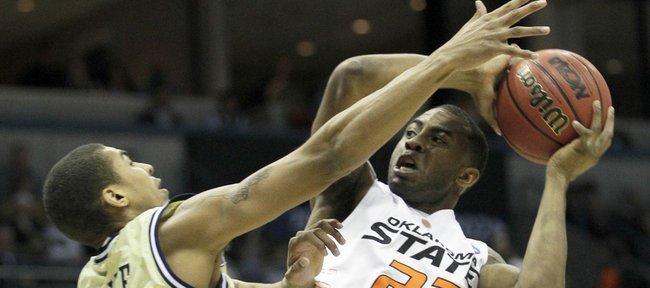 Georgia Tech vs. Oklahoma St.
Feature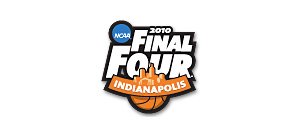 Milwaukee, Wis. — The Georgia Tech players earned themselves some extra credit the next time coach Paul Hewitt holds one of his little free throw games.
Gani Lawal scored 14 points, Derrick Favors came within a rebound of a double-double and the free throw-challenged Yellow Jackets scored their last 13 points at the line Friday night to hold off seventh-seeded Oklahoma State 64-59 in the first round of the NCAA tournament.
The Yellow Jackets (23-12) didn't make a field goal the last 8:19 of the game. But they finished 24 of 25 from the line — pretty good numbers for a team that came in shooting less than 65 percent.
"We've had some tough nights this year, but we had a good night tonight," Lawal said. "When we're in the NCAA tournament, it's huge. It's huge. We're practicing all the time. We want to keep playing."
The 10th-seeded Yellow Jackets were the eighth double-digit seed to win a game, and the third to do it Friday. They'll now play Ohio State on Sunday. The Buckeyes may be the No. 2 seed in the Midwest, but the Yellow Jackets have to like their chances. With Friday's victory, Georgia Tech improved to 5-0 in NCAA tournament games at the Bradley Center.
James Anderson and Oklahoma State (22-11), meanwhile, head home knowing the timing couldn't have been worse for one of their poorest games.
Anderson, the nation's third-leading scorer, was just 3 of 12 for 11 points, only the fifth time this season he's failed to score at least 15 points. Obi Muonelo, Oklahoma State's second-best scorer, wasn't any better with 10 points on 4-of-11 shooting.
And the 3-pointers that have carried the Cowboys all season disappeared. They were just 6 of 22 from long range, including 0 of 6 for Anderson, well below their 35 percent average.
"They were a much more physical team than I had seen on tape. Very physical, very aggressive," coach Travis Ford said. "They were able to take us out of some of our offensive things being aggressive."
Made the Cowboys cough up the ball, too. After just three turnovers in the first half, Oklahoma State had eight in the second, including one by Anderson with 20 seconds left.
"I tried to get to the basket and get a foul," he said. "Obviously I didn't get it."
That Georgia Tech put up a stingy defense is hardly a surprise. Neither was the play of Favors and Lawal. But free throws?
Hewitt has even come up with games to try and improve his teams Shaq-like shooting. The current one requires players to make three in a row before they get any credit.
"You'd have eight," Hewitt said, laughing, when asked how many his team gets for Friday's performance. "Our guys can make free throws, we just don't happen to make them sometimes in the game."
Brian Oliver's banked jumper with 8:19 left was Georgia Tech's last basket of the game. Anderson tied the game at 54 with a steal and a slam with 3:32 left, but the Yellow Jackets just kept knocking down their free throws. Favors gave Georgia Tech the lead for good with two of them with 2:27 left, and Iman Shumpert and Maurice Miller finished it off, going 6 for 6.
"That was our last shot? All of them were free throws? I can't believe that," Lawal said when told of the Yellow Jackets' field goal drought. "I'm just glad we got the W. We can win by 1 point, by half a point, just as long as we keep winning."
Keiton Page gave Oklahoma State a 34-27 lead — the largest of the game — late in the first half when he stole the ball just past halfcourt and sprinted toward the basket. The tiny guard — he's listed at 5-foot-9 — looked as if he was considering dunking, but he settled for the sure thing instead, laying it up.
But Favors, the ACC freshman of the year and a projected lottery pick in this year's NBA draft, and Lawal made consecutive baskets to spark a 12-5 run that spanned halftime and tied the game at 39.
After tying the game at 43 with a slam, Favors got the ball right back for Georgia Tech. He swatted away a shot by Anderson, and Zachery Peacock's layup gave the Yellow Jackets a 45-43 lead, their first since 13:20 was left in the first half. They never trailed again.