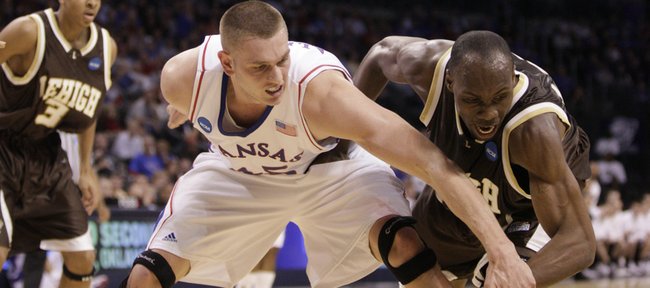 Up next
Kansas University has advanced to a second-round match against Northern Iowa (29-4), a 69-66 first-round winner over UNLV.
Game time will be 4:40 p.m. Saturday in Ford Center.
Missouri Valley regular-season and postseason tourney champ Northern Iowa claimed nonconference victories this season over Boston College, Iowa State, Iowa, Siena and Wyoming. The squad's only losses came to DePaul, Wichita State, Bradley and Evansville.
UNI on Thursday was led by guard Ali Farokmanesh, who scored 17 points off 5-of-9 three-point shooting. He drilled a deep, game-winning three with 4.9 seconds left.
Northern Iowa has won five straight games.
"It's going to be a fun one. They've got a skilled big guy," KU center Cole Aldrich said of 7-foot senior Jordan Eglseder, who had 10 boards and nine points against UNLV. "They shoot the ball well. We know it's a big challenge for us."
KU coach Bill Self noted: "They are as sound defensively as any team we've played in a while, not just this year, but in a while."
NIU coach Ben Jacobson on playing the Jayhawks
"Whether it was us or UNLV that won our game, it was going to be a nice reward if you will, for either one of us to get Kansas.
"We'll dig into the film tonight. I've seen them play throughout the course of the season. They're a terrific basketball team. We'll put together a game plan and we've got a day and a half to do that and we'll play as hard as we can on Saturday."
McCollum shines
Tyshawn Taylor on Lehigh freshman C.J. McCollum who burned KU for 26 points off 7-of-21 shooting with 10 free throws made in 13 tries.
"He's good. I did what I could and he still got 26," Taylor said. "He's just a freshman. He's really going to be a great player."
Halftime speech
What did Self tell his troops at halftime, with KU up just 35-29?
"He came in there and said they didn't shoot well. He said we could have easily been down five. He didn't yell at us too much, didn't get too down on us. He probably wanted us to stay confident for the second half," Taylor said.
Self noted: "The message was, 'Guys, we're very fortunate.' We'd not made anything, and they were 1-for-9 from three. We executed well offensively the second half. We got anything we wanted offensively, but weren't good defensively."
Big O on record
Former Kansas University center Greg Ostertag is ready to relinquish his school blocks record.
"It stood for 15 years. Records are made to be broken," said Ostertag, who swatted 258 shots from 1992 to '95.
On a fishing trip in the Florida Keys, he returned a phone call to the Journal-World asking for comment concerning Cole Aldrich (246 blocks entering Thursday's game against Lehigh) closing in on his blocks mark.
"Maybe if Cole breaks it, my son can come in and break his record someday," Ostertag said with a laugh.
Cody Ostertag is a 6-foot-7, 190-pound sophomore from Scottsdale (Arizona) Christian High School.
"He has a chance to be a real good player," the 7-foot-2 Ostertag said. "He has a good jumper. He's got to work on his game. If he does that, he has a chance to be recruited. He wants to go to Kansas. That's two years down the road. We'll see."
Back to Aldrich, the man of the hour …
Ostertag realizes Aldrich is trying to break his KU record in just three seasons. The Big O played four years at KU.
"He plays more minutes than I did," Ostertag cracked. "If he doesn't break it this year and decides to come back, I'll come to the game where he breaks it next year in the fieldhouse. That'd be fun."
Yet it's a foregone conclusion Aldrich is off to the NBA after this season. Ostertag played 11 years on the highest level.
"More power to him, if he does (turn pro)," Ostertag said. "From what I understand, he's a true big guy. He likes to get in the paint and push you around, block shots and rebound. He has to get a little stronger and bigger. He's a big defensive guy. Everybody in the NBA is looking for guys who can play defense. He clogs the middle up."
Ostertag provided some insight on what it takes to be a good shot-blocker.
"It's all timing," he said. "A lot come from the help side. Probably 65 percent of my blocks at KU came from the help side. I blocked guys straight up, too. If I go straight up in the air, I'm 10-feet tall. Cole's about the same. That's a long way to shoot over."
Dooley on Hall wish list
KU assistant coach Joe Dooley is being mentioned as a candidate for the Seton Hall head coaching vacancy. Other names that have surfaced in media reports: Hofstra's Tom Pecora, Siena's Fran McCaffrey and Duke assistant Chris Collins. Dooley also has been mentioned as a possibility at Charlotte, UNC Wilmington and East Carolina. DePaul, Iowa, Oregon, Hawaii and other schools are also looking for coaches.