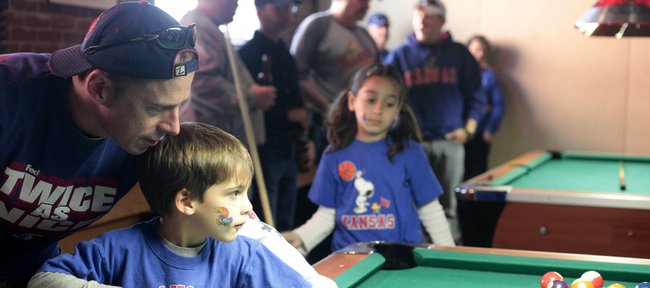 Oklahoma City — Now that Lehigh is out of the way, you'd think Kansas fans might be ready to brace for the possible: A tough game with No. 9 seed Northern Iowa, champion of the Missouri Valley Conference, loser of four games all year.
Think again.
"Even though they're in the toughest bracket, they'll definitely go to the Final Four," said Andrew Brown, a lifelong fan who's listened to, seen or attended every KU game for the past 25 years.
He pegs KU as a 50-50 shot to win it all, but that's not quite true. The other 50 merely accounts for KU's chances of not losing.
"This year's just different," Brown said, at Ford Center for KU's 90-74 victory Thursday over the Mountain Hawks. "They can play bad and still win by a large margin. This isn't a Roy Williams year, when you're a heavy favorite and you lose a second-round game to UTEP. I still remember that one. Or Rhode Island. Or Arizona.
"These guys, they're different."
Ask around Bricktown, or on Sheridan Avenue, or inside Ford Center, and you're likely to come across fans with plenty of similar certainty in their crimson and blue.
Kari Kovzan and her 9-year-old daughter, Claire, are so sure of success that they'll enjoy Oklahoma City and take next week off — passing on the regionals in St. Louis — before traveling to Indianapolis for the Final Four.
Tickets in hand and hotel rooms booked, the Kovzans now await the championship from the only team they figure can win it. "KU," Claire said. "One hundred percent."
Such pressure is nothing new for the Jayhawks, who started the season No. 1, ended the regular season No. 1, landed the tournament's top seed and scored a championship prediction from President Obama and more Americans than any other school.
Be careful, advises Stacy Reed, who is father to KU guard Tyrel and team manager Lacie.
"You better think one game at a time in the NCAAs, or you're in trouble," he said, watching Northern Iowa's win alongside a quiet Roger Morningstar, Brady's father.
Brown, the confident lifelong fan across the way, isn't worried, even after Thursday's early struggles. He's ready for a triumphant repeat of KU's title from two years ago.
"I cry when KU loses," he said. "When the season's over, I need some time alone. I need closure."
This time, he's looking forward to wiping away tears of joy.