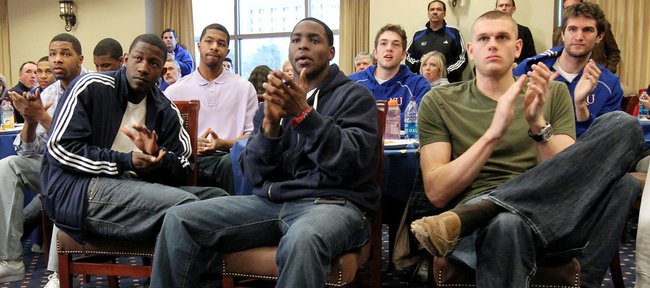 Marcus Morris about lost his dinner of hamburger and chicken strips while watching the revealing of the NCAA Midwest Regional bracket with his Kansas University basketball teammates Sunday in the Naismith Room in Allen Fieldhouse.
"The first thing I thought was, 'Wow, are we No. 1, or is somebody else No. 1?'" said Morris, shocked by the strength of a regional that includes KU — the country's overall No. 1 seed.
"There's Ohio State and Georgetown and the only teams we lost to (Tennessee, Oklahoma State). That was tough to think about. I feel we've got a lot of tough teams in our bracket. But, I mean, at the end of the day, it doesn't even matter. Whoever they put in our bracket is just another step standing in our way," Morris added.
The Jayhawks' first test comes against Patriot League champion Lehigh approximately 8:40 p.m. Thursday in Oklahoma City's Ford Center. Winner advances to Saturday's second-round game against either UNLV or Missouri Valley champion Northern Iowa.
Other headliners in the regional are: No. 2 seed Ohio State, regular-season tri-champion of the Big Ten; No. 3-seed Georgetown, which has defeated No. 1 seeds Duke and Syracuse; No. 4-seed Maryland, regular-season co-champion of the ACC; and No. 5 seed Michigan State, another tri-champ of the Big 10.
There are also No. 6 seed Tennessee and No. 7 Oklahoma State, the only teams to topple KU this season.
"After you look at the bracket, you say, 'Well, I don't think we had a lot of favors done to us,''' KU coach Bill Self said. "It should be tough. It's why it's your national tournament. All teams are good."
Yes, but Clark Kellogg and the rest of the CBS analysts seemed to agree KU's regional is the toughest of the four. They say the Jayhawks face more potential potholes on the road to the Final Four than overall No. 2 seed Kentucky (East), No. 3 Duke (South) and No. 4 Syracuse (West).
"Just looking at it from the seeding standpoint, I'd agree whole-heartedly (with announcers)," Self said. "We're No. 1 overall. You've got the No. 2 seed that several people thought was in the conversation for a No. 1 (Ohio State).
"You have in my opinion a team that played unbelievable down the stretch. Any team that was able to score 91 points against Syracuse (in 91-84 win in Big East Tournament), you know they can beat anybody any night," he added of Georgetown. "Your 4 seed is ACC co-champion, and 5-seed is Big Ten tri-champion."
Still ...
"We are not even concerned about that. If you look too far ahead, you are preparing for something that may never exist. You've got to stay in the present, and the present is this weekend," Self said.
And first up is Lehigh, which went 22-10 overall and 10-4 in Patriot League play.
"We'll totally respect them because we played one other team from the Patriot League a few years ago. If I'm not mistaken, Bucknell was in the Patriot League, so I'm sure we'll be hounded and reminded of that," Self said.
Bucknell stunned KU, 64-63, in a first-round 2005 NCAA Tournament game in the same Ford Center in OKC.
What did that Bucknell game mean to KU senior Sherron Collins?
"Nothing," he said. "I wasn't here then. None of us were here then."
Self said he'd have tape of the current darlings of the Patriot League, Lehigh, by Sunday evening.
"We know McCollum (C.J. freshman guard) can really score," Self said of the player of the year and freshman of the year in the conference who averages 18.9 ppg. "They obviously are good and deserving. I believe their coach Brett Reed has been there three years and obviously has done a great job. We'll be excited to play.
"Some of our guys actually watched them play (Friday). They saw for themselves Lehigh is good."
Indeed, KU's players caught some of the Lehigh-Lafayette conference title game from their hotel rooms over Big 12 tournament weekend in KC.
"They've got a good freshman guard, good players," Collins said.
As far as the site ... KU lost a first-round 2009 Big 12 tournament game to Baylor in Ford Center and won three games there in the 2007 Big 12 tourney.
"I'd like to go play well in Oklahoma City for our university first and foremost," Self said. "One weekend there we were great, and a couple weekends we weren't great. I don't want it to be distractions for X and C.J. (Xavier and C.J. Henry, who hail from OKC), and I don't think it will be."
If the Jayhawks win two games in Oklahoma City, they'd advance to the regional semifinals the following Friday in St. Louis.
While the Jayhawks admit it'd be nice to meet the team that knocked them out last year (Michigan State) — "We feel like we owe them something" Morris said — they realize they have a lot of work to do the opening weekend to advance that far.
"We're going to go into every game and play tough and try to just keep moving forward," Morris said.
Here are all the seeded teams in the Midwest bracket:
Kansas
Ohio State
Georgetown
Maryland
Michigan State
Tennessee
Oklahoma State
UNLV
Northern iowa
Georgia Tech
San Diego State
New Mexico State
Houston
Ohio
UC Santa Barbara
Lehigh