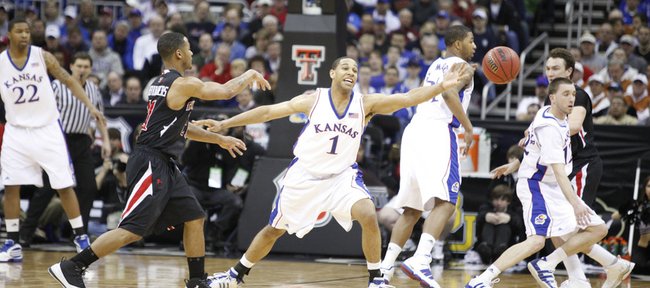 Kansas City, Mo. — Cole Aldrich and Sherron Collins exited a Sprint Center locker room wearing what's sure to soon be a popular item on sale at your favorite bookstore.
"Pretty cool," Aldrich said, pointing to his new "Kansas 2,000 Victories: 1898-2010" basketball T-shirt.
"I really like the '2KU,''' Aldrich added of an abbreviation of the Kansas University milestone printed at the bottom of the blue shirt.
The Jayhawks, who had said little to nothing about the school's pursuit of victory No. 2,000 during the 2009-10 regular season, expressed pride after surviving Texas Tech, 80-68, in Thursday's first-round Big 12 tournament contest.
The win was KU's 2,000th against 795 defeats.
"I think everybody contributed to this — our current players, a number of guys who came before us, and guys who will continue on after us," KU junior center Aldrich said after grabbing 18 rebounds and scoring 12 points.
"We're just happy to be at KU and playing ball at what we feel is the best basketball school ever."
The Jayhawks, who advanced to today's 6 p.m., semifinal meeting against Texas A&M;, were in high spirits as Larry Hare, KU's assistant AD/equipment operations, passed out the T-shirts in the winning locker room.
"I'm happy to be part of this," KU guard Tyshawn Taylor said, displaying his T-shirt for reporters to see "My mom is probably gonna take it from me, but I'm happy to get to wear it at least one time before she gets her hands on it. I'm happy to be part of the great history at Kansas. I'm really happy."
Taylor and his teammates — who join players from North Carolina (2,000) and Kentucky (2,017) as members of the 2,000-win club — weren't rejoicing at halftime. That's when KU coach Bill Self, not pleased with his team's play in nursing a 34-32 lead, lit into his Jayhawks.
"He challenged our manhood, basically," forward Marcus Morris said after scoring 12 points and grabbing five rebounds. "He said it was the worst we played all year, that there's no intensity in the locker room, and nobody's hyped to play.
"It was an early game. It was like we were just waking up. We did the same thing last year, and it cost us (in first-round loss to Baylor). Today we prevailed. We won't do that again," Morris added.
Self — he was especially hard on team leaders Sherron Collins (19 points, six assists) and Aldrich at halftime for not having the team mentally ready — explained his angst.
"I can live with missed shots or poor play or careless play or whatever, but the reason I thought we didn't play well was stuff self-inflicted from an energy standpoint," Self said. "I didn't feel we were turned up. Not that we weren't playing hard, but there was no oomph in the building. You can't wait on fans to provide that. You've got to create it yourself.
"We talked about that the whole week. You work your butt off for 2 1/2 months so you have a chance to play at 11:30 (a.m. after receiving bye). That's the advantage. We looked at it today as almost a disadvantage. Certainly Thursday or Friday (in NCAAs), there's a chance we'll play the early game wherever we go."
Aldrich had eight boards and five points the second half, Collins 10 points and four assists.
"I got on Cole pretty good at halftime. He responded like a kid is supposed to respond," Self said, explaining, "the reason we didn't have as much energy and it was a two-point game at halftime is Cole and Sherron's responsibility.
"It's their job to make sure everybody is ready to play. Sherron didn't feel good (battling a cough and cold). That stuff doesn't matter. I thought the second half both of them played well."
Aldrich's 18 rebounds tied a season high (Tennessee) and were two off a career high (20 vs. Dayton and Oklahoma last year).
"Coach challenges us all the time and wants the best from us. He knows how good we can be as a team," Aldrich said.
"That's one thing he's got to do as a coach," he added of getting angry at halftime.
Of his own play, Collins, who had three fouls the first half, said: "It's my responsibility to get us ready. I've got to do a better job of that and a better job of staying out of foul trouble and putting my team in tough positions."
The No. 1-ranked Jayhawks (30-2), who led the Red Raiders (17-15), 65-63, with 5:55 left, went on a 12-0 run to ice the victory.
Collins and Xavier Henry opened the spurt with threes. Collins then hit two free throws, and Aldrich and Reed followed with buckets.
"It is a big deal to be one of only three programs to get 2,000 wins," Self said. "Our guys respect the history and the tradition at Kansas. Winning it (2,000) is not something we put a huge emphasis on because we just want to win the next game. But to so many who supported Kansas throughout the years, I can understand why it's such a big deal. We're proud of it."
So proud that the players wore their T-shirts as they left the building.
"I'll be sporting mine later," Self cracked, still wearing shirt and tie after earning his 199th victory against 42 losses in seven years at KU.