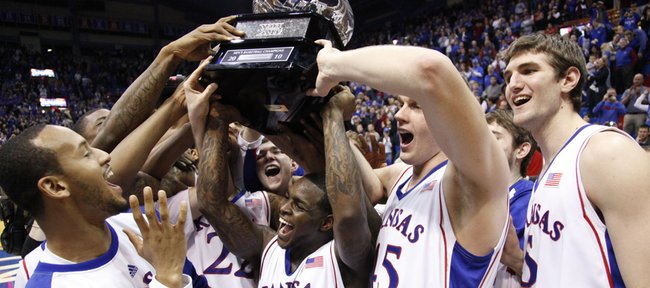 Talk about assets — this Kansas basketball team is loaded with them as it begins a realistic quest for another NCAA title.
The Jayhawks don't have to beat Missouri Saturday ... they don't have to win even one game in the Big 12 tournament ... they, at least for a while, don't need Sherron Collins and Cole Aldrich performing as the All-Americans they should be ... there's an imposing list of benefits in KU's favor.
KU stamped itself as the clear pick of the league litter with Wednesday's 82-65 victory over high-class Kansas State, which also could make big noise down the line. I had nightmares over the prospects of KSU guards Jacob Pullen and Denis Clemente orchestrating a Wildcat win along the lines of KU's 80-75 tournament defeat by Rhode Island in 1998. Remember how Cuttino Mobley (27 points) and Tyson Wheeler (20) ripped out KU's heart in that Midwest Sub-Regional second-round game in Oklahoma City?
But even though there were times you wondered if Collins and Aldrich were going to show up against KSU, KU's satellite performers kept things on an even keel until there could be a breakthrough after that frightening 45-all tie. K-State is a national top 10 entity, but it succumbed to KU's overall strength the same way opponents from now on may do.
K-State's zone defense tactics and KU's uncertainty in how to deal with them could have been a preview of what will happen if Kansas and zone-icon Syracuse meet. But that might not happen until a national title game. Even though the 'Cuse's zone may be the best you'll ever see, Collins and Aldrich may have regrouped by then, and KU will shoot free throws a lot better than that disgusting 12-of-30 showing in the 2003 title loss to the Orange. In reach!
Quick rehash. Suppose Kansas had entered the 1952 NCAA Tournament with all-everything Clyde Lovellette in the kind of funk that has pestered Aldrich. Clyde's 144-point tourney showed that to be no problem, yet KU could not have won with Clyde in semi-drydock.
Fast-forward to the 1988 miracle, and suppose the incomparable Danny Manning, Milt Newton and Kevin Pritchard had been limping along the way Collins and Aldrich have been. KU probably wouldn't have got past the regional.
Four 2008 stars averaged double-figure scoring. KU still would have been derailed if any two of the Rush-Chalmers-Arthur-Jackson combo had been in late-season limbo.
Yet here are two 2010 All-Americans sometimes grasping at straws and Kansas STILL deserves to be rated the title favorite, regardless of what it does at Missouri or in the league tourney.
Man, that means Bill Self has a pretty good team at his disposal! Freshman whiz Xavier Henry again is showing that he might truly be one-and-done NBA material. Marcus and Markieff Morris have been mammoth surprises from what was anticipated a year ago. Tyshawn Taylor with all his athleticism indicates he might have reached the stage where he can have a two-good to one-bad play ratio at both ends of the court. Lofty Jeff Withey might help, Brady Morningstar and Tyrel Reed will continue to add stability and we haven't begun to see all that Thomas Robinson and Elijah Johnson can provide.
Now, if Collins can moderate his occasional ball-hogging and poor-shot choices and Aldrich can relocate the basket and finish with more efficiency and gusto, they have the supporting cast to lead the way to the national throne room.
Mercy sakes, we may just be looking at KU's second NCAA title in the last three seasons. Don't bet against these still-emerging Jayhawks.