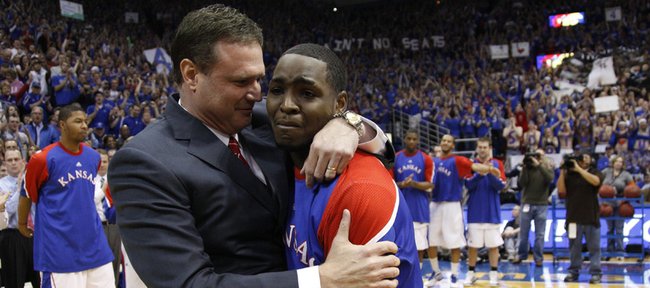 Reader poll
No. 1

9%

746 votes

Top 5

44%

3560 votes

Top 10

30%

2472 votes

Top 20

11%

888 votes

Top 30

2%

197 votes

Top 100

1%

102 votes

He wouldn't rank in my top 100

0%

75 votes

Undecided

0%

26 votes
8066 total votes.
Audio clips
Kansas-Kansas State
KU vs. KSU
Bill Self, who preaches toughness as much as any college basketball coach in the country, wrapped his arms around Sherron Collins with 30.4 seconds remaining in Kansas University's 82-65 victory over rival Kansas State on Wednesday night in Allen Fieldhouse.
"I love ya," KU coach Self told the 5-foot-11 guard, who had just been bear-hugged by junior center Cole Aldrich at the top of the circle before exiting his final home game and running into his head coach's embrace.
Self had encouraged Collins late Tuesday night on the phone when Collins was stressing over his Senior Night speech and again at halftime Wednesday after Collins had missed eight of his first nine shots. Self has been as soft as a marshmallow around his star playmaker before.
"He's told me that a few times. It meant more tonight," Collins said of the "I love you's" between him and his mentor.
"It's all good, 'cause he's said some other things to me, too," Collins added with a laugh, referring to harsh words pushing him to be the best he can be.
"I always know he cares. For him to say I'm the best guard he's coached means a lot to me," Collins said.
Collins' Senior Night meant so much to him he couldn't sleep well Tuesday.
"I called coach," Collins said. "I said, 'I don't know where to start my speech.' He said, 'Calm down.'''
Collins ultimately was able to catch some Z's, but was all worked up during the daytime hours leading up to the 7 p.m. tipoff.
Collins sobbed during a pregame ceremony in which he was presented his No. 4 jersey, with his mom, Stacey, repeatedly rubbing his back at center court. Self jokingly gave Collins a little slap to the face before hugging him after the short ceremony.
Nothing worked as Collins, as well as junior Cole Aldrich (two points, one rebound first half), who also most certainly played his last game in the fieldhouse, were abysmal in the first 20 minutes.
KU, thanks to Xavier Henry's 15 points, still led, 45-38, at the break.
"I was a little jittery, too anxious," Collins said. "I wanted to do so well I got out of my character a bit. I was shooting quick shots. Coach told me to relax. I took a couple deep breaths, had a little pep talk with myself at halftime."
Collins scored nine points with two assists and two rebounds the second half, while Aldrich had seven points, three boards and three blocks. Both were instrumental in a 19-4 run that turned a 59-55 lead into a 78-59 advantage.
"I should have told him (Collins) that after the first timeout," Self joked of settling him down. "I told he and Cole both ... I told him (Collins), 'Your bad shots led to baskets for them.' He was just pressing. The second half, he played with poise. He controlled the game. He drove the ball as opposed to just settling.
"He's one of those guys I don't ever want to tell him, 'Don't shoot it or be aggressive,' because he can make one, and that can become four or five in a row and be the difference in the game."
Of Aldrich, who hasn't yet said he's officially headed to the pros, Self said: "It was also emotional for Cole. We didn't talk about that because it's Senior Night, not a Junior Night, but it was emotional for Cole. He came to life the last 10, 12 minutes."
Collins, who had 26 family members and close friends in the stands, graciously thanked his relatives, coaches, teammates and KU support-staff members during a 10-minute postgame speech.
"I thought to myself, 'This is it. This is it.' I didn't want to get off the court," said Collins, who gave his speech with seven props — the four Big 12 regular season trophies he has won, two postseason conference trophies and national title trophy. "I wish the game could have gone on all night.
"I think it ranks in the top three (moments of his life)," added Collins, who has a 3-year-old son and baby daughter. "The last game here ... to go out with a win, it was perfect."
For the record, he finished his final home game with 17 points off 5-of-15 shooting (one of seven threes) and 6-of-6 free throwing. He had four assists, three turnovers, a block and steal in 38 minutes.
His final fieldhouse bucket was a driving layup right before Self removed him from the game.
Perhaps fellow Chicago native Jacob Pullen let Collins drive past him to make the night even more special, since the game was out of reach?
"We're good friends," Collins said, "but I don't think he gave me anything. That was a big win for us. They've got a great team, and it gets us back on track after Oklahoma State (loss Saturday). Hopefully we've got a lot more wins in us."
The Jayhawks, who wrapped up the undisputed league title and No. 1 seed in the upcoming Big 12 tournament, improved to 28-2 overall and 14-1 in the league. Second-place KSU fell to 24-5, 11-4.
KU will conclude the regular season at Missouri on Saturday in a 1 p.m. tipoff.