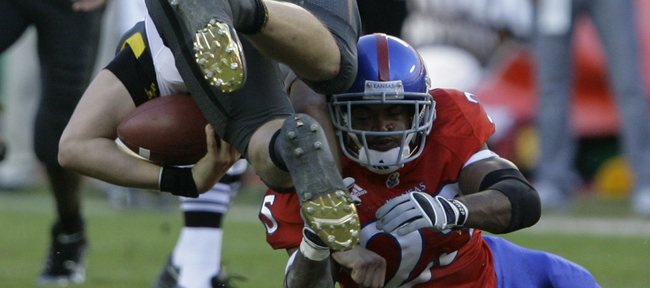 Darrell Stuckey always has been one of those cerebral football players.
Although his physical skills will be put to the test today at the NFL combine in Indianapolis, the former Kansas University safety expects his mind will set him apart.
"I learned more from this year, going through the adversity and all of that than I did any other season," Stuckey said by phone recently. "It's easy after you win the Orange Bowl or win the Insight Bowl, but it's harder when you're going through turmoil. You learn what you're really made of."
Though he has been at the combine for five days, Stuckey has had to wait to get onto the field. Tossed into the 11th and final group of 329 athletes in attendance, Stuckey finally will be able to show off aspects of his game that he thinks might be overlooked after a rough senior season.
"The strength stuff and my mobility, the way I move," said Stuckey, asked to list his strengths. "I think I'll be a little quicker and a little faster than the rest of them."
Former teammates Kerry Meier and Dezmon Briscoe went through drills Sunday.
Meier said he expected Stuckey to impress everyone who meets him.
"He's a guy who definitely puts his best foot forward every time you see him," Meier said. "He's got good energy, he's a leader, and he just enjoys playing the game."
Stuckey said he didn't plan to pay much attention to what he can't control. His goal is to run through today's drills with a clear mind.
"I've talked to other guys who have been down here before," he said. "I've prepped a little bit, but I'm better at adapting, and I try not to play mind games with myself."
For about three hours today, Stuckey will go through a series of physical drills, including bench-press tests, 10-, 20- and 40-yard dashes, vertical-jump tests, broad-jump tests and agility drills such as the 20- and 60-yard shuttle drills and cone drills, which measure lateral quickness and body control. In addition, he'll run a handful of drills that are specific to his position.
"I don't really get nervous, I'm not really that type of person. But I do get anxious for things," he said. "It does feel like the first day of school a little bit. It's a new environment, and you're wondering about everybody else. But I think John Wooden said it best: 'It's not about losing sleep on the competition but if the competition's going to lose sleep on you.'
"The biggest thing about going to the combine is gaining confidence in yourself and knowing that you're just as good as the person next to you."
Coverage of the combine will air from 10 a.m. to 1 p.m. on the NFL Network, Sunflower Broadband channel 154. Stuckey will wear bib number DB46.
KU making waves in Florida
The Jayhawks continue to be aggressive in recruiting the Class of 2011. Rivals.com reported Monday that Kansas was the first school to offer a scholarship to North Miami Beach linebacker Keeon Virgile, 6-foot-2, 210 pounds.
Virgile, who was called "a big hitter" by North Miami Beach coach Jeff Bertani, recorded 89 tackles and 11 sacks as a junior. He also forced six fumbles.
Several other schools are showing interest in Virgile, with in-state powers Miami and Florida State both on that list. The report indicated that KU also is interested in North Miami Beach cornerback Ritchy Desir.
Last week, Rivals.com reported that coach Turner Gill and Kansas also were the first to offer Keith Lewis, an outside linebacker from Freedom High in Tampa, and Javess Blue, a wide receiver from Lake Wales (Fla.) High.
Blue, 5-11, 180, has been called the best athlete in Polk County by his high school coach. He's a potential two-way threat who also has received early interest from Florida State, Miami, Purdue and Indiana. Lewis, 6-foot, 194, finished his junior season with 97 tackles, including 21 for loss.
Rivals.com also reports that KU assistant coach Robert Wimberly is keeping an eye on Blue's teammate, offensive lineman Josh Hopkins, 6-4, 310.
In other recruiting news, InsideTexas.com has reported that KU offered wide receiver Johnny Haynes, 5-11, 185, from MacArthur High in Irving, Texas.
Haynes is ranked No. 50 on InsideTexas' Top 100. He also has received offers from Nebraska, Notre Dame, Oklahoma State, Texas Tech and Texas A&M.;
Awards banquet Saturday
The KU football program will host its annual postseason awards ceremony at 7:30 p.m. Saturday in the Kansas Ballroom at the Kansas Union, 1301 Jayhawk Blvd.
The public is invited to attend at no cost.
The ceremony will feature a highlight video from the 2009 season along with the presentation of several individual awards. In addition, the senior class, which was a key part of one of the most successful stretches in school history, will be recognized.
KU officials said this year's ceremony was taking place so long after the end of the season because of the circumstances that followed the 2009 campaign in which former coach Mark Mangino resigned and Gill was hired.