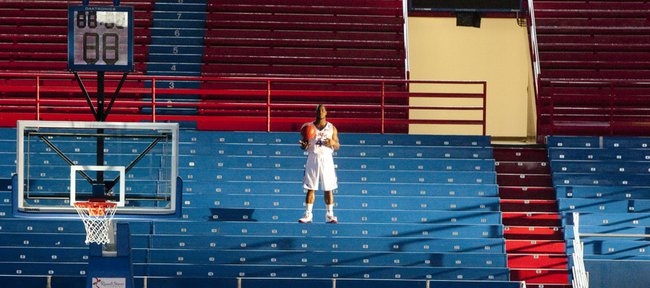 Sherron Collins, who promises to give a heartwarming speech after Wednesday's Senior Day/Sunflower Showdown clash against Kansas State, just might be back for an encore presentation in, say, 2015.
Collins, who enters the 7 p.m. home battle between No. 2-ranked KU (27-2, 13-1) and No. 5 KSU (24-4, 11-3) as the Jayhawks' winningest player of all time (124 victories) as well as the school's seventh-leading scorer and seventh-leading assist man, figures to see his jersey No. 4 hanging high in the Allen Fieldhouse rafters sooner rather than later.
"Coach said something to me about it. I have the most wins here. I think my resume is pretty solid here. I'd love to get it retired. It'd be a big thrill," said Collins, who has been part of four league titles and one NCAA crown, with the 2010 postseason still to come.
"To be up there in the rafters with so many greats, it'd mean so much," Collins added.
There are no longer any official requirements that have to be met for jersey requirement, such as being named consensus first-team All-American, college basketball player of the year or MVP of the NCAAs. The only certainty is a player won't be so honored until out of school five years, apparently so it'll mean more to the player, his family and his fans.
"I would say the chances are probably pretty good," KU coach Bill Self said. "The best player on the winningest teams ever (in four-year span), I think, is a pretty good reason it could be hung up there."
Self — he and Collins both held 20-minute pre-Senior Day news conferences Monday — answered in the affirmative when asked if he'd place Collins on an all-time, five-player KU team.
"I'd put him there. Of course, I'm biased," Self said with a smile. "I'd put maybe Wayne Simien as our power forward and maybe Brandon (Rush) as our small forward.
"I don't think there have been five players that have played here whose teams have performed as well as they have in large part because of his performance and leadership. He's had some good players to play with, but he hasn't had the same number of McDonald's All-Americans to play with as maybe some others. He has elevated everybody else's performance."
One thing is for sure: Collins goes down as one of Self's favorites.
"He's meant as much to me as any player I've coached," Self said. "I think that's a pretty bold statement because we've had some pretty good ones. I don't know if you could say he means more (to KU history) than (Kirk) Hinrich or (Nick) Collison meant or Raef (LaFrentz) or Paul (Pierce) or Jacque (Vaughn). But to me personally, I can say that without hesitation."
Self has a place in his heart for players who overcome adversity. Collins — who will graduate in May — came from a poor upbringing on the rugged West side of Chicago. Self remembers how touched Collins was the first time he attended a team gathering at the Self's Lawrence home.
"It was such a big deal to him because he'd never been in an environment like that," Self said. "For him to feel that something so trivial was so important to him, I think that was something I realized right then we had something special if he could just stay the course."
Collins admits his upbringing was, well, challenging.
"I feel lucky. A lot of times I could have been in the wrong place at the wrong time," said Collins, who recalls spending a lot of time at the Boys and Girls Club of Chicago, sometimes sleeping there rather than heading home down the mean streets of Chicago. "I chose to not be with some people and be in the gym. You can get in a lot of trouble — being victims, being mistaken for one person, gunshots hitting the wrong people. I took that to heart. I didn't want to be one of those mistakes."
Collins credits his mom, Stacey, for working two jobs to support him and brother, Steve, as well as uncle Walt for being a father figure with Sherron's dad out of his life for the most part until the past couple of years.
Collins credits Self and his staff, as well as the Morningstar family, a group that befriended him and helped him adjust to Lawrence.
Self provided words of wisdom for Collins when his son Sherr'mari was born almost three years ago.
"That's what really woke me up," Collins said. "When I had my son, coach told me, 'Everything you are doing for yourself at this point doesn't matter anymore.' It's not for me, it's for my mother and my son. My mother made sure I kept up with everybody else, getting me the Jordans (shoes) and the name-brand things, which right now I don't even want a pair of Jordans. My mother wanted to give me everything I wanted, to be like all the other kids," added Collins, who also has a daughter, Sharee' Monea, in the Windy City.
"I owe so much to my mother and tell her that all the time. She hurt her back and couldn't work a year. It's been hard on her. It's time for her to rest.
"My son ... I wanted to be there for him like my father wasn't for me. I talk to my dad a lot now. He reminds me to not make mistakes like he did. I've got a little sister in Minnesota. I've got to take care of her and make sure he (dad) is on the right track doing that."
Self remembers the day he counseled Collins about fatherhood.
"I told him he's no longer a kid," Self said. "The thing is, when you have the responsibility of being a father, life is no longer about yourself. So much of that is what kind of role model will you be for him down the road and what you want your child to look at you and see. I don't know if that had any bearing on him, but certainly I think he spun some negatives into some real positives. To see how this place has changed him and how he's allowed this place to change him, it's a neat story if you study it."
Collins — he says he believes he'll achieve his dream of playing in the NBA and make some much-needed money to support family members — will take first things first.
First up: Senior Night, then a hard push toward winning his second national title in three years, all leading up to the June draft.
"I can't run from it. I wish I could," Collins said of his time at KU coming to an end. "I wish I had more time to play here, but it's got to end. It's been great, though. It's been great."