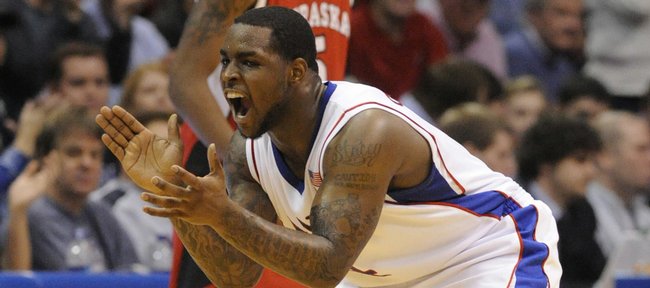 Sherron Collins says the most memorable game of his four-year Kansas University basketball career — besides the obvious 2008 national title game against Memphis — is an 80-77 home victory over Missouri his freshman year.
Jan. 15, 2007, is the day Collins scored 23 points in 26 minutes and believes he finally showed he could contribute on the major-college level in a big way.
"I hit a big three at the end of the game. It probably meant the most to me. I knew I could score. I hadn't had a chance to show it," said Collins, KU's 5-foot-11 senior McDonald's All-American out of Chicago's Crane High, who will play his last home game Wednesday versus Kansas State.
"After that game, I was one of the best guards in the conference the whole month of February. The confidence coach showed in me was unbelievable. I was so young, I didn't think I'd have a chance to do that. I did it, and it was perfect."
Teammate Brady Morningstar joked that he remembered that game as well, because Collins lost his shoe and hobbled down the court to try to play defense on one leg.
"That was pretty funny," Morningstar said.
Sophomore Markieff Morris also has a fond memory of Collins on the lighter side.
"(I remember) him running with only his compression shorts on. Taking his shorts off and just running," Morris said of a KU practice session last season.
Remember, Darrell Arthur was the first KU player to strip down to compression shorts while totally exhausted at KU's preseason Boot Camp.
"It was a day when we shot free throws, and if you missed, the whole team had to run," Morris said. "It was one of those days. I just remember Sherron doing it. Everybody was getting a kick out of it."
Junior Cole Aldrich can't talk about his buddy Collins without getting a tad sentimental.
"This is a little heartbreaking for me," Aldrich said of Collins' upcoming Senior Day. "I know how much he's gone through for four years. He is the pulse of our team, a guy everybody looks to in tough times and easy times."
Aldrich bets that Collins "probably will cry (Wednesday). I might shed a tear myself, just because of all the memories. That's what will come out of his college experience, all the memories fans created for him and guys on the team."
Wednesday could also be the final home game in the careers of NBA prospects Aldrich and freshman Xavier Henry.
Aldrich was asked if he was thinking of it as his own Senior Day.
"Not really," he said. "I'm just looking forward to getting Sherron through it and getting through a fun game."
Health update
Collins was asked how he's feeling physically as his senior year winds down.
"100 percent healthy," he said. "Everybody's body is a little tired and banged up this time of year, bumps and bruises. I'm a little sore. Everything else is fine. I'm ready to roll."
KU coach Bill Self was asked if Collins was as explosive as he was in high school.
"He used to dunk on people in high school in the halfcourt offense. He didn't need a running start to do it," Self said. "He's not quite as explosive, but he's a better basketball player."
Slam-dunk choice
Collins recalled his recruitment to KU on Monday in Allen Fieldhouse. He chose the Jayhawks over Illinois and Iowa.
"I was kind of set on coming here. It was between Kansas and Illinois, but after Late Night, it was sold. I was ready to commit immediately (after visit to Late Night in Phog)," Collins said. "My coach (Anthony Longstreet) was, 'You've got to give it a little bit of time.' Not the first day after Late Night, but the second day I committed.
"It was perfect. The crowd was crazy. Every time I walked off the court, they clapped for me. Every time I came back on the court, they clapped for me. They yelled my name and wanted autographs. I knew Julian Wright, and that was a plus," Collins added of the fellow Chicago native. "We played for the same AAU team and coach. It was a given pretty much. I wanted to get away from home, so it was a perfect scenario."