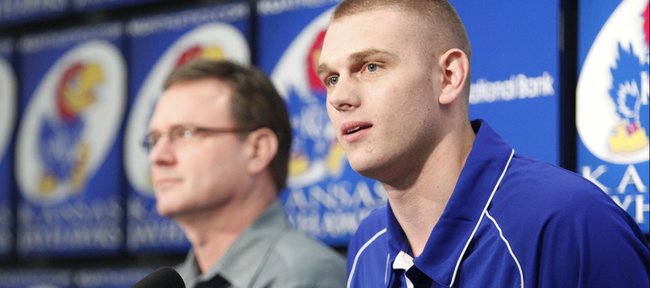 Kansas University basketball coach Bill Self, who is well connected in NBA circles, has been briefed on KU's three entries in the 2010 NBA Draft.
"I heard that Cole has been very solid. I heard Xavier has been great, and both those guys and Sherron all have interviewed well," Self said of Cole Aldrich, Xavier Henry and Sherron Collins.
The three have have been busy working out in NBA cities the past several weeks in preparation for Thursday night's draft at New York's Madison Square Garden.
"I've heard good reports on all of them, primarily with Xavier, to be honest," Self said of the 6-foot-6 wing, who has been projected as high as No. 8 (Los Angeles Clippers) and as low as No. 19 (Boston). The 6-11 Aldrich has been projected as high as No. 7 (Detroit) and as low as No. 21 (Oklahoma City).
"Everybody says Cole is exactly what we thought he was, Sherron is exactly what we thought he was, and Xavier a little better than we thought he was, which would be great for him.
"Sherron has been nicked up (hand, groin injuries) and has not had as much chance to do stuff the past couple weeks," Self added of the 5-11 Collins, who is expected to be chosen somewhere in the second round.
Henry has impressed scouts with his NBA-ready body.
"His body was great here," Self said, "but he has been eating right, working out, doing those things. You (media member) would look like that if you took two months and spent all your time doing that — working on his game and his body."
Henry has recently worked out for the likes of Chicago, Minnesota, San Antonio, Toronto, Indiana, Utah, New Orleans, Miami, Memphis and the Los Angeles Clippers.
"It's been fun getting to know a lot of different teams and different owners," said Henry, who, like Collins and Aldrich, has an NBA team in his hometown — in his case, Oklahoma City, which has the 21st overall pick.
"That'd be fun," Henry said of playing back home. "I love going back any chance I get. Really, I don't care where I play. It's been a dream just to be put in position to go to the NBA. I've been blessed to be in this position. A perfect draft spot is any spot in the draft."
Several draftniks seem to believe Henry will be available at No. 15, where he presumably would be gobbled up by Milwaukee.
"The Bucks have a big need at the wing position, with Michael Redd coming back from injury and John Salmons looking to opt out of his contract," writes ESPN.com's Chad Ford. "Of the players (expected to be) left on the board, Henry and Paul George look to be, by far, the best values. Both players can play either the 2 or 3, both can shoot the lights out, and both have upside."
Henry said though he doesn't pattern his game after any particular player, "somebody I like to watch play, who is similar is (Atlanta's) Joe Johnson — tall, athletic, who doesn't talk too much on the floor, who tries to play both sides of the floor."
Johnson was selected No. 10 overall back in 2001. As far as where Henry will go ... "After the top five, with those bigs and John (Wall) and Wesley (Johnson), I think it's wide-open," he said.
Aldrich recently has worked out for Toronto, Golden State, Sacramento, Utah, Houston, New Orleans and Detroit. The Raptors, who have the 13th pick, reportedly requested a second workout.
His hometown team, the Minnesota Timberwolves, pick at Nos. 4, 16 and 23 of Round One.
"I think it'd be a lot of fun. I don't know the likelihood of me going to Minnesota, but who knows?" Aldrich said. "I've got a real good buddy who plays for the Timberwolves in Kevin Love. They don't quite have a true center. I'd love to play with him and other guys on the team."
Aldrich grew up idolizing Kevin Garnett.
"He was a guy I always looked up to, playing for the Timberwolves for such a long time and being a great ambassador for the game of basketball," Aldrich said of the former Minnesota great, now with the Boston Celtics.
Of course, Aldrich gladly will pack his bags to play anywhere.
"Of late, I've been an NBA-watcher on Sundays," Aldrich said. "A lot of the better teams play on Sundays: the Lakers, Celtics, Cavs … really, anybody. I'm just blessed to hopefully get the opportunity to fulfill my dream."
Though some have Aldrich headed to the Pistons at No. 7 or Jazz at No. 9, ESPN's Ford sees the Hornets tapping him at No. 11.
"The Hornets have a new head coach, and job No. 1 is filling a pretty large hole on the front line," Ford writes. "The Hornets have Emeka Okafor and David West and not much else. Their choices here are Aldrich, Patrick Patterson, Daniel Orton and Hassan Whiteside. While Orton and Whiteside have more upside, Aldrich is, by far, the most NBA-ready of the group and could become a Joel Przybilla-like player in the middle. Considering that Aldrich could go as high as No. 5, he's a bargain at No. 11."
Aldrich should be able to help a team immediately on the defensive end.
"Rebounding, blocking shots, hustling and I've worked hard and will continue to work hard on my offensive game," Aldrich said.
Collins enters the draft as a mystery man.
Foxsports.com has him being tapped No. 27 overall by New Jersey. Most experts have him headed to Round Two, with the New York Knicks a possibility.
"I'd just love to play in the NBA," said Collins, who recently has worked out for New Jersey, New York, Phoenix, Chicago and Memphis. "I come from a system at Kansas that fits the NBA. At KU we get out and run and have a pick-and-roll offense. I played different roles every year, whether it be a scorer, running a team, getting my teammates shots, hitting shots. I come to play hard and compete every night.
"John Wall (Kentucky) will be the first point guard taken. He should be. He's a good player. Everybody is shooting to be the next guard taken," Collins added.
Of course, he'd be honored to be selected by his hometown Chicago Bulls. The Bulls pick at No. 17 in Round One, but don't have a second-round selection.
"That would be real special to get the opportunity to play for my hometown team. A lot of things would have to happen for that to happen. But it would be great to get to play at home," Collins said.
ESPN's Ford recently reported that Collins weighed in at 229 pounds in a workout in New Jersey. He's said he's about 213 after working out the past several months in Las Vegas.
Whatever Collins' weight, he's proven he can drop pounds quickly.
"If Collins is down there (at No. 50 where Dallas picks), which he could be, he's one of the better point guards in this draft, but it depends on how good you think he is," NBA director of scouting Ryan Blake told ESPN.com's Dallas affiliate. "This is not a point-guard draft whatsoever, but the guy is tough, he's quick, and he's proved it. He doesn't have size, but you have (J.J.) Barea, who is very tough, comparatively, the same kind of guy."
Collins brings intangibles. He's the winningest four-year player in KU history.
"I've got a lot of qualities that fit a point guard on the NBA level. I can run a team. I'm an exciting player. I can score, shoot it well, pass the ball, play good tough defense. I'm ready to get my teammates involved at all times, get them involved first, because you need them to win," Collins said.