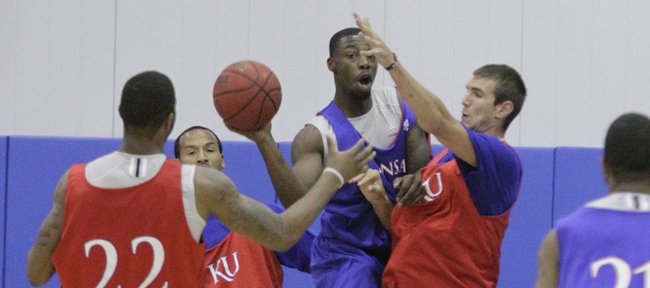 Final: Blue 65, Crimson 62
The crimson squad had a shot to win it but C.J. Henry's three-pointer banged off the back iron. That led to a jumper by Elijah Johnson on the other end, which gave the blue team a three-point victory.
Tyshawn Taylor led all scorers with 25 points and seemed to do whatever he wanted on offense in the second half.
Tyrel Reed led the victorious blue squad with 24 points, 11 of those coming in the first half.
Overall, the game featured dozens of jump shots and very few highlights. Unfortunately, the lowlights were plentiful, as Marcus Morris missed the second half with some sort of injury and Thomas Robinson and Markief Morris also missed the final few minutes of the contest after colliding in mid-air and banging heads.
As for the questions facing this year's team, the guard position appears to be in good shape with Reed and Taylor both playing well and Henry and Elijah Johnson also playing well.
Aside from today's fluke injuries, the post position appears to be in good shape, too.
The biggest question for most seems to be at small forward, where Mario Little and Travis Releford are expected to step up. Neither player did much during the scrimmage but both looked comfortable throughout and each had his moments.
KU coach Bill Self told campers following the scrimmage that all three injured Jayhawks would be fine. Self described Marcus Morris's injury as "a bad fall" and said that Robinson and Markief Morris just banged heads.
For more, check back to KUsports.com later today.
Blue 63, Crimson 62, 2nd Half
Taylor and Reed continue to go at it with the teams now one bucket away from winning.
Blue 56, Crimson 54, 2nd Half
Tyshawn Taylor has led a come back by the crimson squad, which has cut the blue lead to two.
Taylor has 20 points to lead all scorers. Reed is right behind him with 19.
The announcement was just made that the first team to 65 wins.
Two more Jayhawks hit the deck as Robinson and Markieff Morris collide in mid-air and bump heads. This after Morningstar tweaked an ankle after a jump shot.
Robinson is tending to a bloody nose, Morris also appears to be holding his nose.
Blue 54, Crimson 47,
Little, Robinson and Markieff Morris have returned to the floor but there's no sign of Marcus Morris.
The action has picked up a little with an alley-oop from Taylor to Releford and a monster dunk from Robinson, who switched over to the red team during the break.
Blue 45, Crimson 36, Halftime
Thomas Robinson scores on a rebound and pump-fake and in the process Marcus Morris goes down with an injury.
Morris attempted to walk it off but went back to the ground. Several teammates are huddled around him and the campers in the stands have started the "Mar-cus, Mar-cus" chant.
After about 3 minutes on the ground, Morris got up gingerly, unable to put much weight on left leg.
Morris was carried off the court by his brother along with Little and Robinson.
Blue 36, Crimson 24, Halftime
Leading scorers for the crimson team at halftime: Taylor 8, Marcus Morris 7.
Leading scorers for the blue team at halftime: Reed 11, Markieff Morris 7, Niko Roberts 5.
There will be a two-minute break for halftime.
The game has been pretty up-and-down in terms of pace but not incredibly athletic. Both teams have settled for jumpers a lot of the time, with very few drives to the rim. Of course, both teams are hitting their fair share of jumpers too so that could be why.
Blue 34, Crimson 24
Newcomer Niko Roberts has five quick points and the blue team has jumped out to a 10-point lead.
Mario Little looks comfortable with his mid-range jumper and Markieff Morris just drained a wide open three-pointer from the top of the key.
Blue 20, Crimson 14
Tyrel Reed has hit two three-pointers from the corner and another jumper in the face of Jeff Withey. Another three from the wing has Reed leading the way with 11 points early.
Hawkins shows he's still got some quickness with a steal in the backcourt and a lay up.
Blue 14, Crimson 10
At the first dead ball, Conner Teahan, Jeff Hawkins and walk-on Justin Wesley check in for the crimson squad.
Thomas Robinson, Brad Witherspoon and Jordan Jueneman have checked in for the blue squad.
Taylor continues to look good on both ends of the floor with a strong block of a shot by Morningstar from the corner.
Tip-off update
The alumni scrimmage is under way and only two alums are in the house.
Jeff Hawkins and Brad Witherspoon are playing for the
Starters for the game are:
Blue team: Tyrel Reed, Elijah Johnson, Mario Little, Markieff Morris and Brady Morningstar.
Crimson team: C.J. Henry, Tyshawn Taylor, Travis Releford, Marcus Morris and Jeff Withey.
The game opened with a driving dunk from Taylor.
Original post
For 800 or so campers, the highlight of this week's Bill Self Basketball Camp is the annual Kansas University alumni/current players scrimmage in KU's Horejsi Center.
No one knows who will play in the game until tip-off, which usually happens after 3 p.m., following a game between KU camp counselors and the actual campers.
In the past, players such as Billy Thomas and Keith Langford have scored more than 30 points in the 45-minute action. Others have included the likes of Scot Pollard, Julian Wright, Greg Ostertag, Aaron Miles - generally whatever players happen to be in town the week of the game.
Though the scrimmage is never publicized beforehand, fans never get turned away if they show up.
This much we do know, freshman Josh Selby will not play because of a broken little finger on his left hand.
One alumn who is in town is former guard Jeff Hawkins, now the head boys basketball coach at Perry-Lecompton High. Russell Robinson also may be around but no names have been officially revealed.

Check back later for live updates from the scrimmage.