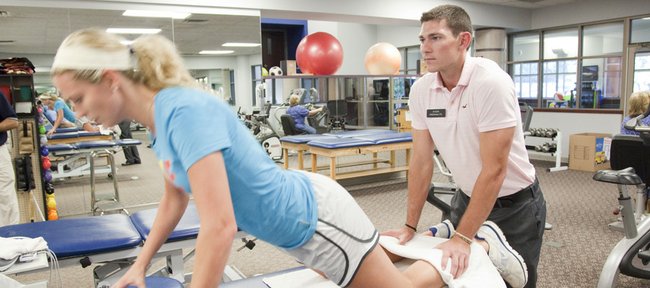 Tyrel Reed rolled out of bed at 6:30 a.m., Monday for a 7 o'clock weightlifting session in Anderson Family Strength and Conditioning Center next to Allen Fieldhouse.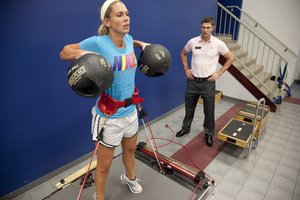 Reed, Kansas University's 6-foot-3 senior basketball guard from Burlington, completed his drills with strength coach Andrea Hudy, then showered, put on a pink golf shirt, gray dress slacks and a name tag and reported at 8:15 sharp for work as a physical therapy intern at OrthoKansas (1112 W. Sixth Street).
At 5 p.m. — after putting in a full day assisting therapist Randy Freivogel — Reed returned to the fieldhouse for a shooting session.
"It's been a great day, a long day," Reed said enthusiastically after helping direct an hour-long OrthoKansas rehab session with Baker University senior basketball player Jenna Brantley.
Brantley, a former Free State High standout, is 17 weeks removed from right ACL surgery and is on schedule for a return to the court for the start of the 2010-11 season.
"I'm having fun (but) it's been kind of a grueling summer with camps, workouts, my internship, a bunch of different things," Reed added.
Reed — who has been working on improving his own body and game this summer as he prepares for his final season at KU — has been helping others at OrthoKansas since early June. The exercise science major will be eligible to graduate in December after completing his 15-hour internship.
The internship spans three credit hours this summer; 12 next semester.
"I've been in a training room my whole life with injuries and seeing other people get injured playing basketball. I've always wanted to help people get better. Now I'm finally getting to do it and I really enjoy it," said Reed, who decided long ago to pursue a career as a physical therapist.
"I hurt my ankle pretty bad when I was a senior in high school. Once I went to physical therapy and got some rehab and saw the whole setting — people getting healthy — that's when I decided I wanted to do it."
Reed in coming months will take the GRE test required for acceptance into graduate school. If Reed decides to not play professional basketball in Europe, he'll begin three years of physical therapy classes — likely at KU — during the 2011-12 school year.
Freivogel believes Reed definitely has what it takes to succeed in the medical field.
"One of the biggest things in our area is the interaction — the rapport you build up with patients — because we'll have patients come in and work with us an hour at a time, maybe come in two or three times a week and that may be going on for several weeks," Freivogel said.
"There has to be a relationship built between the therapist and the patient. Sometimes on a second or third trip the patient will tell you a little more about things that are going on — the problems they may be having — so you have to build up that rapport.
"Tyrel gets along great with people. He has good social skills. He knows when to ask the right questions and when not to ask certain questions. He's interested in what is going on with them. I think he wishes he could do more than what we let him do, but we have guidelines, restrictions we have to follow."
Reed on Monday timed Brantley as she performed certain lower and upper body exercises. At one point, he quizzed her about her jersey number — it's No. 3 — perhaps helping take her mind off the taxing physical tests.
"He pushes me when I'm getting tired, encourages me to keep going. He's really helpful," said Brantley, who will embark on her own career as a physical therapist.
"Being a basketball player as well ... we can really relate," added Brantley. She kidded Reed as he began cleaning and toweling off the exercise equipment — working as a "merry maid" — as Reed's work day came to a close.
"Jenna comes in here, works hard and never complains. That's what you want to see out of a patient, somebody who wants to get better. That's definitely Jenna," Reed said.
"She said she actually scheduled her surgery after the national championship because she thought hopefully we'd be there and she could celebrate on Mass Street. I just apologized to her, so hopefully next year we can make her wish come true."
Reed certainly has learned a lot watching all kind of patients come through the facility.
"We have athletes here, but we also have individuals (from) a much wider scope — people who have total joint replacements, foot and ankle injuries, shoulder surgery, things that are a little different from what he's seen at the university in the training room environment," Freivogel said.
Reed's mentor isn't afraid to put the high-profile basketball player to work.
"He watches and does some things, helps us in the clinic. It's a learning process for him," Freivogel said.
"I'll talk to him about what's going on with a certain diagnosis, certain injury. (I'll ask), 'What are we trying to get them back to? What are we doing here?'''
Reed appreciates the instruction in a pleasant work environment.
"You should have been here during the World Cup. We had it going on the TV all day," Reed said, pointing to one of the sets patients can view while working out.
"You should have been here during the Olympics, Tyrel. We kind of adopted curling as our sport. You'd have become a curling fan," Freivogel said with a laugh.