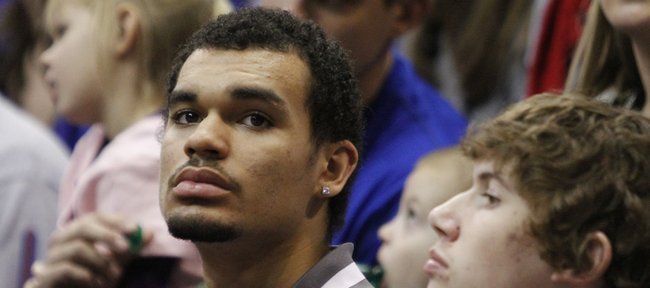 Wichita Heights High junior forward Perry Ellis — who is well on his way to becoming the first McDonald's All-American from the state of Kansas since Wayne Simien in 2001 — is drawing a lot of attention on the July recruiting circuit.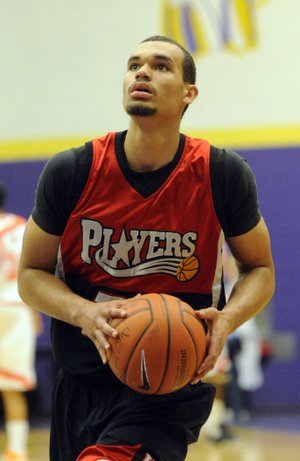 Playing as an individual at the LeBron James Skills Academy and as a member of Wichita's Pray and Play Players at last week's Summer Jam AAU Tournament in Milwaukee, Ellis participated in nine games, with coaches from KU, Kentucky, Kansas State and North Carolina showing the most interest.
Rivals.com's No. 26-rated player nationally has received scholarship offers from KU, UK, KSU, Memphis, Oklahoma, Wake Forest and Wichita State.
"Coach (Bill) Self was at seven of Perry's nine games," Ellis' mom, Fonda, said Sunday night. "Coach (Kurtis) Townsend was at least one of those coach Self wasn't at. They (Jayhawk coaches) made themselves present at about every game."
Prospects such as the 6-foot-8, 210-pound Ellis notice such things.
"I think it did (make an impression)," Fonda Ellis said, "because it shows him that they (Jayhawks) really want him and are supporting him."
The unofficial tally had KU attending at least eight of Ellis' nine July games, K-State coaches attending seven and UNC six.
"He is still trying to get to know all the programs and all the coaches," Fonda Ellis said. "I don't think he is in any hurry (to commit) but still is taking note of who is contacting him and watching him play. I don't think he's going to rush into anything."
Ellis averaged about 30 points a game at last week's Summer Jam in Wisconsin. Self was at one of the games in which Ellis rattled the rim for five dunks.
Ellis is headed to the 17 and Under Showcase later this week in Orlando, Fla., followed by the Metro Sports/K.C. Prep Invitational July 28-31 in Shawnee.
The two-time Gatorade state player of the year — he averaged 22.2 points and 10.4 rebounds a game for last year's Class 6A state champs — has been invited to play in the Nike Global Challenge Aug. 6-8 in Portland, Ore.
Just 30 of the 80 invitees to the LeBron James Skills Academy received invitations to that international hoops event.
In June, Ellis also attended the invitation-only NBA Players Association Top 100 camp in Charlottesville, Va. and the Kevin Durant camp in Chicago.