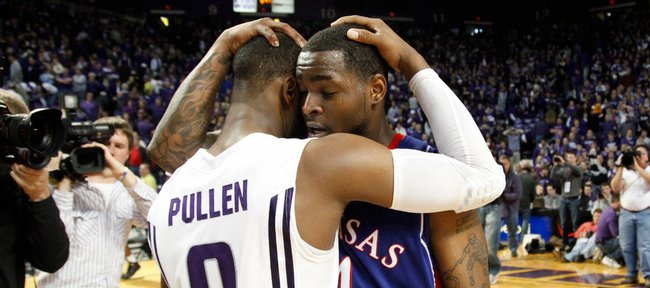 Taylor lauded
Kansas University coach Bill Self had high praise for sophomore guard Tyshawn Taylor after Saturday's overtime victory over Kansas State.
"We don't win the game without Tyshawn," Self said of Taylor, who had 12 points off 2-of-4 shooting (he made eight of nine free throws) and had two assists against three turnovers in 30 minutes.
Taylor stole the ball from Denis Clemente with KU up, 69-66, in the final minute of regulation, but then gave the ball back when his pass was stolen. Rodney McGruder scored, was fouled by Brady Morningstar and tied the game at 69 with :36 left.
That was the score at the end of regulation.
"I never thought we were going to lose, but that was a bad play on my part," Taylor said of the McGruder steal. "I think I played a good game. I know I played hard the whole game. I knew I had to with Sherron (Collins, having cramps). I think it was a great game. Every possession counted. I know it was a fun game."
Self on the game
"We didn't play great. I don't think it's possible to play great against K-State as hard as they play. It's one of the most fun games we've been part of."
Self loved the loud environment.
"We talked the whole time (that) we'll embrace the atmosphere," he said. "We want it to be as loud as it can be. We want it to be the toughest venue we play in.
"I think the crowd was awesome."
X plays 16 minutes
Xavier Henry, who had six points and four rebounds and four turnovers in just 16 minutes, was thrilled to contribute in any way.
"I understand whatever coach Self does is best for the team," Henry said of reduced minutes against KSU. "That was a game where every possession mattered. I think everybody came up big at different times. It was a great road win for us."
Next
KU will meet Colorado at 8 p.m. Wednesday in Boulder.
No. 1 coming
The Jayhawks are now two games up in the league race. KU likely will be the new No. 1 team in the country Monday.
"I'd rather be two games up in the Big 12. Rankings don't matter because at the end of the year there will be only one No. 1," Collins said.
Big-time player
Self had an inkling Collins would return in overtime after leaving the game briefly with cramps.
"He has a flair for the dramatic," Self said. "He did the same thing against Memphis (earlier this season). I had a feeling he'd be back."
Stats, facts
Kansas is 20-1 on the season, the same record it had 21 games into the 2007-08 NCAA title season. ... KU is 178-90 all-time against K-State, including a 21-1 mark in Bramlage. ... KU is 31-2 against KSU since the inception of the Big 12. ... KU played its first overtime game of the season at Kansas State and its first overtime versus the Wildcats since Jan. 14, 1989, a Kansas 75-74 win in Manhattan.