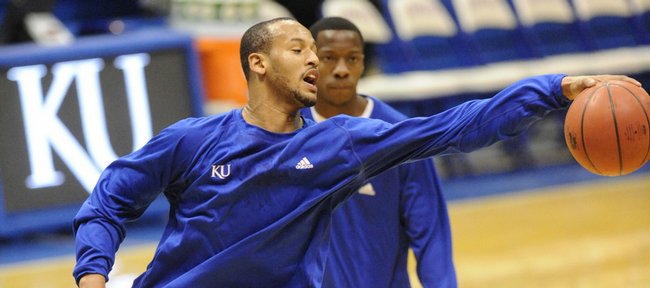 Kansas University's second team — better known as the Red Team — holds its own at daily basketball practice sessions.
"Our Red Team is really good. There are times where they get the best of the so-called top eight rotation (players)," KU coach Bill Self said of a squad led by red-shirts Mario Little and Travis Releford.
"Travis' stroke has really improved, and Mario is getting to where he can score the ball," Self added. "Who knows if it plays out this way, but I think those are good decisions those kids made (to red-shirt). I think they both could have a huge impact on the team and program. They are playing really well."
Little, a 6-foot-5 senior, and Releford, a 6-5 sophomore, chose to practice but not play in games this season in hopes of earning major minutes during the 2010-11 campaign.
"It was tough at the beginning, but I've gotten used to it," said Releford, a guard/forward out of Roeland Park Bishop Miege High. "I'm doing all right. All I do is practice and get after the players who are playing now and try to make them better."
Playing alongside the likes of fellow Red Team players Jeff Withey, Elijah Johnson, Conner Teahan and C.J. Henry, Releford says he guards "everybody. I go from Sherron (Collins) to Cole (Aldrich) sometimes. It depends on how we play our defense."
Releford — he averaged 2.7 points, 1.4 rebounds and 7.0 minutes a game in 32 games his freshman season — has been working on his outside shot.
"I think it is coming along. I have a lot of confidence in it. I've been shooting it (jumper) a lot more," Releford said. "I'm really working on everything, both basketball and school."
KU freshman Elijah Johnson said Releford has been a consistent performer.
"He brings competition, energy, positive things every day. He's learning just like the rest of us are learning," Johnson said. "I feel you can't be around Bill Self every single day and not get better, whether from a mental standpoint or on the court.
"Travis is a great person when it comes to supporting others rather than himself," Johnson added. "Travis is there every day with a smile on his face. He works hard and never complains about anything."
KU assistant coach Danny Manning praised KU's red-shirts on Tuesday's Hawk Talk radio show.
"They play extremely hard. They are two of our most competitive players in practice because that is their game this year. Every time on the court, they view it as their game," Manning said. "They are spending extra time in the weight room and shooting, working on what they need to become better players. We expect great things from both those guys."
Johnson's time coming
Johnson, a 6-2, 183-pound freshman guard from Las Vegas, has averaged 3.1 points, 1.7 assists and 8.0 minutes a game in 17 games.
"I know it'll be my time at one point, and it'll be another freshman going through it in the program," Johnson said. "Me being aware of that, I take a lot of pressure off myself. I go to practice with a smile on my face. I'm not playing a lot, but I'm enjoying my time."
Self's philosophy on red-shirting a player
"In our situation, it's probably 70 percent player and 30 percent our (coach) input. It was one of those deals I had an opinion (on Little and Releford). I shared it. You don't red-shirt guys unless you think they can help you. I think both can greatly impact the program. Did Travis think he could impact the program more at age 23 as opposed to 19? The national average is 4.6 years for any student to leave college with their degree. You want kids to have their degree when they leave here. This helps ensure that. I think those are good decisions those kids made."