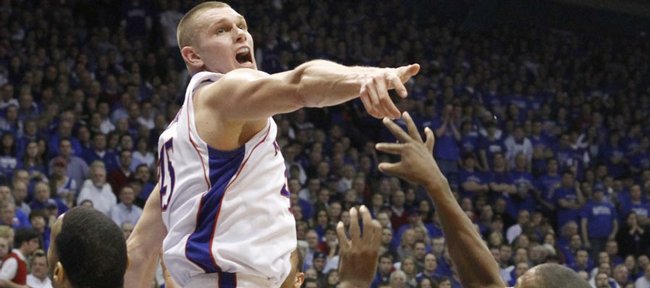 Cole Aldrich and Marcus Morris held their own personal two-man huddle during the first TV timeout of Monday's Border War clash in Allen Fieldhouse.
"We noticed they were pretty small down low. Cole said we could dominate 'em in the paint, and that's what we tried to do," Morris said after the Jayhawks' 84-65 manhandling of Missouri.
It's not as pretty as three-point shooting — Tyrel Reed went 4-for-4 and Xavier Henry 3-of-7 from beyond the arc — but the key to the Jayhawks (19-1, 5-0) pounding rival Mizzou (15-5, 3-2) Monday had to be dominance in the paint and on the glass.
KU outrebounded MU, 37-15, the first half and had 28 points in the paint to the Tigers' six in building an insurmountable 50-30 lead.
By game's end, KU had outscored MU, 36-18, in the paint and outboarded MU by a remarkable 56-28 total.
"Cole and the twins ... they were men today. It's a man's game, and they were men," said KU senior guard Sherron Collins, who hit for six points off chilly 2-of-11 shooting with two assists against four turnovers in 29 minutes.
The men piled up some impressive personal numbers.
Marcus Morris hit six of 10 shots and five of six free throws, good for 17 points, with nine boards. Markieff Morris had 10 rebounds the first half and finished with 11 boards and nine points.
And Aldrich ... well, he came close to notching the second official triple-double in KU history (he had the first last year against Dayton) with 12 points off 4-of-5 shooting and 4-of-6 free throwing, 16 boards and seven blocks.
"I heard some stuff from some of the guys. They said, 'You've got to get a few more blocks,''' Aldrich said. "I thought I had one more, but I guess I fouled him (Justin Safford with 7:30 left). That's all right. I still had a blast out there."
Aldrich had so much fun that he actually grabbed a broom and cleaned up the sweat on the fieldhouse floor late in the first half after a stoppage in play.
"I got the floor all sweaty. I didn't see a ballboy out there, so I grabbed it (mop). It's just kind of one of those things I did," the 6-foot-11 Aldrich said with a grin.
His effort helped account for the 56 boards, most for KU in a conference game since 58 versus Nebraska in 2002. KU's plus-28 rebound margin was most in a conference game since plus-30 versus Texas Tech in 2008. KU had 61 boards earlier this season versus Alcorn State.
"Cole was great. I thought Cole and Tyrel were our best players today," said coach Bill Self, who said there might have to be a recount on some of the stats, indicating Cole appeared to have a few more rebounds and blocks.
Self was not pleased the Jayhawks suffered 23 turnovers to Missouri's five and that Aldrich took just five shots from the field on a night he ruled the glass.
"We had some guys shooting the ball that shouldn't have been shooting the ball," Self said. "The ball should have been going to Cole and giving him a chance to score. In the second half (KU was outscored 35-34), we did a poor job of that. We played well in the first half and didn't play awful in the second half, but we're better than that. We have to figure a way to put 40 minutes together instead of just 20."
Of the turnovers, he noted: "We're not going to be able to turn them over much. That's a quick team. They are quicker than us on the perimeter, and when it did extend, we had a hard time guarding the ball. Of the 23 turnovers we had, a lot were unforced or just silly because they only had nine steals. You turn the ball over 23 times, that means they are taking it out of bounds 14 of those times. If the number of turnovers was 15, we score 95 points. We have to be better and learn from it. We could have cracked the game open."
Instead, the 19-point victory will suffice on a night KU ruled the backboards.
"I told Marcus we had some size and had to keep moving our feet down low. We just had to get those angles. I knew we could hit the boards. We had to keep that fight down there, had to get extra possessions. I think we did that against a good Missouri team," Aldrich said.