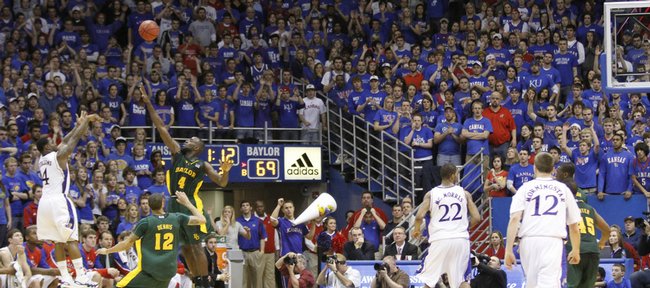 It didn't take long for word to get back to Baylor coach Scott Drew that his decision to lead his team off the court and into a nearby hallway during Kansas University's pregame introductions Wednesday had rubbed some of the Jayhawks' coaches and players the wrong way.
"I never dreamed that people might take it as disrespectful," said Drew, minutes after his team had dropped a narrow 81-75 loss to KU at Allen Fieldhouse. "Obviously, had I known that might be the case, we'd have never done it.
"It was simply because we knew we only had a minute when we got back out," he added. "We wanted to go over what we wanted to do to start the game, and there's no rules against it or anything. We just met in the hallway because their intro is pretty good and pretty long. (It was) no sign of disrespect or anything like that."
Whatever the motivation for the mass exodus, it was hard to argue with the immediate results.
After returning to the court, the No. 25 Bears came out firing — shooting 53-percent from the field in the first half while connecting on five of eight three-point attempts — and didn't much slow down, providing No. 3 Kansas with one of its staunchest challenges of the young season.
With the exception of turnovers, which along with late-game rebounding struggles proved to be too much to overcome, the Bears dominated the stat sheet.
They outrebounded the Jayhawks (34-29), outshot them from the field (52-percent to 44-percent), outshot them from three-point range (48-percent to 38-percent) and blocked seven shots compared to Kansas' zero.
In short, they did everything but win the game.

"I think we did a good job of handling the ball and dealing with the crowd," said LaceDarius Dunn, who carried Baylor with 27 points, nine rebounds and four steals. "Most of all, we slowed it down, because Kansas likes to run. So we tried our best to slow it down every once in a while and run our offense."
In the final two minutes, however, the Jayhawks corralled five offensive rebounds and outscored the Bears 16-10 to extend their winning streak at Allen Fieldhouse to 53 games — though the ovation Baylor players received from Kansas fans as they exited the court afterward hinted at the impressive nature of the Bears' performance.
"It wasn't good enough," said BU guard Tweety Carter, asked about the team's effort. "We're better than that. Take nothing away from Kansas, they're a great team. They showed it tonight. (But) we've got to get better as a team and a unit."