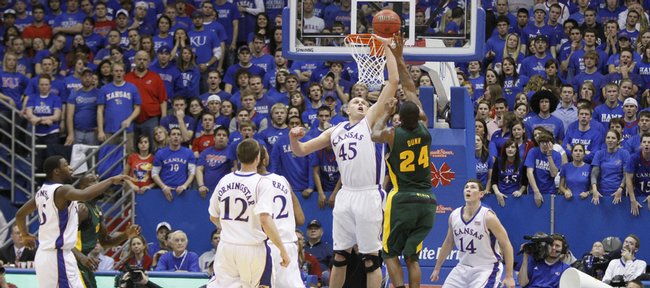 Kansas University center Cole Aldrich couldn't help but think about his late grandmother, Ann, following his team's 81-75 victory over Baylor on Wednesday.
"I wish that it was one of those things where she was still around to be able to watch," Aldrich said, "but I think it was a good win for her."
Ann Aldrich, mother of Cole's father, passed away early Saturday morning at the age of 78.
Cole said he played the Texas Tech game without knowing his grandmother had died.
"She passed away in her sleep and all that, which I think was good," Aldrich said. "It was good that I didn't know (before the Texas Tech game), because I think it really would have weighed on me hard."
Instead, Aldrich played Wednesday with a heavy heart, scoring 10 points on 4-for-7 shooting in 27 minutes.
"It's been a tough few weeks, man," a choked-up Aldrich said, his eyes watering. "But, you know, it's life."
When a reporter told him he didn't have to continue, Aldrich reassured him, saying it was fine. The center took a second to compose himself before continuing.
"It's just one of those things that was kind of holding on to me," Aldrich said. "We were all just waiting for that time to come, and all that. I just kind of had that burden lifted off of me, and I think I played real well in spurts, but there's a lot of things I could have done better."
Walt Aldrich, Cole's father, said after the game that Cole would not be attending Ann's funeral Friday in Northfield, Minn.
The center said he received plenty of support from teammates in the last few days.
"It's just a big family," Cole Aldrich said. "When I found out after the Texas Tech game on Saturday that she passed, everybody was coming up and just asking how I was and all that. It's just continued.
"That's the thing, whether it's me or anybody on the team, that's how we are. We're just a family, and we look out for each other."
Aldrich said having his family in town also helped him through the tough time.
"I'm just trying to stay as positive as I can," Aldrich said. "Just find something that comes out positive about it."