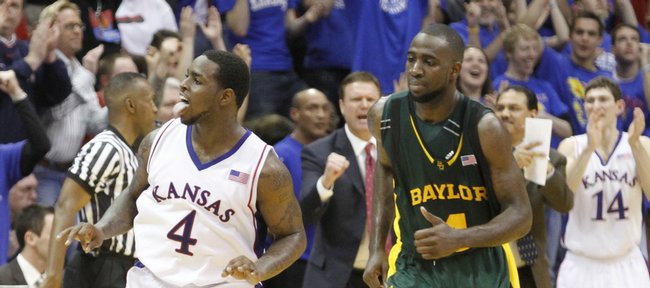 I don't remember seeing this at the Fieldhouse: KU fans stood and applauded the Baylor players as they made their way to the locker room.
KU scoring — Collins 28 (9-for-16 shooting), Marcus Morris 22, X. Henry 12, Aldrich 10, Morningstar 5, Markieff Morris 4.
KU was 27-for-62 from the floor (43.5 percent), 8-for-21 from three (38.1 percent) and 19-for-25 from the free-throw line (76 percent).
BU was 25-for-48 from the floor (52.1 percent), 10-for-21 from three (47.6 percent) and 15-for-19 from the free-throw line (78.9 percent).
BU had 20 turnovers to KU's seven. Baylor out-rebounded KU, 34-29.
FINAL: KU defeats Baylor, 81-75
Three misses in a row for Baylor. I don't think that happened the rest of the game for the Bears.
Collins throws the ball up toward the scoreboard in celebration at the buzzer, and KU finishes off an 81-75 victory.
KU 81/BU 74 — 17.7 seconds left in 2nd half
Five words: Sherron Collins at his best.
With time getting short on the shot clock, Collins didn't hesitate in hoisting up a deep three-pointer from the left side that swished through. He stuck his tongue out to the crowd.
Dunn missed a three on the other end, and after a scramble, Collins came up with the rebound. After getting fouled, he waved his arms to the crowd repeatedly, motioning for the fans to get loud and rise to their feet. Collins made one of his two free throws.
A.J. Walton misses a three from the corner, and though it looks like Baylor will come away with the offensive rebound, Morningstar makes a great play, batting it away at the last second. Marcus Morris finally corrals the carom, and he gets fouled before hitting two free throws.
Carter makes two free throws with 30 seconds left, but KU breaks the press, and Xavier Henry answers with two freebies of his own.
Another three for Carter (why not?), but there isn't enough time for another BU comeback. Collins hits two more free throws, and Self takes timeout with 17.7 seconds left and KU up seven.
KU 71/BU 69 — 1:34 left in 2nd half
After getting fouled, Morningstar hits both ends of his one-and-one.
But Carter answers, getting into the lane before dishing off to Acy for a slam.
Collins puts KU back in front, driving under the basket before putting in a layup.
Finally Baylor misses, as Carter's three bounces off the back iron. Aldrich with the all-important rebound.
Morningstar misses a floater in the lane, but once again, Marcus is there, grabbing the board before getting hacked. The whistle also is Jones' fifth foul. Marcus makes both free throws to put KU up four.
Dunn won't let Baylor die, though, hitting a near-impossible 15-foot shot with three Jayhawks guarding him. I think Morningstar might have fouled him from the back, too, but no whistle was blown. BU takes its final timeout.
KU 65/BU 65 — 3:13 left in 2nd half
Aldrich gets the ball on a snap pass from Taylor, and he reverses to his back shoulder to put in a baseline jumper.
Dunn answers with a three, and he's now 5-for-6 from deep. Honestly, I don't remember when he missed his three.
Marcus Morris misses the front end of a one-and-one, but Aldrich skies to grab the offensive board. He throws out to Collins, who knocks down the open three. Collins pounds his chest, and Self pumps his fist and Drew calls timeout following the huge momentum swing.
Baylor just does not miss, though. A shot by Acy bounces high off the rim before falling in, and Carter follows with a runner in the lane to cut KU's lead to six. Self calls timeout, and Collins, in frustration, pounds the ball into the ground, sending it about 30 feet into the air. He's lucky to avoid a technical foul, and Drew screams to an official to ask why Collins wasn't penalized for his spike.
Dunn puts in a fast-break layup, then gets fouled in the lane, putting in his two free throws. He grabbed his hand after getting fouled, though, and he comes out of the game after his free throws.
Jones follows with a dunk over Aldrich, and with a 10-0 run, Baylor has tied the score at 65.
KU 58/BU 50 — 7:27 left in 2nd half
Collins runs flush into a Baylor screen, and Carter takes advantage, draining his second three.
Markieff Morris steps in front of Udoh, picking up the third charge for KU today. That's huge, as it's also Udoh's fourth whistle.
Xavier Henry rolls in a 10-foot jumper. KU takes its largest lead at 56-49.
Markieff gets a clean block right in front of me, but he's whistled for the foul by Scott Thornley. The KU fans don't like the call, and they shouldn't.
Collins follows with a tough, one-handed runner off the glass from 12 feet. KU has methodically extended its advantage to eight points.
KU 50/BU 46 — 11:04 left in 2nd half
Baylor isn't cooling down. Dunn hits a layup, and Tweety Carter follows with a three.
KU has an answer both times, though. Aldrich drops in a shot in the lane, and Xavier Henry gives an up-fake before tossing in a deep three.
Collins with another deep three. Though KU is only in the mid-40s, it is playing nearly flawless offensively lately to keep a small lead.
The Morris twins are holding their own inside. Marcus puts in a running floater, and on the next possession, Markieff pins an offensive rebound against his shoulder before putting it back up with his left hand for two.
Baylor is still shooting over 50 percent from the floor, but KU leads by four.
KU 37/BU 37 — 15:37 left in 2nd half
After working the ball inside, KU moves it back out, but Morningstar misses an open three. KU can't afford to keep missing open outside shots.
Xavier Henry gets his sixth steal, but he misses a layup in traffic. BU's Anthony Jones follows with an 18-footer that swishes through.
Dunn takes it to the rim, and Morningstar is forced to foul him from the backside. Dunn's free throws extend BU's lead to four.
KU answers, though. Marcus Morris grabs an offensive rebound before having his shot goal-tended inside. Aldrich goes over Josh Lomers for a defensive rebound, and Morningstar dishes to Collins for a three. Morningstar was so sure the shot was going in that he ran back to play defense before Collins even released the ball.
Xavier Henry gets all the way to the rim, but misses the easy finger-roll. He slaps his hands together in frustration.
KU scoring — Marcus Morris 8, Collins 7, Aldrich 5, X. Henry 5, Morningstar 3, Markieff Morris 2.
KU was 12-for-30 from the floor (40 percent), 3-for-9 from three (33.3 percent) and 3-for-6 from the free-throw line (50 percent).
BU was 10-for-19 from the floor (52.6 percent), 5-for-8 from three (62.5 percent) and 5-for-6 from the free-throw line (83.3 percent).
BU had 14 first-half turnovers, while KU had six. The Bears out-rebounded the Jayhawks, 17-12, in the first half.
Some thoughts
• This game has played out interestingly so far. It seems like KU is playing pretty well, but the score is still tied. Part of the reason for that has been Baylor's deliberate play on offense. The extremely low number of possessions thus far obviously favors Baylor.
• Nice half for Xavier Henry, who had five points, five steals, two assists and one turnover in 14 minutes.
• Can Baylor keep up its shooting? Fifty-three percent from the floor and 63 percent from three seems unsustainable, but the Bears did come in as a good shooting team.
• When was the last time KU only had 12 rebounds in a half? It has to have been a while.
KU 30/BU 30 — Halftime
C.J. Henry loses Dunn — how does that happen? — and Dunn cans his fourth three of the game. The BU guard comes up hobbling, though, and he might have a minor ankle injury. Play is stopped to get Dunn out of the game.
Tyshawn Taylor finally checks in with three minutes left in the half.
Aldrich has to check out of the game with two fouls, and his replacement — Robinson — makes another horrible decision inside, trying to go up over two defenders before getting his shot blocked.
Collins with a smart play in the lane, pulling up for a shot to get it over Baylor's bigs inside. If he'd have gone all the way to the rim, he would have been rejected. Instead, his four-footer gets a friendly bounce and rolls in.
In the final seconds, Collins misses a layup on a drive, but Markieff Morris cleans up with a stickback jam.
The dunk ties the halftime score at 30.
KU 24/BU 24 — 3:43 left in 1st half
Quincy Acy knocks down two free throws to put Baylor up one, but right on cue, Collins answers with a three from the right wing.
After a defensive rebound, KU runs the break, and Xavier Henry makes a nice decision to pitch out to Collins on the perimeter. The execution isn't great, though, and the poor pass forces KU to reset.
Following an offensive rebound by Aldrich, Collins splits two defenders in the lane with a dribble before putting in a soft shot off the glass for two. Drew again calls timeout after a mini KU run. He doesn't want this one to get out of control early.
The stoppage seems to work for the Bears. Acy hits a shot, and an awful pass by Robinson is stolen away. Udoh follows with a layup, and with the game tied again, it's now Self that dials up a timeout.
KU 19/BU 18 — 7:25 left in 1st half
Dunn puts in a three, avoiding the defense of Morningstar. Dunn has to have one of the quickest releases in college basketball. Before you even think he's going up, the shot is already off.
Elijah Johnson checks in before Tyshawn Taylor. I don't think Taylor is hurt. He's in his warmups on the bench right by the coaches, and if he were injured, I'd assume he'd be farther down the bench.
Aldrich draws two consecutive fouls after getting the ball inside. That's seven team fouls already on Baylor.
Another three for Dunn. He's a perfect three-for-three from three-point range for nine points. Something about playing against KU seems to bring out the best in him.
Morningstar dishes to Xavier Henry, who knocks in his first three. Marcus Morris follows with a steal, and he takes it all the way to the other end, avoiding a defender underneath the rim to put in a layup. BU coach Scott Drew calls timeout to settle his team.
KU 13/BU 10 — 11:34 left in 1st half
Morningstar hits a three, but LaceDarius Dunn answers with a three on the other end.
Morningstar misses his next attempt, but Xavier Henry skies for the board and is fouled on the way back up. KU coach Bill Self talked about Xavier's offensive rebounding earlier this week, commenting that the small forward wasn't as active on the glass as he should be with the physical tools he has. Xavier might have been listening.
Udoh buries a three, and he does a little of everything for Baylor. He's now 5-for-13 (38.5 percent) from beyond the arc this year.
A few seconds later, Udoh commits a costly foul, going over Thomas Robinson's back on an offensive rebound attempt. That's two fouls on Udoh, and he'll have to go to the bench.
KU with four steals so far, and three of them have come from Xavier Henry. Honestly, it seems like KU should be up by more than three points.
KU 6/BU 4 — 15:59 left in 1st half
Brady Morningstar gets his first start of the year, replacing Tyshawn Taylor.
Well any questions about what Cole Aldrich we'd see tonight were answered quickly. After getting a feed from Collins, the KU big man threw home a ferocious one-handed slam, yelling toward the camera in satisfaction afterwards.
KU has done a great job of attacking the inside of Baylor's zone so far. Afte some fancy dribbling up top, Collins delivered a nice no-look pass across the lane to Marcus Morris for a slam. KU's first six points have all come in the lane.
Baylor has seemed content to slow it down offensively, and that's not a surprise. The Bears, according to KenPom, play with the 226th-fastest tempo in the NCAA, which puts them at a slightly slower pace than the average NCAA team.
7:05 p.m.
Like I said earlier, I wanted to try something a little different for tonight's game.
On the left side, you'll notice there's a link to a chat with yours truly. For pre-game, I'll be hanging out there to talk about all sorts of topics.
Though it says to "Submit a question," really you can use that form to simply post a comment as well.
For one, I'll use it as a place for predictions on the game. The closest person to the correct score will receive a Kream Keegan T-shirt. Entries must be received inside the chat before 8:05 p.m. Tiebreaker will be the person who is closest to KU's final score.
Also, feel free to ask me a question, or comment about what song is currently stuck in your head at the moment.
Hopefully, this will have more of a conversation feel, rather than a "Jesse is talking but not listening to me" feel.
So, if you have some time, head on over to the chat. And be sure to post your score prediction there as well.
6:55 p.m.
Welcome back to the Newell Post Live, coming to you from Allen Fieldhouse where the No. 3 Kansas Jayhawks are getting set to take on the No. 25 Baylor Bears.
We're going to try something a little different as we get closer to gametime, but for now, here are some notes about Baylor, which enters with a 14-2 record.
• Baylor, which plays primarily a 2-3 zone, holds its opponents to 38.5 percent shooting from inside the three-point line. That's the fourth-best mark in the country. The Bears also block 19.5 percent of their opponents' two-point attempts — the third-best percentage nationally.
• Baylor's defense doesn't force many turnovers, as opponents average just 12.3 turnovers per game.
• Baylor's opponents score 34.9 percent of their points from three-pointers.
• Six-foot-10 forward Ekpe Udoh (Epp-Ay You-Doe) is one of only three Big 12 players (along with Kansas' Cole Aldrich and Texas' Damion James) to average a double-double, posting 14.1 points and 11.4 rebounds per game. He also is averaging 4.4 blocks and 4.4 offensive rebounds per contest.
• Baylor is a great shooting team, making 40.1 percent of its three-pointers (22nd nationally) and 53.3 percent of its twos (21st nationally). Additionally, both LaceDarius Dunn (41.2 percent) and Tweety Carter (42.2 percent) have made more than 40 percent of their three-pointers this year.
• The Bears are strong on the offensive boards, picking up the rebound on 41.6 percent of their misses (sixth nationally).
Be sure to vote in our poll on the left and also use #kubball to have your tweets appear on the left side of this page.
Also, no guarantees, but most of the time, http://justin.tv/sremlahc10, password: phog is a link that is useful on gamedays.