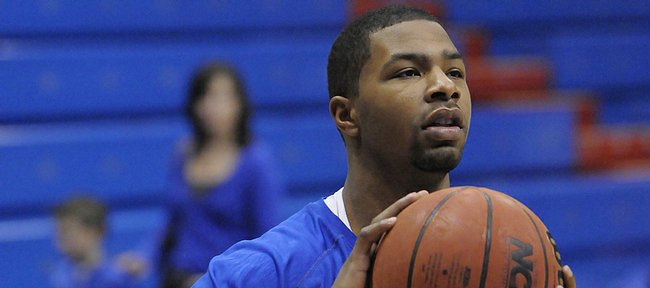 Marcus Morris has seen the world-famous Liberty Bell. Twin brother, Markieff, has not.
"I went there on a field trip in grade school," Marcus Morris said. "Kieff didn't get to go. We were in the same classes in high school, not grade school."
Take it from Marcus: The Liberty Bell is an attraction Kansas University basketball fans — in Philadelphia for Saturday's KU-Temple game (4:30 p.m., Liacouras Center) — should consider a must-see.
"The bell is very high up in the sky. It's scary to go see it," said Marcus Morris, KU's sophomore forward, born and raised with Kieff in the City of Brotherly Love.
"It's like a wishing bell, too. You make a wish when you get up there. It's very big. It has a big crack in it, too."
Actually, the bell has been stationed low to the ground since 2003, when it was moved to Liberty Bell Center, located on Market Street between 5th and 6th. The Bicentennial Bell does hang in the Independence National Historical Park Visitor's Center's 130-foot bell tower, though.
Those are minor details.
The twins, playing the role of virtual tour guide, most importantly want to recommend their favorite cuisine — the Philly cheesesteak.
"It's the best steak in the world. Don't you know that?" Marcus said. "That's what Philly is known for ... first Wilt Chamberlain, then cheesesteak. I tell the guys I'm going to try to get somebody to bring some to the hotel."
The best places to grab a cheesesteak?
Geno's in south Philly, they say, or Max's in their own northwest neighborhood. Of course, cheesesteaks can also be had at Leo's, Tony Luke's, Jim's, Rick's, Pat's or John's.
Philly restaurateurs obviously are big on first names.
"That's one of the things you have to do when you go to Philly. You haven't had a cheesesteak unless you've had a Philly cheesesteak," Markieff said.
"I don't eat Philly cheesesteaks from anywhere but Philly. I feel like I'm disrespecting my city when I do that."
The Morris brothers have plenty of relatives willing to bring them a cheesesteak or two tonight.
Many of those same relatives will be at Saturday's game.
"I've got 30 tickets. If you can get me more, I can use more," Markieff said. "That's what I told coach (Bill Self) ... how many he can give me is how many I can use."
Tickets are at a premium in the cozy, yet hostile, 10,224-seat campus arena.
"I lost city (championship) in there my 10th-grade year and won my 12th-grade year," Markieff said.
He and Marcus led Prep Charter High School to state titles in 2006 and '07 in games played in Hershey, Pa.
"It's a nice place. It's an old building Their fans will be fired up playing the No. 1 team, like we will be," Markieff added.
The Morris twins, who are 2-0 versus teams from Philly, beating Temple, 71-59, last season in Allen Fieldhouse and LaSalle, 90-65, in Sprint Center this year, are familiar with several Temple Owls.
Lavoy Allen, a 6-9 junior from Morrisville, Pa., is a close friend.
"I'm not saying we're going to win. But I've never lost to him in four or five games, mostly AAU games," Marcus Morris said. "I plan on trying to stay perfect against him even in the NBA."
There another piece of incentive for the twins Saturday, in addition to improving to 13-0.
Temple fans chanted "We Want Kansas," after the Owls' 75-65 victory over No. 3-ranked Villanova Dec. 13 at Liacouras Center.
"Michigan fans chanted the same thing," Markieff Morris said of Wolverine fans who were disappointed after a 75-64 loss to KU on Dec. 19 in Allen Fieldhouse. "Temple (11-2) is a good team. We are playing at their home. It's my home, too."
Sophomore guard Tyshawn Taylor, who replied "of course," when asked if it was critical to help the twins claim bragging rights in their hometown, grinned when asked about the chants.
"They are calling for us, so they better be ready, 'cause we're coming," Taylor said.
Self said he hopes the Jayhawks — most notably the twins — remain as level-headed as possible against a stingy Atlantic 10 team that allows 54.2 points a game.
"(I'm) probably concerned that they could go in there and not be at that magic level, so to speak, that give them the best chance to perform," Self said. "That would include energy, enthusiasm, focus, concentration. You have to have all those things. They could be wound pretty tight. They need to go through this. They (Jayhawks) all do. They'll be wound tight in other situations. It's part of it."
A special part of college for the twins, they maintain, is being able to travel home for a game.
The twins said this one has been circled on their calendars a long time.
"It's a business trip. We're trying to go to Temple and win a game," Marcus said, before offering one more tip for those Jayhawks in town for pleasure.
"I'd send them downtown to go see Rocky the Statue," Marcus Morrris said of a bronze statue of Rocky Balboa located at the Museum of Art.
"There's a lot of stuff to do in Philly. It's similar to Kansas City, very huge, a lot of places to go. It's a great place to be from."
Treadmill talk
KU's fabled treadmill has been situated just off the northwest corner of the Allen Fieldhouse court for two-a-day practices this week.
It's used as a penalty for various transgressions, like soft play or sloppy play.
"The treadmill is out. The treadmill has been out," junior Cole Aldrich said, asked if he has been on it. "It's not fun. It's at the highest incline, the fastest it can go."
"I don't even like to see it," Taylor said. "They put it on fast on an incline. It's tough. If you are not running fast, it'll throw you off. Nobody's got thrown off yet, but somebody will."