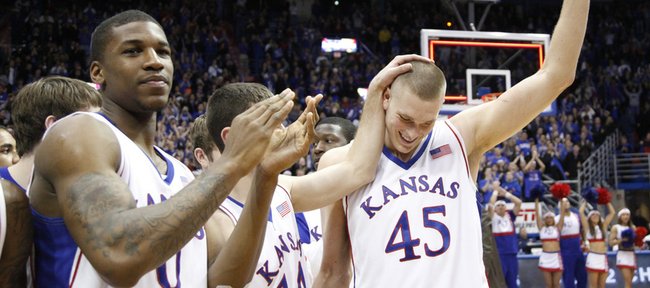 For the third-straight year, Kansas junior center Cole Aldrich found himself in the middle of a Big 12 trophy celebration with teammates.
The KU men's basketball team clinched at least a share of the conference championship with its 81-68 victory over Oklahoma on Monday night at Allen Fieldhouse.
It's the sixth-straight season the Jayhawks have claimed at least a share of the league's regular-season title.
"It never gets old. It doesn't," Aldrich said. "It's just one of those things that you work so hard for five, six, seven months over the course of the summer and then practice starts and you really work hard.
"And it all pays off."
The Jayhawks' secured at least a share of their 53rd league title, which is the most in Division I basketball history.
Meanwhile, KU's 27-1 record is the school's best mark since the 1996-97 squad started 34-1. KU's 13-0 start to the conference season has been matched only once in Big 12 history — and that was by the 2001-02 Jayhawks, who finished that season a perfect 16-0.
KU coach Bill Self has now won at least a share of the conference championship in six of his seven seasons with the Jayhawks.