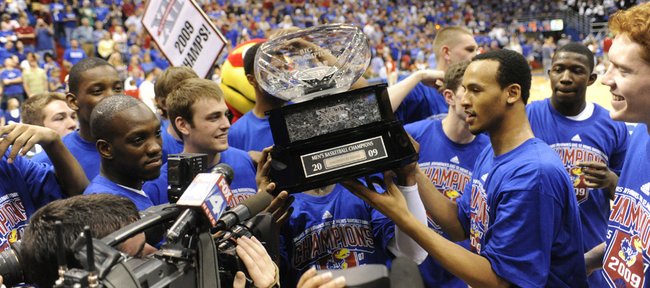 They are easy to take for granted at times, with all eyes focused on the big prize — the NCAA basketball championship.
But make no mistake about it: Conference titles, like the sixth-straight Big 12 crown Kansas University could clinch with a victory tonight over Oklahoma, are mighty significant, especially to the guys who put in the blood, sweat and tears over a grueling two-month period.
"We only won one when I was playing. We had a chance to win two more, but came in second," said former KU All-American Dave Robisch, needing no time to recall how many he'd snared.
"Six in a row is an unbelievable achievement. We've won a lot of conference championships (nation's best 52 titles). To put that many in a row is just unbelievable."
Winning six, which would tie Phog Allen's 1922 to '27 teams for most in a stretch in KU history, also would classify as "incredible," said former KU guard Ryan Robertson, who jokingly said, "I'm happy with my three."
"This is pretty significant. I think it's worthy of a banner up there," Robertson added of the fieldhouse rafters. "You have to remember, the conference got bigger (moving from Big Eight to Big 12 in 1997), and the league is much deeper. Texas has been really good over that stretch. Six in a row ... it's a huge pat on the back for (coach) Bill Self and the job he's done. Big kudos to him."
Of course, KU (26-1 overall, 12-0 Big 12) has to defeat OU (13-13, 4-8) in an 8 p.m. Big Monday contest today to assure at least a tie for the crown. The Jayhawks lead second-place Kansas State by three games with four to play.
"I think we take it (winning titles) for granted. I do," said former KU small forward Carl Henry, who quickly smiled and said, "None," asked how many league titles he won here. "They should all be real proud. What they are doing now, they should be really proud."
Henry, who has coached Oklahoma City Athletes First AAU teams the past several years, easily can see why the Jayhawks are trying to become the first BCS school since UCLA (13 from 1967 to '79) to win as many as six league titles in a row. Kentucky won six SEC Eastern Division crowns from 2000 to '05. Gonzaga of the WCC currently is working on a streak of nine and counting.
"I mean, they've got the players," Henry said. "When I come watch the games and see them play, it's just, 'Who is going to do it that night?' because they've got the players."
And the coaches, who on a daily basis try to get the guys to focus on the game at hand.
"We haven't won it yet by any means," Self said. "Certainly our schedule is very, very difficult down the stretch. We have to defend our home court. I'm pretty proud of these guys if we get to that point where we have a chance to clinch at least a part of it. We'd have sold out for that before the season started probably at Game 16, let alone Game 13."
KU point guard Sherron Collins said that this title ultimately would rank as his favorite.
"It'd stack up at the top because it's my senior year. We've got a chance to win it at home. It'd be great," Collins said. "It's just another one, though. I've got three, so it's another one.
"It's real hard for a school to do, especially in a tough conference like we've got," he added of going for six straight. "It means a lot. To win three in a row and win a fourth would be special. We've never lost a conference championship since I've been here. It'd be great."
"It'd be huge," noted junior center Cole Aldrich.
It'd be huge to KU players past and present.
"To win six straight titles in a major conference ... it's a great accomplishment," Robisch said. "It just goes to show you how impressive the history and tradition is here. All the players and coaches that have come through here are dedicated to carrying on that tradition."