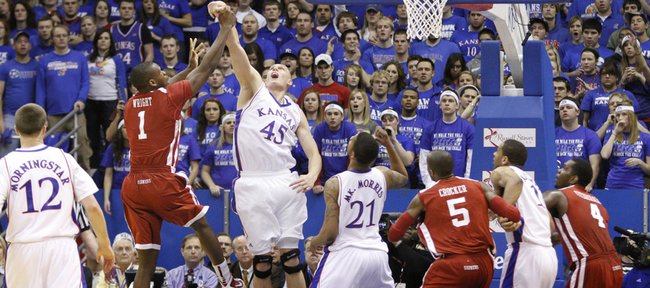 Kansas University junior Cole Aldrich on Monday was named ESPN The Magazine/College Sports Information Directors Association of America Academic All-American of the Year.
Aldrich, a junior communication studies major, joins Jacque Vaughn (1997) as the only KU player in history to win the award. He's KU's first first-team Academic All-America pick since Ryan Robertson in 1999.
He was joined on the first team by Tim Abromaitis (Notre Dame), Patrick Foley (Columbia), Matt Howard (Butler) and Yves Mekongo (LaSalle).
"It's huge. I really just try to work as hard in the classroom as I do on the court," said Aldrich, who needed — and achieved — a 4.0 first semester to boost his grade-point average to over 3.3, the minimum standard needed for consideration.
Aldrich was honored in a ceremony after the game. That's the moment his dad, Walt, who was sitting in the stands, learned of his son's achievement.
"I tried to keep it a little quiet. I told my mom before the game, and she was really excited. She was really proud of me," Aldrich said.
And Dad?
"It was really cool to see his face," Cole said. "(He's) really surprised, but proud. He knows I work really hard."
Aldrich was named second-team Academic All-Big 12 last season.
Here's a list of KU's all-time Academic All-Americans: 1971 - Bud Stallworth; 1974 - Tom Kivisto; 1977 - Chris Barnthouse; 1977 - Ken Koenigs; 1978 - Koenigs; 1979 - Darnell Valentine; 1980 - Valentine; 1981 - Valentine; 1982 - David Magley; 1996 -Jacque Vaughn; 1997 - Vaughn; 1997 - Jerod Haase; 1999 - Ryan Robertson.
Final games
Senior Sherron Collins has one home game left in his KU career, a week from Wednesday versus Kansas State.
Aldrich likely has just one left as well. It's all but certain he's headed to the NBA after his junior season.
"I really haven't thought about it," Aldrich said of KSU possibly being his final Allen Fieldhouse appearance. "I'm just having fun. That's really what I'm doing, trying to enjoy our (league) title and just being an Academic All-American."
Henry honored
Xavier Henry on Monday was named Big 12 rookie of the week for the third time this season. Henry hit his first eight shots, two of those three-pointers, Monday and scored 18 the first half of Monday's victory over Oklahoma.
Simien to be honored
Former KU great Wayne Simien confirmed that his jersey will be hung in the fieldhouse rafters at halftime of a game next season. There had been some preliminary talks about perhaps having it hung at halftime of Wednesday's Kansas State game.
"I felt that day should be about Sherron. It's Sherron's day," Simien said, politely deferring to Sherron Collins' Senior Day. "There's no rush. I've talked to coach about it. We'll pick a day next year.
"It's a great honor."
Not much sleep
The Sooners (13-14, 4-9) have to be wondering what else can go wrong this season. Smoke at The Oread hotel brought the Sooners out of their hotel rooms late Sunday night for more than an hour.
"It was exciting," coach Jeff Capel said. "I guess around midnight, a little before midnight, the fire alarm started going off. It was really, really loud, moving everyone down to the lobby. We were down there for about an hour, hour and a half. It was something in the laundry room."
"I thought it was maybe a KU fan or something like that. They say being on the road, you are never surprised to have something like that happen. I don't know if we're good enough where they'd think to try to do something like that."
Stats, facts
KU had no turnovers in the final 24 minutes, 30 seconds. KU's six turnovers were fewest in a conference game since Feb. 13, 1999, versus Texas Tech. ... KU has won a nation's best 53 conference titles.