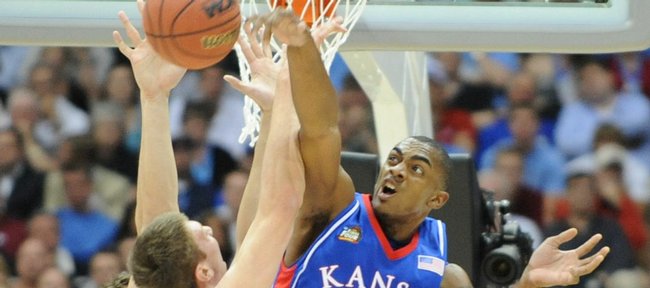 Editor's note: This is the sixth story in the Journal-World's series of the top 10 victories in Kansas University hoops history. Introducing No. 5:
Few games in Kansas University basketball history have as many meaningful and memorable storylines as the one that took place on April 5, 2008, between KU and North Carolina.
KU won, 84-66, earning the right to play for the national championship. It was the second game of the first Final Four in NCAA history that featured all four No. 1 seeds. And, of course, emotions boiled because former Kansas coach Roy Williams was leading the Tar Heels against his old school for the first time.
"We knew it was a huge deal to the fans," said Cole Aldrich, now a junior. "But for us personally, I was recruited by Roy to Carolina, but we didn't have any of the guys who played under Roy, and we just wanted to play our butts off for the fans."
No one illustrated that better than Aldrich. Eight points, seven rebounds, four blocked shots. All in 16 minutes. All against national player of the year Tyler Hansbrough. Aldrich averaged just 2.8 points, 3.0 rebounds and 0.9 blocks per game as a freshman.
"Coming into the game, I had prepared the same way I had the other 38 games," he said. "I knew that if I was going to get in, it was going to be the first half because, during the course of the year, that was usually when I got in."
Aldrich's impact helped the Jayhawks jump out to a 40-12 lead. That score — 40-12 — is as entrenched in KU hoops lore as any single score in history. As memorable as the 83-79 final against Oklahoma in the 1988 national title game and perhaps moreso than the 75-68 final score of Kansas' overtime triumph against Memphis two nights after the Carolina victory.
But few images shine through as much as those of Aldrich — along with Darrell Arthur, Sasha Kaun and Darnell Jackson — actively frustrating the dickens out of Hansbrough.
"We knew it was tough for him to score over length," Aldrich said. "We knew if we just walled up, we were going to be able to block some shots and, if not block shots, we were going to make it really tough on him. Shady (Arthur) and I were really trying just to frustrate the heck out of him because he was one of the main pulses of their team. And we knew if he was a little frustrated, that some of the other guys on their team might get frustrated."
Today, so many months and blocks later, Aldrich remembered how he felt the moment KU coach Bill Self turned to him.
"Once Sasha and Darnell got in foul trouble, coach called my name, and I was definitely a little nervous," he said. "But I was excited. It was cool because it was my first year, my freshman year, and still being really young and not really knowing anything, I just went out there and played my butt off. It was kind of the classic deal where you gotta be ready when your number's called. And I was ready when my number got called. It just happened to be in the Final Four."
With so much hype surrounding the game, it was nearly impossible to ignore the Roy Williams connection. But, as Aldrich indicated, it seemed to be a considerably easier task for the Kansas players than Carolina's.
Former UNC point guard Ty Lawson, now a member of the NBA's Denver Nuggets, supported that notion.
"Coach (Williams) downplayed the whole situation about playing Kansas," Lawson said. "But I think that he really wanted to win that game, and it was probably a little bit of a distraction because of everything, how he ended things at Kansas and came to Carolina. It wasn't until after the game that you could tell how emotional he really was about it."
Despite his team's loss — in which the Tar Heels cut the KU lead to 54-50 with 11:11 to play — Lawson said he felt privileged to play in such an important game between powerhouse programs.
"It was fun, especially with it coming in the Final Four," he said. "There was a lot of build-up to the game, especially because of what was at stake. It was a big game. I wish we would've played a better game. But Kansas was a good team, and it's hard to erase a 20-point lead against a team like that. We just didn't have enough energy after we made our run."
Aldrich said the Jayhawks were not surprised by either Carolina's surge or their answer to that run.
"All throughout the Final Four we were pretty much just jailed in our hotel room," he said. "We'd go to film, we'd eat, go to the gym, hotel room, hang out, and that's all we did. We really felt like we had something to prove because we were the team that nobody was really giving a chance to win. And we just wanted to show everyone we could play. It was just a fun game to play in."