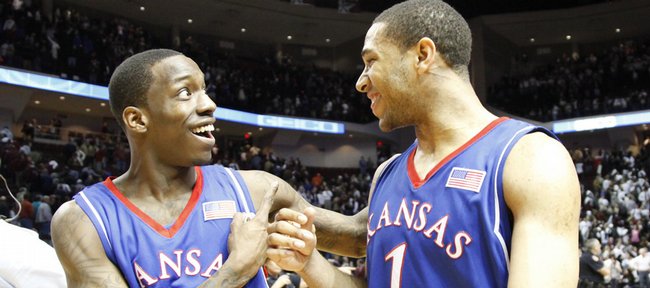 College Station, Texas — Mark Turgeon, who passed Bill Self in a Reed Arena hallway on the way to the interview room, didn't try to mask his disappointment as he briefly visited with the head coach of his alma mater's basketball team late Monday night.
"I thought we had you," Texas A&M; coach/Kansas University graduate Turgeon said, shaking his head.
"You did have us," Self replied quickly, after his No. 1-ranked Jayhawks managed to pull out a 59-54 victory over Turg's No. 24-rated Aggies.
The two went on to discuss good-naturedly a few calls that could have gone either way.
"You're doing a great job, Turg," Self said, concluding a rare chat between opposing coaches following a hard-fought game.
Just 30 minutes earlier, while exiting the court, Self asked the question of the night — "How'd we ever win that game?" — to nobody in particular as he exited the tunnel toward the victorious KU locker room.
Good question, coach.
The Jayhawks were outrebounded, 41-33 (A&M; had a whopping 20 offensive rebounds) on a night they made hit just 43.5 percent of their shots, including one of 10 threes.
What's more, senior guard Sherron Collins missed seven of nine shots and scored just seven points with one assist against five turnovers, leaving leading scoring honors to Xavier Henry, Marcus Morris and Cole Aldrich, who had just 12 apiece.
The answer to Self's question obviously did not come on the offensive end, but the defensive. KU held the hard-working, yet cold-shooting (34.9 percent, 5-for-21 threes), Aggies to zero points off 0-of-7 shooting the last four minutes, eight seconds.
The Jayhawks, who were down 54-52 following a bucket by Donald Sloan, managed seven points in that game-ending "run" (two free throws by Morris, a goaltending bucket by Aldrich and three free throws by Henry) to win that four-minute battle, 7-0.
"We just came together in the huddle and said we have to hunker down and play defense," said Aldrich, who blocked five shots and in the process became KU's all-time single-season block leader. He has 98, two more rejections than Greg Ostertag totaled in 1993-94.
"I think coach will tell you this, if we play defense, then the offense takes care of itself," Aldrich added. "Toward the end, we started to defend. We gave up 20 offensive rebounds tonight, which is unacceptable. That's on our bigs."
The late defensive work put a smile on the face of Self, who felt his squad was outworked on the glass the majority of the contest.
"If Marcus isn't going to play much (20 foul-plagued minutes) and Sherron has the night he had, it's amazing to me that we won the game," Self said. "We won the game muddy. We've shown we can win games when we make shots. It's probably a good thing to know we can win a game muddy, ugly from an offensive standpoint.
"We can say it's ugly, but from our perspective, when we shoot it miserably from distance, but not turn it over (11) and get fouled (KU hit 18 of 26 free throws to A&M;'s five of 11), even though it wasn't pretty, those were two things that make it a positive situation for us.
"I think their big guys controlled our big guys," he added. "Our bigs did play well down the stretch, though."
Everybody played well on the defensive end late.
"Sometimes you get lucky when they miss open looks and you get unlucky when they make guarded ones. Our defense was pretty good late," Self said.
Though pleased KU improved to 25-1 overall and 11-0 in league play, Self realizes there have been some close calls.
"Shocked," he said of the team being 11-0. "It's the best the conference has been maybe since the inception of the league. I personally had a record in mind I thought for anybody to have a chance to win the league ... 13-3. It still may be. That's what I thought it'd be."
He mentioned that the Colorado, Baylor, Kansas State and A&M; games could have gone either way.
"We're playing too many of 'em," he said of nailbiters. "Billy Tubbs (former Oklahoma coach) told me one time over the course of a season you've got to play some close games, but you don't want to play too many, because for whatever reason, he feels they will all balance out at the end. It does take a grind on your team."
And uses up some good luck?
"It uses up luck, but also uses more energy, more stress," he said.
KU will meet Colorado at 3 p.m. Saturday in Allen Fieldhouse.