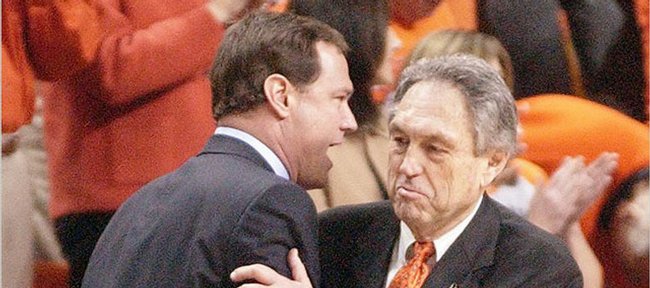 Oklahoma State basketball coaching legend Eddie Sutton had a heart-to-heart chat with prize pupil Bill Self back in April of 2003.
Self, the wildly successful third-year University of Illinois coach, had phoned his former boss to tell him he was considering accepting a job offer at Kansas University.
Sutton wasn't convinced such a move was a good idea.
"I said, 'Now, the only way you are going to top Roy Williams is if you win a national title because of his record. There's no way you are going to be able to do the same thing.' And I said, 'You've got a great job at Illinois,''' Sutton related.
"He said, 'Ah, I've always wanted to be at Kansas.' I said, 'Well, you better go.'''
Sutton was speaking Monday at Texas' Erwin Center, where the Jayhawks downed the Longhorns, 80-68, for the 399th victory (against 146 losses) of Self's 17-year coaching career.
What's more, it hiked Self's seven-year KU record to 192-41. That's an 82.4 win percentage, which actually is a bit better than Williams' 15-year KU mark of 80.5 percent.
Williams went to four Final Fours at KU and finished national runner-up twice. Self has won one national title and five league crowns in six seasons here.
"I told Bill … I said, 'Kansas fans think you ought to win every game. Not all of them (fans), but a great many of 'em do,''' Sutton said. "I said, 'When you don't, you are going to get some letters that maybe are going to criticize you.' I said it'd be best to overlook them (the letters)."
Sutton basically was playing devil's advocate, simply making sure Self considered all possibilities before leaving Illinois, where his 2003-04 Illini team figured to make a huge run at the '04 NCAA championship. Sutton provided the same counsel in 1993 when Self was thinking about leaving Sutton's OSU staff for the head-coaching post at Oral Roberts.
"I said, 'Bill, you go over there and really look at that situation.' I said, 'Mr. Roberts has offered me that job three different times.' I said, 'It's a little different.' He went over there and did a marvelous job and of course on to Tulsa, Illinois and Kansas," Sutton said.
It's at KU where Self will pick up career victory No. 400, perhaps as early as Saturday, when the Jayhawks tangle with Iowa State in a 7 p.m. tipoff in Allen Fieldhouse.
"He's certainly done a marvelous job," Sutton said. "Bill had been a grad assistant up there (under Larry Brown in 1985-86). He knew exactly what Kansas was all about."
Self is on such a roll at KU that Sutton believes the sky is the limit for the 47-year-old coach.
In fact, Sutton wouldn't be surprised if Self someday passes his own career victory total of 804 (against 327 losses in 36 seasons).
"Sure he can," Sutton said. "You start winning 37 games a year, you will pile 'em up real fast. Here's the thing ... I'm not sure how many young coaches will coach as long as Bob Knight (36 seasons, all-time record 902 victories). Coaches are making so much money now. It isn't as easy in my opinion to coach as it once was. If Bill wants to coach, certainly he'll have that opportunity. He may get tired of it in another 10 years."
Some wonder if Self will tire of the grind of recruiting and head to the NBA.
Self has never discounted the possibility, but has never said it's a dream of his to coach at the highest level, either.
"I don't know. I can't answer that. I don't know if he has any desire to go (to pros) or not. I've not talked to him about that," Sutton said. "I think he's really a great fit for college basketball. We haven't had too many college coaches go to the NBA and be successful. That doesn't mean he couldn't.
"I never had any desire myself," added the 73-year-old Bucklin native, who coached at Tulsa Central High School and Southern Idaho Junior College, as well as Div. I schools Creighton, Arkansas, Kentucky, Okie State and San Francisco.
"I had that opportunity to go, but I always thought of myself as a teacher, an educator. I always felt my calling was to stay in either high school coaching or college coaching."
Sutton, who attended KU's shootaround Monday afternoon in Austin and has attended Jayhawk practices in the past, sees Self as a perfect fit on the college level.
"I'm very proud of him, gosh darn, yes," Sutton said "Four hundred wins is just a peg going up the ladder, and there's no doubt he'll get to 500 in short order and then 600. He gets to a certain point, he may make that decision (to retire). If he's still enjoying himself, if his family is enjoying it, heck he may go to 800."
Self, of course, is also part of the coaching tree of Larry Brown, who now coaches the NBA's Charlotte Bobcats.
"Bill worked my camp, then worked with me. The young guys we worked with at KU — (John) Robic, R.C. (Buford), Bill, John (Calipari), Mark (Turgeon) — when you look at the things they've accomplished, it's pretty special," Brown said.
"Bill was so bright. Working for Eddie was huge in his development. Watching him go to Oral Roberts and Tulsa and Illinois ... he just keeps getting better and better. We think where those programs were when he left ... they are all doing pretty well. He is real. He really cares about the kids. He is aware of the tradition of Kansas. He treats people the right way and is bright. That's a difficult combination.
"I know he's the head coach, and what he stands for makes me pretty darn proud knowing he worked with me."