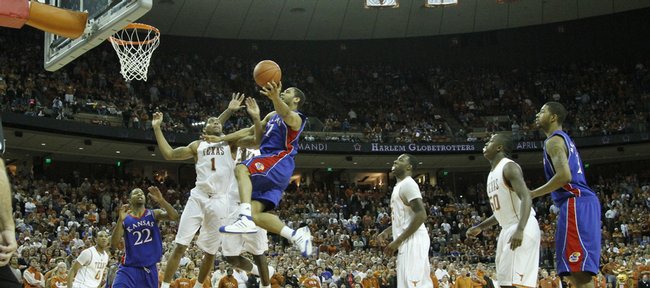 Austin, Texas — Xavier Henry, congratulations. You just became a Bill Self basketball player, and if you stay that way, you just might win a national championship in your first year in college.
On a night Kansas University displayed the sort of wicked defense and physical rebounding that made the tough-to-please coach proud, Henry joined the act. He bounced off bigger bodies and hung in there on his way to 15 points, five rebounds, two assists and a steal in an 80-68 victory Monday night against reeling Texas in the Erwin Center.
"We knew they were a good rebounding team," Henry said of spending more time in the paint than usual. "They talked about them all year being a great rebounding team, so I just had to mix it up, get rebounds and be tough."
Henry has received praise for a number of attributes as a basketball player, but since coming to Kansas, toughness hasn't been among them. He showed plenty of it Monday while busting a slump. When the Big 12 season arrived, Henry disappeared. His jumper flattened out, and his drives to the hoop rarely ended up well.
Henry sometimes calls to mind a wide receiver hearing footsteps running a pattern over the middle, but he didn't shy from contact in this one. He didn't watch from the perimeter. He went after offensive rebounds in the way a player with his spring, length and build ought to go after them. Once, when he missed a putback, he battled hard to get it back, slammed the ball hard off the deck and went back up with it for a bucket. On that play, Henry's coach looked as if he had just won the lottery, which, of course, Self did when he was hired by Kansas.
Self, who never had won in the Erwin Center until Monday, has been a perfect fit at Kansas. The same can't be said for Henry, but for one important night at least, he fit well on the court and afterward sounded as if he might be figuring it out.
Not unlike another lefty, golfer Phil Mickelson, Henry constantly smiles. A Texas reporter commented to him that he had been smiling his entire time at the podium.
"If you knew me, I smile 24/7 anyway because I'm blessed to be in this position," Henry said. "But I am glad I had a good game. It's been a long time coming. I've been playing a little down. People say I've been in a slump. I just tried to play hard and work with the team, and it came out well, so I'm happy."
There you have it: Play hard and work with the team. If he does that, he can maximize his talent. If he veers from that and listens to any voice but his accomplished coach's, he'll fall short of his potential, and so will his team.
Damion James lit him up at the start of the game, but after Henry got settled in and was given a different defensive assignment, he took part in a 22-0 run that ate 10 minutes, 55 seconds of first-half clock.
"When we play good defense as a team, nobody can score on us, and they definitely can't keep up," Henry said.
Self has stayed with Henry through some miserable shooting performances — his Big 12 three-point percentage is .267 — and on this night the coach looked wise for doing so.
"I thought Xavier played the best game he's played in league by far," Self said. "He was really good."