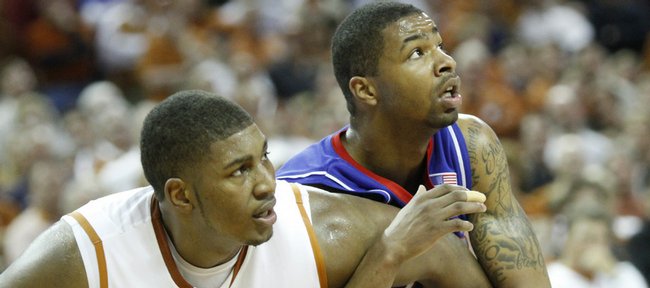 My bad
Cole Aldrich said he wasn't trying to swing his elbows into Damion James' face after Aldrich grabbed a defensive rebound and was fouled by James with 3:48 left in Monday's game.
That action cost Aldrich a technical foul, since the contact came after the whistle had blown.
"I got the rebound, turned to outlet and accidentally hit him," Aldrich said. "I tried to apologize. There was no intention at all."
James smacked at Aldrich's hand as KU's big man tried to apologize. The two talked about the play calmly in the handshake line after the game.
"I apologized. I said, 'I didn't mean to hit you,''' Aldrich said. "He knows I didn't do it intentionally. He accepted my apology."
KU coach Bill Self said the ref made the correct call since Aldrich's contact came after the whistle.
Crazy free-throw miss
Aldrich's technical foul caused him to foul out, leading to one of the wackiest plays of this or any season.
Self chose Brady Morningstar to shoot Aldrich's free throw.
The ball slipped out of Morningstar's hands, and he horsed up a jump shot from the line, which had no chance of going in.
"My sub was smart. That'll be an ESPN Not Top 10 for the next six months," Self said with a laugh. "He said the ball was wet, and it slipped out of his hands."
Morningstar confirmed that explanation.
"The ball was wet. It slipped on the way up. I was so confused. I could have caught it and came down with it, but I'd have stepped on the line. I tried to shoot a little jump shot so I didn't cross the line," Morningstar said.
"I looked pretty stupid there," he added. "We laughed about it in the locker room just now."
Milestone possibility
Self has a chance to claim his 400th victory as a head coach Saturday when the Jayhawks meet Iowa State in a 7 p.m. tipoff in Allen Fieldhouse. He's 399-146 overall in 17 seasons.
"It means we've had good players and assistant coaches," Self said.
Stats, facts
Sherron Collins moved up a spot to No. 10 on the KU career scoring list. He had 15 points and has 1,704 for his career becoming the 10th player in KU history to score 1,700 points. Collins has scored in double figures in 10 of the last 13 games. ... Aldrich recorded six blocks, one shy of his season high, to move up to No. 4 on the KU career blocked shots list with 218 career rejections along with Scot Pollard (1994-97). He fouled out for the first time in his career. ... KU won its third straight against Texas and is 17-6 versus UT all-time. ... The win marked Kansas' first win in Austin since Feb. 11, 2002, snapping a three-game skid at the Erwin Center. ...KU converted 17 Longhorn turnovers into 27 points, its most points off turnovers in Big 12 play this season. ... The Jayhawks held Texas to 37.3 percent shooting. KU has held 18 of 24 opponents to under 40 percent shooting. ... UT's 24 points in the first half were the second-fewest points scored by a KU opponent during conference play this season. Texas Tech had 18 points in the first half on Jan. 16. ... Marcus Morris has shot 50 percent or better in four of his last six games. ... Collins tied a career high with four steals and dished five assists and has 16 dimes in the last three games. ... Markieff Morris pulled down nine rebounds to lead KU for just the second time this season. He also had three blocked shots for the second straight game, one shy of his career high.