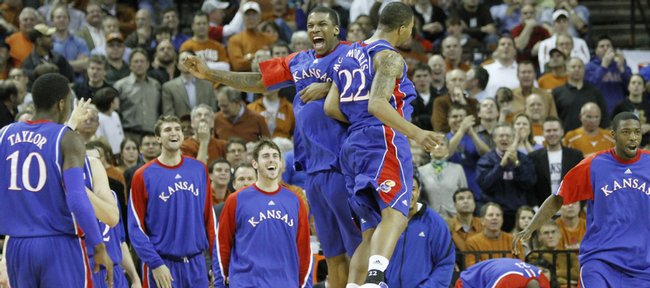 Austin, Texas — Sherron Collins pointed the index finger of both hands at a patch of boisterous Kansas University basketball fans celebrating the No. 1-ranked Jayhawks' resounding 80-68 victory over No. 14 Texas on Monday night in Erwin Center.
"I wouldn't say it's over, but we're sitting in a pretty comfortable spot," Collins said, indicating his gesture was merely appreciation to the 1,000 or so KU supporters on hand, not a signal that KU has wrapped up the No. 1 slot in the league race for the sixth straight season.
"I'd say it was one of the top five wins of my career," Collins gushed of a game in which KU used a 22-0 run to build a 30-14 lead with five minutes left in the first half.
"We showed toughness, came here and won here for the first time in my career."
The win, by the way, upped KU's overall record to a sparkling 23-1 mark — and 9-0 in the conference. Texas fell to 19-5 and 5-4. Still breathing are three-loss teams Texas A&M;, Kansas State and Missouri.
"The Big 12 Conference is tough. Having a three-game lead is outstanding," said KU sophomore Marcus Morris, the first-team All-Big 12 candidate — yes, he has been playing that well — who emerged as THE toughest player on the KU team Monday.
Morris dislocated the middle finger of his shooting hand seven minutes into the game, but after getting it taped, returned to the tune of 18 points and eight rebounds.
His brother Markieff had nine boards and eight points on a night KU — which received five boards from Cole Aldrich and Xavier Henry — outrebounded Texas, 45-34.
"Actually I tore something in it. I tore a tendon. I can't really feel it," Morris said of the top part of the finger. "It's cool. I'm going to continue to play. It won't stop me from playing."
Indeed, no reason for KU fans to worry.
"He dislocated his finger in there, tore tendons in there. He won't miss practice or anything," said KU coach Bill Self, who won his first game at Erwin Center as KU coach after three losses. "He'll play with some sort of splint the next month or so."
Morris believes not his toughness, but the team's toughness, was a big reason KU basically eliminated UT from contention in the league race.
"I think we came out and were real aggressive. We took the first punch and never let up," said Marcus Morris, who hit seven of 10 shots.
"We played hard defense. We emphasized it in practice," he added of double-teaming inside presence Dexter Pittman, who had three points off 1-of-5 shooting on a night Damion James hit for 24 points with 10 rebounds and J'Covan Brown 28 points — 26 the second half.
"Dexter is a big body. If you don't double-team him, he'll kill ya," Marcus Morris added.
Self paid his small forward the ultimate compliment, saying: "Guys, he's not one of the better players in the league, he's one of the better players in the country."
The top team in the country was in control almost all the way, at least after the 22-0 run that turned a 14-8 deficit into the 30-14 advantage. KU led by as many as 19 the second half before UT cut it to eight down the stretch.
"My staff told me it was a 22-0 run in the first half," Self said. "On the road against a team like this, that doesn't happen very much."
As far as what the victory means, Self, like his players, wouldn't declare the Jayhawks league champs.
Not yet.
"We put ourselves in a favorable position," Self said. "We have three tough road games left (Texas A&M;, Oklahoma State, Missouri). K-State, A&M; and Missouri all have three losses. Somebody could get hot and run the table."
"We have to go to A&M;, Missouri, Oklahoma State. It's tough," Aldrich said. "We're really proud right now, though."