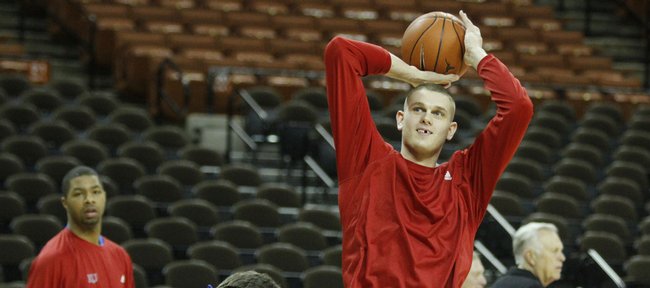 It's public knowledge that the mothers of Kansas University basketball players Sherron Collins, Tyshawn Taylor, C.J. and Xavier Henry, Marcus and Markieff Morris and Jeff Withey are living in Lawrence to watch their sons play basketball this season.
But it's a little-known fact that a dad of one of the Jayhawks has been in town since the Oct. 16 Late Night in the Phog.
He's Walt Aldrich, the proud papa of KU junior center Cole Aldrich.
Walt moved to Lawrence, in his words, to "live a dream" watching Cole play his third and — what figures to be his final — season of college ball. Walt's wife, Kathleen, who is back home in Minnesota doing babysitting for Walt and Kathleen's twin grandchildren (the daughter and son of Cole's brother Grant), has been to the fieldhouse for one game.
Is Kathleen envious?
"I take the fifth on that just in case she reads the article," Walt said. "She's understanding. Oh, I think there's a little jealousy. But it's like I told her, 'You probably talk to him more than I do.'"
Walt, who hasn't been able to find construction work in Minnesota or in Lawrence during the country's economic slowdown the past year or so, has been working temp jobs here while soaking in the full experience of KU hoops.
He had been to just a handful of KU home games in Cole's first two seasons on Mt. Oread.
He does, however, miss playing with his 18-month-old grandkids.
"Tremendously," Walt said. "They are at that age where everything is exciting. I'm missing out on all of the neat stuff, the two of them starting to talk."
Yet at least until mid-April, when he plans to return to Bloomington, he's getting to bond with his son, Cole, in a once-in-a-lifetime experience.
"There's no place like home," Walt said, "but Kansas is a good second home. I was hoping to see a lot less snow."
Walt was brought to tears last March when he watched his son record a triple-double against Dayton in the Metrodome in Minneapolis. He hasn't been quite as emotional during the 2009-10 regular season.
"Not yet," he said with a laugh.
His favorite moment of Cole's junior year?
"They've all been good," Walt said. "Going to Manhattan (for overtime win over Kansas State) was quite the experience. I had quite a few (KSU fans) come up and congratulate me, too: 'You've got a good kid. He's made the Big 12 proud.' I went to Nebraska and Iowa State, and so far I've had fans come up to me at every place.
"Him getting that academic all-star thing made me pretty damn proud, too," Walt added of Cole's becoming eligible for Academic All-America honors by making the all-district grades team. "He's not just a good basketball player, but smart, too."
Walt says he pretty much keeps to himself, speaking to and/or hanging out with Cole about once a week.
The two enjoy dining at Jo Shmo's on Mass Street in downtown Lawrence.
"I think he's having a good time, just like the other years," Walt said of Cole. "I'm sure my mom dying bugged him for a while."
Indeed, Cole was devastated by his grandmother Ann's bout with cancer that resulted in her passing last month.
Walt will not come out and say Cole is definitely headed to the NBA Draft this May, but it long has been believed that's a certainty. Coach Bill Self has said all along nobody should expect four years out of KU's big man.
Walt said he personally didn't regret his son's decision to stay at KU for his junior year, even though the Aldrich family has been hit hard by the economy.
"I told him, 'It's your choice,''' Walt said. "He's having a lot of fun. He loves Kansas."
But what about the millions of dollars the family would have earned had Cole turned pro?
"First of all, he would have the millions. His name is on the check, not mine," Walt said with a laugh. "Things work out. They always have and always will.
"If he keeps it up ... I prefer not to say. If I say something, everybody will make it a big deal. More than likely he'll be gone. There are months left, so you never know."
What is known is that Walt and his son have been having the time of their lives the last several months.
"It's great to have him at the games. It's always great to have the support of loved ones," Cole said.
The fatherly support will continue for four more home games, one to three at KC's Sprint Center, then up to six in the NCAAs.
• A previous version of this story contained an error.