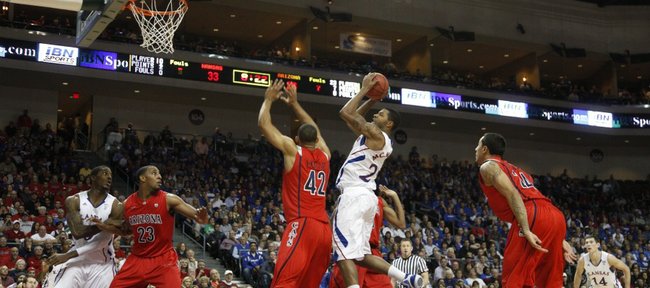 His name is Marcus Morris, but you can call him 'Mook.'
Videos
Self, players discuss holiday break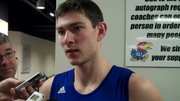 Kansas head coach Bill Self and players Tyrel Reed, Josh Selby and Marcus Morris discuss their holiday break.
"My grandmother gave me the name when I was young. My teammates call me 'Mook.' Coach (Bill) Self calls me 'Mook' all the time," Morris, Kansas University's junior small forward, said Tuesday.
Why 'Mook?'
"I don't think it has a meaning, but it rhymes with book," Morris said. "When I was younger I used to read books. My grandmother used to call me 'Mook Book.' Then we took the book part off and kept the mook."
Use of the nickname has definitely picked up this season. Self and KU players have often dropped that name in media interviews. So what do the players call Marcus' brother, Markieff?
'Kieff,''' Marcus said with a laugh.
•
Tyrel Reed on his favorite Christmas gift: "My parents got me — as kind of as a joke — a remote control helicopter. I've been playing with it every day. It's pretty cool actually. I like it a lot."
•
Lonely: Marcus Morris on how it felt leaving the Haas Pavilion floor after getting ejected with 171⁄2 minutes left in last Wednesday's game against Cal: "It wasn't real at first. I was like, 'Dang did I really just do that?''' Morris said. "I went to the back (of locker room) and stared at the clock for the entire game. I was hoping they didn't lose because if we lost, I know all the blame would have went to me."
He wasn't surprised KU beat Cal, 78-63.
"We've got guys that can play. I'm not the only player on this team. When I go down or get injured or kicked out of the game, I know my team can win," Morris said.
•
About Wednesday's foe: University of Texas at Arlington has an enrollment of 33,000. The school competes in the Southland Conference. ... UT Arlington is 5-5 after its 76-53 loss Wednesday at Texas Tech. ... UT Arlington is 4-0 at home and 1-5 on the road. ... The Mavericks average 72.9 ppg with a +7.9 scoring margin. UT Arlington forces 17.9 turnovers and is outrebounding foes by a +2.2 margin. ... Junior forward LaMarcus Reed III averages a team-leading 15.5 ppg. He's made 20 threes and averages 4.8 rpg. ... Freshman guard Darius Richardson averages 9.4 ppg. He's made 21 threes.
"It's a lot like watching us, to be honest with you," KU's Self said. "They do a lot of similar things we do offensively."
•
Self comments on Little: Self on senior Mario Little, whose municipal court date has been delayed from Jan. 5 to May 19 (Little faces four counts of battery, two counts of criminal damage to property and one count of criminal trespassing, all misdemeanors): "He's with us and part of our team. He'll practice and sit on the bench in street clothes (during games). He will not participate. I don't know if or when that (return) will happen. I'm still trying to get some information (on arrest on Dec. 15). Over Christmas vacation is not the easiest time to get that sometimes. I will say this: I like him. He needs three hours to graduate. I think it's my responsibility to make sure that occurs. When I know something — where there's a game plan — I'll make sure to share that with you, but right now I don't have one."
•
Robinson's technical: Self was not pleased about a technical foul call on Thomas Robinson in the second half of the Cal game, but did not send a complaint to any league office.
"No, no. I let it go. The last time I was so perturbed on a call was six years ago. I have been perturbed since then, but on a call I thought was a call that was definitely the difference in the outcome of the game, which is a pretty stupid thing for a coach to say because there's many calls throughout the course of a game. This one happened to be a call at the end of the game. I made a big deal out of that in my own mind. I sliced tape together. I sent it off. I spent the next two, three days worrying about something I couldn't get back, as opposed to just focusing on the next game. So I don't do that. If somebody calls me and asks me what I think, I tell 'em. Officials really do a good job. Just because I don't agree doesn't make them wrong."
•
Fear the (Self) beard? OK, maybe not: KU coach Self was sporting a fairly heavy beard on Tuesday. He joked that it'll likely be gone by game time Wednesday.