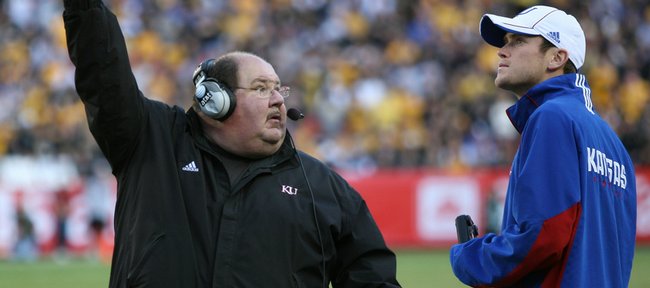 When ousted Kansas University football coach Mark Mangino rode his $3 million parachute out of town and moved to Naples, Fla., the general consensus was Mangino would spend the year exhaling and then get back into coaching. Well, now that the year is up, will Mangino get back in? The guess here is yes.
Offense is Mangino's area of expertise, as evidenced by the work he did at Oklahoma, as offensive coordinator, and at Kansas, where he gave Ed Warinner a blueprint for what he wanted, then watched Todd Reesing get the most from receivers spread out all over the field.
Mangino and Oklahoma coach Bob Stoops are close friends, but it's always been Stoops' way to hire from within when a school raids his staff for a head coach. Stoops did so when he promoted Chuck Long to OC when Mangino was hired to head KU's football program, for example. When Stoops' offensive coordinator, Kevin Wilson, was hired as head coach at Indiana, Stoops promoted two assistant coaches, Josh Heupel and Jay Norvell, to become co-offensive coordinators.
So where does that leave Mangino?
Speculation has centered on Nebraska offensive coordinator Shawn Watson leaving the program after the Cornhuskers' Holiday Bowl game Thursday against Washington. Watson's a leading candidate for the Miami of Ohio head coaching job vacated by Mike Haywood, hired by Pittsburgh.
Bo Pelini's expertise always has been defense, and he has his brother Carl as his D-coordinator. Nebraska's offense, though better this year under red-shirt freshman quarterback Taylor Martinez, hasn't kept pace with its defense since Pelini revived the program.
Mangino-to-Nebraska makes plenty of sense. Sure, Mangino has his detractors because of his fiery nature, but his sideline demeanor calls to mind Tom Landry's when compared to Bo Pelini's. Sure, Mangino lost his cool, but it never resulted in his team losing its cool during games. Mangino teams routinely did a solid job of avoiding penalties. Pelini's team was penalized 16 times for 145 yards in a 9-6 loss to Texas A&M.;
It might sound strange to some, Raimond Pendleton included, but Mangino actually might have a calming influence on Pelini.
Many believe former KU wide receivers coach Tim Beck, who coaches running backs for Pelini, will be promoted to offensive coordinator if Wilson leaves for Miami of Ohio, but don't count out Mangino.
Look at it this way: As a Nebraska football fan, would you be more concerned with Mangino sometimes behaving like the two most famous Big Ten coaches, late greats Woody Hayes and Bo Schembechler, or more excited that the guy who consistently lost recruiting battles to Nebraska, yet still managed to coach his team to 76 points against the Huskers, was coming on board to help Nebraska make a loud first step into the Big Ten?
Mangino and Pelini never worked together, but they did both work for Bob Stoops at Oklahoma. All three men grew up in the football-crazed area around the Ohio-Pennsylvania border. Mangino's from New Castle, Pa., a 19-mile drive from Youngstown, Ohio, the hometown of Pelini and Stoops.